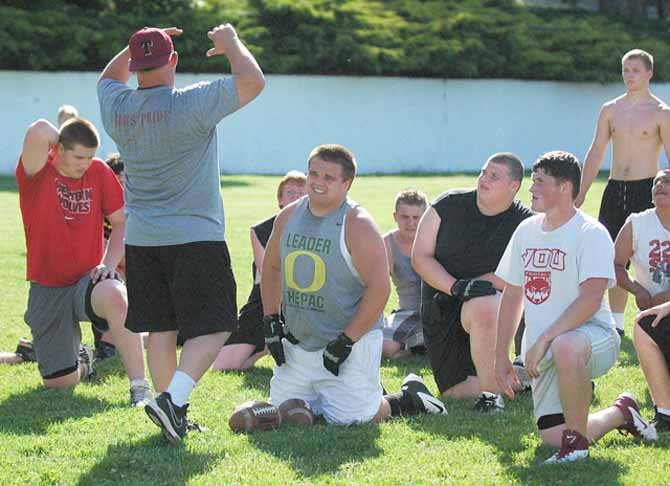 Just 15 days remain before The Dalles Wahtonka football team hits the field under a new regime hanging on hopes of returning to its playoff form. From offseason workouts, weight lifting, spring practices and camps, all of the elements of success have been taken care of – across the board, everyone is brimming with excitement.
The past two one-win seasons are a distant memory to incoming Tribe senior wide receiver Austin Dehart. With the new coaching staff of head coach Steve Sugg, Rich Belanger, Ron Diede, Tony Shroll and a few others, everything from the spring forward is a fresh start.

"We have new coaching and a new staff, so it is always fun to learn with a new coach," Dehart said in an earlier interview. "We have been going off the saying, 'there is always the next play.' The past doesn't matter, whether it is good or bad, and we are going off that philosophy. It is about the next play – that is all that matters."
Earlier this summer, TDW played in a 7-on-7 tournament and hung with two-time defending 6A champion, Lake Oswego.

The Tribe added a comeback bid against Oregon City, but ran out of time.

They beat up on North Salem and versus Silverton, who is already showing some glimpses of stout ability thus far, the Eagle Indians held their own.

Late last month on July 22, at Fort Vancouver High School, the Eagle Indians suited up against Fort Vancouver, Woodland and Reynolds for some 7-on-7 action and scratched three more notches in the win column.

With some big offensive weapons, the Tribe has been able to hold their own against some giants in the 6A and 5A classification. After that performance, first-year coach Steve Sugg liked what he saw on the gridiron.
"Both sides of the ball did very well," Sugg said. "The younger kids played more last night and made great strides."
It is the youth on the team that will give TDW an advantage.

While they are not the biggest group, they do possess some speed and skill at impact positions, which will lessen the burden on returners Austin Dehart, Zach Nerdin, Chaise Shroll and Zach Cantrell, to name a few.

With the added depth, those players can be spelled at certain points in a game so they are not worn down by the second half of games and in the latter parts of the regular season.
"It is important that we establish depth at all positions," Sugg said. "In our practices, we need to have some competition. When you have healthy competition, it only makes us better. We want all of our players to fight for their spots on the depth chart."
Slowly but surely the overall numbers are climbing to the desired 80-90 players so there could be three teams, freshmen, junior varsity and varsity suiting up weekly for contests.
A big reason to have those numbers is to have full contact practices, as with injuries and lack of numbers last fall, there were several days where TDW would not be able to conduct adequate practices to prepare for opponents.
There have been a few dings here and there, but the biggest change has been in attitude. Players are showing up ready to work and they are positive in their persona, as opposed to a few bringing down the group as a whole.
Chaise Shroll noticed that aspect almost immediately at the start of spring camp.
"You can tell we have a bunch of guys who want to be here," he said in that earlier interview. "When you have that, it makes everything a lot better. The practices run smoother and guys want to get better. We are in this together and we want to win. Some of it has to do with work, but a lot comes down to attitude."
Daily doubles go from 4 p.m. until 9:30 p.m. next week starting Monday at Wahtonka High.
There is still time to join TDW's football program, but players need to fill out paperwork and have their physicals done before Monday's practice start.

If financial assistance is needed, Friends of Football has offered scholarships for interested athletes. Call 541-993-0216 for more information.