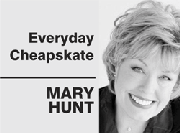 Ever feel like you've reached the end of your rope and you just cannot hang on another minute? You're not alone. Everyone goes through seasons of self-defeat, pain and anguish.
It's no wonder that we feel that way. What with the economy, the current state of unemployment and rising prices — to say nothing of global uncertainty and rumors of economic collapse in every headline — it really is enough to make you want to pull the covers up over your head and sleep until everything gets better.
Just so you know, that is not an option. Instead, here are three proactive steps you can take that will give you the courage to keep going.
VERBALIZE HOW YOU FEEL. I would caution against making this a public dissertation. Write it out journal style. Tell God how you feel. Say that you are angry and bitter or that you're afraid to face the day. However you choose, find a way to pour out your heart. It is cleansing to release swirling negative thoughts. While your situation may not change, the way you feel about will.

ACCEPT HELP FROM OTHERS. You really do not have to go through this by yourself. Once you determine where you are stuck, seek out help. If you are struggling with credit card debt, for example, go to NFCC.org to find a certified credit counseling organization in your area. Make the call. Ask for help. If it's a medical situation where you cannot afford the cost of meds, reach out for help. Simply asking for help is going to open a new world of resources you may not know exists.

CHOOSE JOY. Even when you are at the end of your rope, you still possess something very valuable: Your attitude. You can choose your thoughts. You can default to pain, fear and anguish, or you can proactively choose joy. You can focus on all that you do not have and all the stuff that's coming at you, or you can choose to rise above that and focus on all that you have — even if that is just the air that you breathe. Then embrace it. Choose to think only on things that are lovely, true and pure.
I do not personally know anyone who has a perfect life. On the contrary, we're all on this journey, and the road can get rocky from time to time. I've come to realize that what I've been through can either beat me down and make me bitter, or I can choose for my experiences to make the difference in someone else's life.
Kay Warren has written a wonderful book, "Choose Joy: Because Happiness Isn't Enough." If the name sounds familiar, Kay's husband is Rick Warren of Saddleback Church. Recently, tragically — and since writing this book — Rick and Kay lost their son, Matthew, to suicide. Surely Kay's determination to choose joy no matter what has been severely tested. Still, she is determined, through tears and sorrow, to choose joy. What a powerful message!
Mary Hunt is founder of www.DebtProofLiving.com and author of 23 books, including her 2012 release, "7 Money Rules for Life."
You can email her at mary@everydaycheapskate.com, or write to Everyday Cheapskate, P.O. Box 2099, Cypress, CA 90630.
To find out more about Mary Hunt and read her past columns, please visit the Creators Syndicate Web page at www.creators.com.