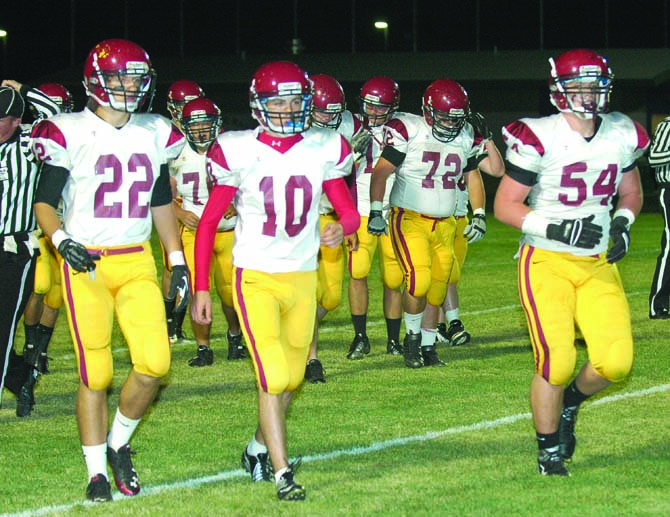 The Dalles — With summer activities in the rearview mirror, numerous athletes have put a new era in perspective with the start of the 2013-2014 sports seasons.
All of the records are 0-0, and the hopes of each player, coach and spectator are that a new beginning brings chances to enjoy success down the road and the start of run towards a state championship.
In the gorge, it has been some time since a local high school team has hoisted a blue trophy.

Several squads appear to be in line for earning that right, given strokes of solid play, limited injury, personal growth and a sprinkling of luck.
While there have many major changes in Sherman with Todd Swan taking over as athletic director and football coach, and The Dalles Wahtonka, where former Sherman athletic director, Mike Somnis, takes over as athletic director and assistant principal, other schools will break in new players and hope their returners further develop.
One of the many splendors of sport is figuring out the numbers, factoring them all together and adding the sum of those parts to get an answer. Talent and depth aside, other factors, such as heart, will, dedication, desire are factored in.

It is definitely an inexact science to say the least. All we can do is sit and enjoy the action between the lines.
Just as these local schools are welcoming a new challenge, as sports editor of The Dalles Chronicle, I too intend to become a far better writer and editor. Trust me, last year provided some ups and downs along the way. From misspelled names, identification mistakes, taking too long for a reader's taste to produce a story or bumping a story for another deemed more relevant, much to some reader's chagrine, I can take this past year as a memorable one.
Voices of concern flooded our email accounts and answering services expressing displeasure on more than one occassion. I sincerely apologize to those I have upset or disappointed, as it was not done purposely by any means.

One thing for sure, I am going to work diligently to improve.
To a degree, I was happy with some of things I did writing and paginating-wise, but overall, I give myself a B.
Entering my fourth year here, I strive to earn additional awards for writing and photography.
There are several features I wish to include in the daily pages, with the first being a weekly color Sunday section.

I plan to institute a 'Get to Know' feature on the local athletes, 'Player of the Week' sections and a 'State of the Team' feature where coaches and athletic directors discuss the latest news inside the locker room or within programs as a whole.

We have expanded video coverage of sporting events on the web and I hope to post video interviews with players and coaches in the near future. In addition to the annual Pigskin Pick 'Em, our advertising department of Chelsea Marr, Tonya Schroeder and Ray Swift has hatched a plan for a weekly selection page where fans can earn $50 a week for choosing the most football winners.
As a whole, the newspaper wants to continue with its top-notch coverage of the area – this sports section plays a small role in binding everything together for a complete package. I guess you could say I need to get a life because I think about my job more than I care to disclose.

My philosophy is that you are only as good as your last story, your last interview and your last page.
I am not the best, and I will never claim to be the end all be all.

I love my career and desire to be a member of this community for many years to come, winning countless awards through it all.
The coaches have been great, the parents have been supportive and the athletes have been a joy to cover.

You are all my heroes.

I wish all of these teams the best of luck.

My hope is that they dream big and shoot for the stars, using passion and focus to outwork their opponents.

Heart and work ethic is something nobody can take from you.
Enter this season with a positive outlook on life and openly embrace a boxer's mentality.

Get up every time, no matter how many times you fall – that will prove to many the guts you truly have.
Maybe, it leads to a championship triumph.
We can only hope.
Next year will be fun, and I am counting down the days for the start of fall sports.
If you have anything to say, just approach, call, text or e-mail me with suggestions, ideas or constructive criticisms.

I will see you around.