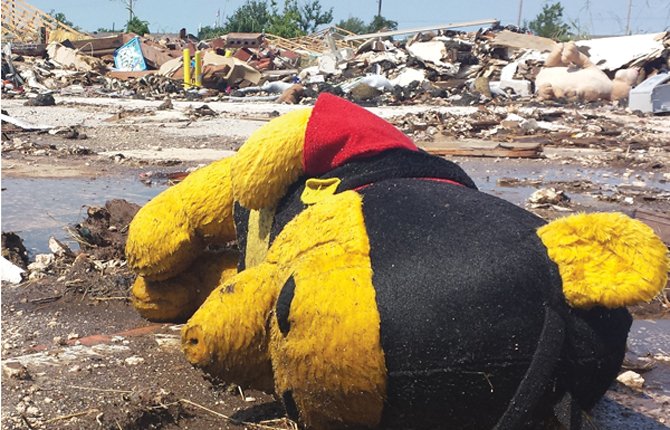 Six members of Dufur Christian Church, including the pastor, spent nearly a week in Moore, Okla., helping residents there recover from a devastating tornado that hit in May.
Cory DePriest, his daughter Emily, Larry Magill, David Brown, Megan Neuberger and the church's pastor, Tim Fain, were in Moore from July 22 to 27.
They helped clean up in a subdivision of rental duplexes, helping a secular organization called Allied Response to Catastrophes that provides volunteer assistance to uninsured or underinsured property owners, Fain said.
While most of the houses they worked on were being readied to be repaired, one house had to be demolished. They'd tie ropes to the structure, and then "we'd get a team of 100 to 200 people and just tug on it and the house would come down."
Excavators then pushed the rubble to the curb.
Time is of the essence, because a city program to pick up curbside debris at no cost ends in mid-August, Fain said.
The church took on the mission because Fain believes that's what others would do for them if they ever had a disaster.
"If anything was ever to happen to Dufur, Oregon, some devastation, I would want people from across the country who call themselves Christians to be the hands and feet of Jesus," and come to their aid. "That's the whole purpose of it."
It was 95 to 100 degrees every day and so humid they knocked off work at about 2 p.m. because it got too unbearable.
They tried to work with another group, ServeMoore.com, in the afternoons, but only got one assignment from them for one day. They helped tarp a roof for a homeowner.
On their last day there, they assembled 10 wheelbarrows, to be sent to another disaster area.
"Every little bit helps," he said.
Most of their time was spent removing household items from homes that were marked condemned.
"It was interesting. Some of the houses that we would go to, they were all intact" as far as contents.
"It was two months ago that this happened and there was still leather jackets, prescriptions, credit cards, and nobody came back and got it," he said.
They gutted down to the studs duplexes that were spray-painted "save" on them.
In all, they worked on three homes.
One poignant moment that really made him realize the power of the EF5 tornado, was when he was standing across the street looking at a roofless house, and he realized he was standing on that roof, which had blown across the street and landed in the opposite yard.
"A 5 tornado can really do some damage. I can only imagine the people that were in the houses when the roof comes off," Fain said.
Their accommodations during the trip were a simple building with plywood walls, and one night, a storm with 70 mph winds came along, "so that was interesting for our team to experience."
Their job was also a smelly one.
"The smell was pretty horrible and mildew was pretty bad. In one of the houses we were helping take the kitchen equipment out, so the food was still sitting in the fridge," he said.
"Just think about leaving everything in your kitchen, with the roof off, and the sun beating down for two months, and going in there and cleaning it out," he said.
Fain is from Joplin, Miss., and wanted to take a crew to help with recovery after the deadly tornado there that killed 120 people several years ago, but it came during harvest and people weren't able to get away.
Doing the work was tough but rewarding. "It was hot, it was muggy, it was sweaty, but you feel accomplished at the end of the day," Fain said.