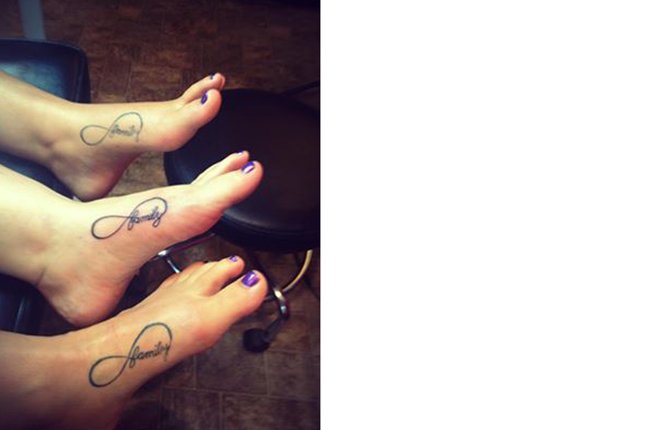 Yesterday was a bonding day for my daughter, Heather, my granddaughter, Kylie, and myself.
We had a "girls' day" and went to Bend. I know, I know, this is done every day but, ours was a little different. Two years ago Heather and Kylie had identical tattoos put on the top of their left foot. It is a beautiful infinity sign with the word "family" included in the design. Kylie designed or found it somewhere and chose it for her permanent "statement".
I must admit I admired this tattoo from the time they got them and secretly wanted to be included, but knew it was special to just Heather and Kylie. When Kylie told me that I should get one too I was certain she was kidding, and to have her include me was very special. Well, needless to say time slipped away from us and I never got to the tattoo parlor. I had the parlor's phone number and made a few lame attempts to make an appointment.
When Kylie teased me about coming down to see her (she was in massage therapy school in Bend) and get my "tat" I always had something else going on.
After Kylie's graduation and return to The Dalles, my excuses ran dry and she made the appointment for me. My mother, being very conservative and a generation removed from my world, told me it was a sin to get a tattoo, to scar my body for life and to become a part of the "biker" crowd (forgive my mother she is old). I'm sure when she sees my new "ink" I will be out of the will. And I must admit I had this same philosophy when my baby boy scarred his body forever with his first military tattoo.
It eased my pain when I saw it for the first time and it wasn't anything huge and scary but a very cute smiling sun. Justin, I'm sure you were thinking of me when you made your choice.
Anyway, Heather, Kylie and I had a pedicure before we went to the "parlor," I mean you can't have new "ink" and ugly feet. So we got our pedis and prepared to go shopping in Bend, way cool, new shops and no men to hinder our spending.
We are on our way to the mall and I get a text to see if we can come early to my appointment. Wait! I still have 1½ hours to prepare — psych myself up. And now they want me early? How am I going to do this? Isn't there an age limit for a tattoo?
And here is my daughter telling everyone we come in contact with I'm getting a tattoo. And did I mention that she also adds that it hurts like h___? I should wash her mouth out with soap.
For those of you who have seen the "Friends" series, there is a show where Rachel and Phoebe are going in for tattoos, Phoebe chickens out because she wasn't aware tattoos were done with needles. So Rachel, just having hers completed says "really, well mine was licked on by little kittens."
My daughter was so much closer to the pain level than Rachel mentioned. The top of the foot has a lot of bone and it hurt like — really bad. I tried to be brave as my granddaughter held my sweaty hand and my daughter took photos for Facebook.
Thank goodness the tattoo artist had to reload ink just when the pain level was reaching more than I could tolerate. I didn't cry, cuss or run away and it was over sooner than I thought. I did have to say that the tattoo artist's bedside manner was a little snarky as she told me that this was her first tattoo and that she would never get one on the top of the foot because it hurt too much.
Now, the pain is over, and I have a beautiful remembrance of the bond between my beautiful daughter and granddaughter and that family is family for infinity.
Thank you so much Kylie for including me in this special bond. I love you to the moon and back, or maybe we should change our saying to I love you for infinity.
CeCe Fix is The Chronicle's office manager.