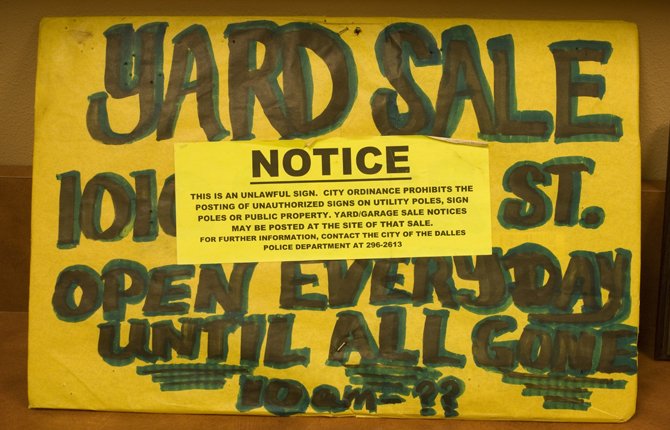 "Ignorance of the law is no excuse."
Those were the words Municipal Judge Tom Peachey told Missy and Michael Dunagan while they were defending themselves in court against a citation brought against them for "flagrant" (to quote the city attorney) violations of the city's nuisance code.
It's a warning judges applied for ages in the courtroom. But in today's increasingly complex society, maybe ignorance should be an excuse.
In 2012, 40,000 state laws took effect around the United States. According to an NBC News story, they governed everything from abortion in New Hampshire, learning about gays and lesbians in California, getting jobs in Alabama and driving golf carts in Georgia.
And that's only the state laws. The federal government implements new laws, too. And cities pass rules, called ordinances, that their citizens and visitors are expected to comply with while inside their boundaries.
There might have been a time, somewhere in the past, when kindergarten rules and a little basic public school education could get a person through almost an entire lifetime with nary a brush with the law. But that time is long past.
Today, it seems as if every citizen needs advanced training in the law and accounting — or members of both professions on retainer — just to cross the street.
The Dunagans offer a good example.
Prohibitions against posting notices on telephone poles exist for good reason. Staples left behind in the telephone pole can put utility workers at risk of falls when they have to scale the poles.
But how does one individual learn that?
Casual observation might not be enough. A visit to Portland, for example, will show telephone poles plastered with notices or remnants on everything from rock bands to lost puppies.
Activities that once seemed simple are now fraught with legal peril.
Of course, how would a court effectively prosecute the law, if escape clause from a guilty verdict was always a quick "I didn't know?"
No, the solution doesn't rest with the courts, it rests with the legislative bodies that create laws.
Five or six years ago, the Oregon Legislature passed a law saying all state laws should be written in layman's terms. State employees got busy rewriting the Oregon Revised Statutes in terms they thought Oregonians might have some hope of understanding.
Then the Great Recession came along and the rewrite process was sidetracked for lack of funding.
But a shortage of understandable language is only part of the problem. Also at play are the rules and regulation books that just keep getting thicker and thicker.
Burdened by more — and more complex — laws, modern citizens can easily run athwart of the authorities without even realizing it.
In many cases, citizens would be better served by elected officials who spend more time looking for laws to undo than the reverse.
Simpler laws, and fewer of them, might help more citizens stay out of court and out of the ignorant column.