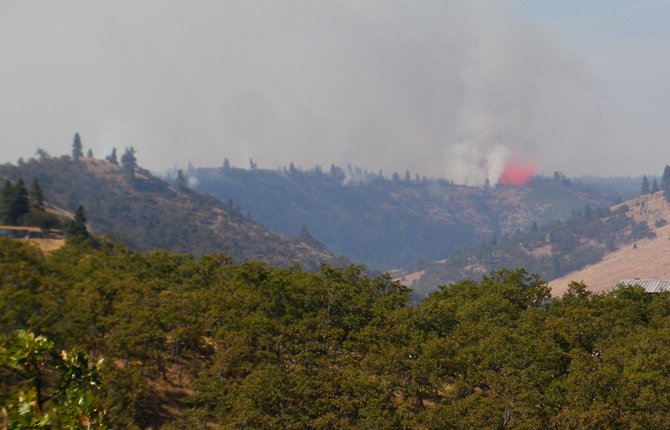 The Dalles — 5:20 p.m. Saturday, Aug. 17, update: An afternoon estimate of the Blackburn Fire, burning in part of The Dalles watershed lands, partly Bureau of Land Management lands and partly on private land places it at 550 acres, but the increase in acreage could be a result of improved mapping, said Oregon Department of Forestry spokesman David Morman.
The fire is burning mostly in grassland. Afternoon winds were between 23 and 25 miles per hour with gusts up to 30, he added. Wind has been an ongoing concern as firefighters try to keep the blaze out of residential areas.
The Government Flat Fire remained at about 200 acres this afternoon. Firefighters were expected to burn out some of the area this afternoon in an effort to gain better control.
The 65-acre Wells Fire was contained this afternoon, Mormon said, but continues to be watched by firefighters.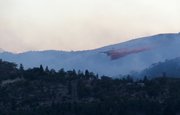 A fierce lightning storm Friday evening, Aug. 16, sparked three wildfires about eight miles southwest of The Dalles between the Mill Creek and Browns Creek valleys.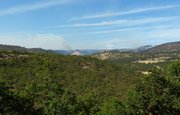 The biggest of the three — and the biggest concern in Saturday's firefighting efforts — was the Blackburn Fire, not Black Thorn as originally reported in print, burning on an estimated 365 acres, according to David Morman, a spokesman from the Oregon Department of Forestry, reporting from Bend. The fire is burning at least partly within The Dalles watershed.
"That one is about 50 percent contained," Morman said Saturday morning. "Our biggest concern today, and one of our operational topics, is getting some air tankers working on that fire today. There are concerns of the wind picking up later today and the fire causing problems, so that's our main focus."
Morman said no residences were currently threatened, "but if the fire continues it could eventually become a problem."
"We are in coordination with public works in The Dalles about using fire retardant inside the watershed," Morman said. "Our understanding is that they are OK, as long as we avoid the water courses."
In discussions with firefighters, Morman learned that a worst-case scenario would be if the fire moved into the Reservoir Road area.
"But the forester was very clear that was a worst-case scenario," he said. "No evacuation alerts are in effect."
All three fires are burning primarily in oak and grassland. Mormon said firefighters want to avoid that fire spreading into the Mill Creek Canyon.
A 200-acre blaze called the Government Flat Fire is in better shape, he said. It is burning near Ketchum Road.
"It could be contained pending a burnout of some unburned area inside the fire perimeter later today," Morman said.
The Government Flat fire is the one burning closest to homes. Morman said Forestry is coordinating with the state fire marshal's office in the event structural fire protection is needed.
Twelve structures are on the same side of the road as the Government Flats Fire, he noted, but they are not threatened either at this time. If any of the nearby structures become threatened, the Wasco County Sheriff's Office would be responsible for making notifications.
The Wells Fire, burning on 66 acres out past the end of Wells Road, is in the best condition of the three and was lined overnight.
Working the fire are eight crews, five engines, two water tenders and two dozers, most on the Black Thorn Fire. Three air tankers have been ordered along with an air attack aircraft and a large Type 3 helicopter.
Mustering various fire-fighting resources is still in progress, Morman said. A Mid-Columbia Fire and Rescue spokesman confirmed that agency battled the Government Flat and Wells fires overnight Friday and Saturday.
The statewide picture from Flashaltert:
A thunderstorm late Friday afternoon and evening produced 800 lightning strikes and several fires from The Dalles to eastern Oregon.
Three fires erupted about seven miles west of The Dalles at about 5:00 p.m. The Blackburn Fire (previously reported at Blackthorn), located in The Dalles Watershed has burned about 365 acres and is currently 50 percent contained. The fire is burning in oak and grass and is indirectly threatening structures in the area. Firefighters are working to get the upper hand this morning before predicted afternoon winds of up to 35 mph hit the area.
The Government Flat Fire has burned 200 acres. Fire crews have had considerable success with nearly full containment achieved this morning. Close to a dozen structures are currently threatened by the fire along Browns Creek Road. The Oregon Department of Forestry is coordinating with the State Fire Marshal on structural protection.
The third fire, known as Wells Creek, burned 66 acres and is fully lined.
Resources assigned to the fire, which will mostly be deployed to Blackburn, include eight 20-person crews, five engines, two water tenders, two dozers and one helicopter. Three retardant dropping air tankers have also been ordered.
Fire crews have also had success with the Geneva 14 Fire, located 15 miles northeast of Sisters. The fire has burned 125 acres and is fully lined. Crews will strengthen containment lines and begin mop up operations this morning.
As the lightning traveled east, it sparked at least two additional fires in ODF's Pendleton unit. The South Fork McKay Fire burned 80 acres and the Burke Road Fire burned an additional 28 acres. Both fires have been contained. Fire crews are mopping up, patrolling and on the lookout for any additional fires that may have resulted from Friday's lightning activity.