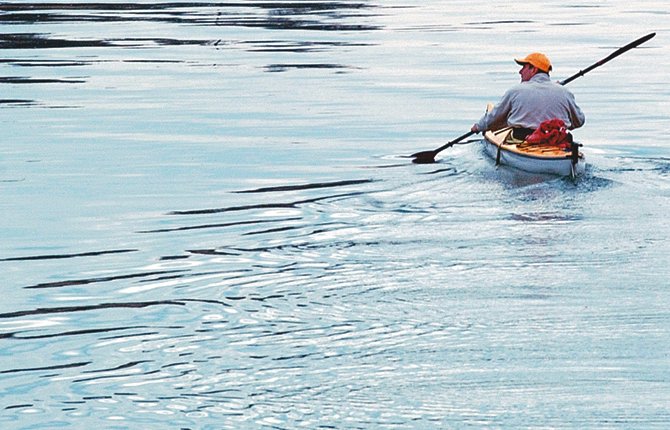 By mid-August many local families are already turning their thoughts to the start of school, but more than a month of summer is still in front of us, and plenty of activities — organized and less so — designed for full outdoor enjoyment.
Head to the Park
Northern Wasco County Parks and Recreation is organizing a number of activities designed to assure no one need be bored if they don't want to be. Even if you don't join in an event, local parks offer plenty of enjoyment on a daily basis: trails, tennis courts, playground equipment, disc golf, sand volleyball, softball fields, skate boarding, and more.
Scheduled events start this week with Sunrise Paddles, Tuesday through Thursday, Aug. 20 to 22, from 6:30 to 7:30 a.m. starting at Riverfront Park. Registration is required through the parks office at 541-296-9533.
"It's an adult thing geared more toward seniors or adults," said Danny Kittelson, district activities coordinator. "We have spots for up to six people in the kayaks. We'll go out in the middle of the river and wait for the sun to peak, then paddle back."
The morning trips offer great opportunities for photos, as do twilight paddles. One of those is planned Saturday, Aug. 24, from 8:30 to 10 p.m., where paddlers will see the sunset and the moon in the evening sky.
Folks who would like to venture out on their own can rent kayaks with life vests Fridays, Saturdays and Sundays through August and part of September from the Kayak Shack at Riverfront Park. The Kayak Shack also has two tandem bikes for rent and surf bikes, a combination of a surfboard and a bicycle that allows the rider to paddle through the water.
"You can cruise around, stop short and start," Kittelson explained about the surf bikes. "The pontoons keep it level."
The Kayak Shack is also equipped to supply a selection of snacks and beverages and mosquito spray. It also loans out sports equipment.
The Ted Walker Memorial Pool at Thompson Park will remain open until Labor Day with a full range of swimming opportunities. The summer swimming season has concluded the past few years with a Labor Day Doggy Paddle from 5:30 to 7:30 p.m. After that, the pool will close for cleaning and maintenance.
"We're going to be having a community-wide swim that weekend on Saturday [Aug. 31], too," Kittelson said. The event is designed to introduce the public to the plan for proposed replacement of the aged swimming pool.
Also set for the same day is the Art in the Park art festival at Sorosis Park (see related sidebar, page A1).
For a bigger dose of fitness along with the fun, the parks district partners with the Muscle and Fitness Center to offer Zumba, the Latin dance workout, Tuesdays and Thursdays at 6 p.m. Participants can pay a per-session drop-in fee or get a better deal for regular participation.
A quarter-century of athletics
Three sports and a quarter century cap the park district's summer season. The Aluminum Man Triathlon (see related story, page A6) is celebrating its 25th anniversary Saturday, Sept. 27, with competition starting at 9 a.m. and running through 2 p.m. The celebration part of the day gets under way 11:30 a.m. and continues through 5 p.m., with a beer garden put on by Clock Tower Ales, food by Cowboy Catering and Music provided by Randy Haines.
Over 300 athletes are expected to swarm Riverfront Park for this year's anniversary event. The public is invited to come to the park to watch the competition.
A couple of special events are also planned as part of the big day. First, an Olympic duathlon is planned, which will be in a bike-run format following the same course as the triathlon. A two-person or three-person Olympic Triathlon Team event is also planned. Team swimmers will begin with the Olympic individual wave. To register as a competitor, visit www.racecen
ter.com/aluminumman/. Discount registration is available through Aug. 23.
Even the T-shirts will be better for the anniversary this year, noted Kittelsen.
"They'll be dry fit-style shirts, rather than cotton, which is too hot to cool down," Kittelsen said.
Go to the Fair
The Wasco County Fair still offers one more day of Endless Summer under the trees at Hunt Park. Sunday's activities include a free breakfast from 6:30 to 9 a.m., a religious service starting at 8:30 a.m., the 4-H and FFA livestock auction at 9:30 a.m. and the demolition derby starting at 1 p.m.
But wait, there's more: "Bull Ropes and Ribbon Hopes" is the theme of the Sherman County Fair, which gets under way Wednesday, Aug. 21. Activities continue through Sunday, Aug 25. In addition to 4-H and FFA exhibits, Sherman County has a car show and barbecue dinner Wednesday with live musical entertainment.
Thursday's featured events include the "Cutest Show on Earth" (which continues through Sunday) and the Down on the Farm Chore Course.
Friday evening brings Horse Games and the Cattle Sorting Contest.
Saturday has a full day of activities starting at 8 a.m. with an all-day geocaching challenge, a wellness walk, a 9 a.m. parade through downtown Moro, a barbecue cook-off, barnyard animal scramble, bull riding and a barn dance.
Sunday's big activities include cowboy church and the demolition derby.
Check out more information on specific times online at www.sherman-county.com under "The Citizen Reporter" tab.
Steak under the trees
Yet another late summer tradition is the chance to enjoy a tasty steak under the trees at Sorosis Park during the Kiwanis Steak Feed, every first Thursday in September. It's happening Sept. 5 this year, from 5 to 7 p.m. Find a Kiwanis member or get a ticket that evening at the gate. Children 12 and younger are eligible for a free hotdog meal.
Of fish and
electricity
Find out more about that great big hydropower dam just east of town during the U.S. Army Corps of Engineers tours of The Dalles Dam. They'll continue every Saturday and Sunday at 10:30 a.m., 12:30 and 2:30 p.m. through the end of September.
Space is limited, so pre-registration is strongly recommended. Call The Dalles Dam Visitor Center at 541-296-9778 or The Dalles Dam Ranger Office at 541-506-7857. The visitor center is off Interest 84 Exit 87, east of U.S. Highway 197 at the end of Bret Clodfelter Way.
A taste of summer
Farmers Markets are open long past the official end of summer with plenty of chances to taste of the season's harvest. In The Dalles, the farmers market is open Saturday from 9 a.m. to 1 p.m., and Wednesday from 4 to 7 p.m. through mid-October.
Elsewhere in the gorge
Labor Day brings the Roy Webster Columbia River Cross-Channel Swim for those who want to pit themselves against the wily river. Call the Hood River Chamber of Commerce to find out more at 541-386-2000.
What tastes more like summer than tart huckleberries? The first full weekend in September brings the 51st annual Huckleberry Festival in Bingen.