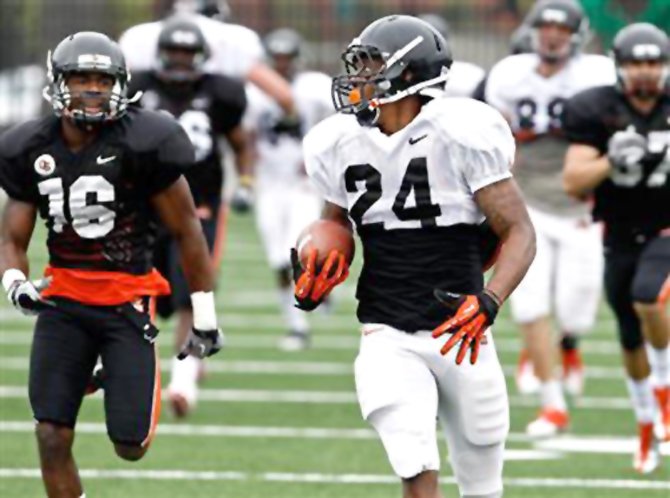 CORVALLIS (AP) – Mike Riley is happy to gush lovingly about almost every position group on the 2013 Beavers' roster.
He loves this team, and considering they return 16 starters from offense and defense, you can't blame him. But if you twisted his arm, he'll probably tell you that the players he's most excited about are Storm Woods and Terron Ward.
After all, this is a running back friendly program, remember?
If you've forgotten that little fact, no one will blame you.
For years, this was the city where good college running backs were built. Ken Simonton, Steven Jackson, Yvenson Bernard, Jacquizz Rodgers and more stormed through Corvallis racking up a few thousand yards apiece, setting the standard for whoever came next. But for a couple years – Riley, offensive coordinator Danny Langsdorf and offensive line coach Mike Cavanaugh would like to forget these years – the running game evaporated.
Games were lost.
Bowls were missed.
Fans were depressed.
Then, last preseason Riley said he wanted around 1,800 yards on the ground in 2012, a lofty goal for a team coming off a 3-9 campaign. The Beavers didn't quite get to 1,800 in last year's 9-4 season, but they got close, totaling 1,617.
Now, a new goal.
Woods, a sophomore and the returning starter, wants 1,000 (he went for 940 last year). Ward, the junior backup, does, too (he went for 415).
"I think we can do as much as we want," Ward said. "Really."
There's no clear-cut reason, Riley says, that Woods is in front of Ward right now, save for the fact that Woods hasn't done anything to lose the job. Riley likes to refer to Woods and Ward, respectively, as "1A and 1B."
"I think that position, as a one-two-punch, it's very strong for us," Riley said.
A thousand yards apiece might seem unrealistic, but running backs coach Chris Brasfield says Ward and Woods are both good enough to play a lot of snaps. And while they each bring something different – Woods is a better receiver out of the backfield and can juke defenders on the edge, whereas Ward will just power right through and right over guys – they don't have a tailor play-calling to one back or the other.
"It's a huge advantage," Woods said. "Defenses get used to me hitting the outside, then boom, there goes Terron running right up and the middle and over you. That's definitely a plus for us."
Riley likes it, too.
"They're both capable of running the ball within our offense," he said. "It's nice to have two all-around players that we don't have to take out because they can't do this or they can't do that. We can count on the fact that if there's something there, they'll gain yards."
Ward says he has lots to learn from Woods – "he does so many things well, so many things right" – and points to the sophomore's personality that seems to energize and inspire teammates. Woods admires Ward's feel for the game – "you can't teach what he does, like when a lineman is about to lose on a block, he's there at the right spot" – and wants to emulate it.
In truth, Ward would be a starter at a lot of other schools. Last year against Arizona State when he filled in for an injured Woods and proceeded to carry the ball 19 times for 146 yards, including a 53-yard sprint to the end zone, many thought he might replace Woods.
But he's not concerned about that right now.
"You go back home and hear people say, 'Why aren't you starting? What's he have that's better than you?'" said Ward, one of the Beavers' best special teams players. "I tell them, 'You've got to be patient, you've got to wait your turn.'
"And you don't have to be a starter. I tell that to the other guys. As long as you get in the game and you produce, starting is just the first play of the game. That's how I look at it."
There were questions last season about Woods' durability, and he worked hard in the weight room his summer to put on about 10 pounds (he wants to play at 210). He wants to build on his 940 yards in 2012, and wants to get to a point where coaches aren't afraid to hand him the ball in every quarter, knowing he'll produce. (He has publicly blamed himself for not being considered durable enough to run the ball repeatedly in the second half of the Alamo Bowl.) Ward only gained a couple pounds of muscle, but looks noticeably bigger.
Oh yeah, and did anyone mention that they'll be running behind an experienced offensive line that returns four starters?
"It's a dream come true," Woods said. "The holes are going to be bigger this year. We have to take advantage."
Either of them.
Or both of them.