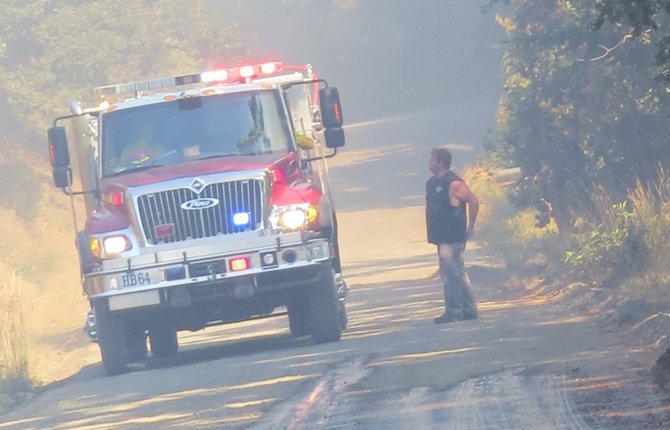 The Dalles — Nighttime fire crews reported a good night on the Government Flats Fire Complex as they returned to camp this morning, Monday, Aug. 19.
"The crews were out there all night doing what initial control work they could do and preparing for today's day," said David Morman, an Oregon Department of Forestry spokesman.
An estimated 500 people are expected to be involved in fighting the three-fire complex, which was estimated at 12 percent contained this morning, Morman said. Later in the morning he called the Chronicle to report infrared imaging showed the fire complex has grown to 3,000 acres. The Blackburn fire remains the largest at approximately 2,700 acres.
Commanders are tentatively predicting containment by Tuesday, Aug. 20 at 6 p.m., according to Inciweb.
But there are plenty of challenges ahead before that goal can be reached.
"The main challenge will remain the Blackburn Fire, which has, on the northern side, burned downhill toward upper Mill Creek Road," Morman said, and toward residents' backyards.
He said there were no other reports structural damage other than the two sheds that burned Aug. 18. Firefighters continue to provide lots of structural protection along upper Mill Creek to make sure that remains the case, he added.
The fire remains about a mile from the water treatment plant, which is also manned with fire protection. If fire forced evacuation, the plant would have to be shut down before departure; however, water supply from the Wicks treatment plant would be able to serve Mill Creek customers and beyond for about three days, thanks to a 4-million-gallon reservoir installed several years ago.
The city's other wells would be used to fill the gap for longer, if needed, but would not be able to serve Mill Creek.
"The main challenge remains trying to figure out how to corral the fire on the steep canyon sides," Morman said. "They're doing a pretty good job on the canyon bottoms and the canyon ridges and breaks, but there are a lot of other side ridges and draws and the challenge is doing it safely and finding places where the thing is defendable. There are some very, very long canyons and the fire tends to want to burn upstream and downstream in the canyons, in addition to up and down the ridge."
Evacuation warnings remained at Level II this morning for the 35 households affected. The three levels coded similarly to a race starts: I. Get Ready. II. Get Set. III. Go Now!