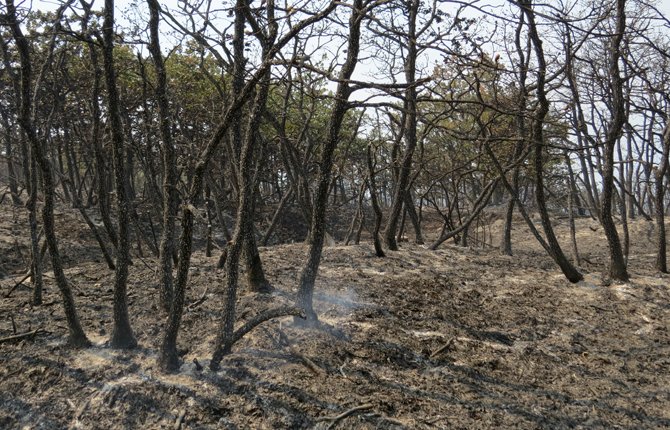 A level three evacuation order was issued for Obrist Road Monday afternoon as the Blackburn Fire escalated.
Public information officers took members of the media up Threemile Road Monday afternoon to see the fire but were stopped short of where the fire was actively burning. Kelly Niles, Division Supervisor for the Bravo Division, told reporters at approximately 2 p.m. that the fire had jumped the road farther ahead and it was no longer safe to send civilians past the intersection of Threemile and Skyline Rd. He said a structure protection task force was working to make sure homes in that area were protected.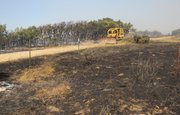 So far only two structures have been lost in the Government Flat Complex, although about 70 homes are threatened. Fire spokesman David Morman said initially both structures were thought to be outbuildings but it now appears that at least one was serving as a residence.
A Red Cross shelter has been set up at Dry Hollow Elementary for those who have been evacuated. As of 5:30 p.m. Monday no one had checked into the shelter yet, although site manager Kirsten Barnes said now that Obrist Road residents had been ordered to evacuated some might come in later Monday night. Although only residents on Obrist Road have been ordered to leave, residents in the Upper Mill Creek area have been told to pack up their things and be ready to leave at a moment's notice.
"Some people have stayed and some people have self-evacuated," Morman said.
He said the fire complex was pegged at 3,000 acres Monday morning, with the Blackburn fire burning at about 2,700 acres. At last estimate, the three-fire complex was 12 percent contained.
Niles said he was most worried about the late afternoon winds, which got up to 40 miles-per-hour gusts Sunday.
"The dry fuel up here, when you throw this type of wind in here it's very hard to contain," he said.
Niles said the tall grass and scrub oak in the area was so dry and crunchy it was "just ready to explode." He said fire crews were playing leap frog with the Blackburn fire, trying to stay ahead of the blazes.
"We're losing ground but still making some progress," he said.
He said visibility was an issue with the wind blowing heavy doses of smoke around, and crews couldn't dump retardant in some areas in order to avoid getting it into Mill Creek.
By Monday afternoon most of the danger had passed for the water treatment plant that was threatened Sunday. If fire forced evacuation, the plant would have to be shut down before departure; however, water supply from the Wicks treatment plant would be able to serve Mill Creek customers and beyond for about three days, thanks to a 4-million-gallon reservoir installed several years ago.
The city's other wells would be used to fill the gap for longer, if needed, but would not be able to serve Mill Creek.
About 500 firefighters are fighting the blaze, creating a tent city around the former Wahtonka High School. Meals are being catered for the firefighters and local youth have been recruited as helpers to keep the camp running.