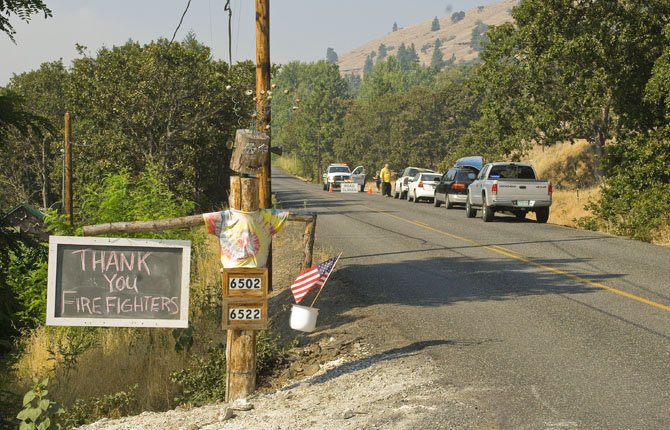 Smoke blanketed the central part of town Tuesday morning after the lightning-caused Government Flat Fire Complex grew to 6,725 acres.
"It increased on pretty much every side except it didn't cross Upper Mill Creek," fire spokesperson Chris Friend said.
He said the Wells and Government Flat fires are "pretty much lined" and firefighters are just putting out hotspots, but the Blackburn fire is burning at 6,430 acres after being stoked by strong winds Monday afternoon and evening.
More than 50 homes along Obrist, Mill Creek and Reservoir Roads have been issued Level III evacuation notices, meaning "get out now," but Friend said many people are choosing to stay with their homes despite warnings.
Two homes in the evacuation area have burned, he said, along with five outbuildings, and there are about 73 residences and 80 outbuildings scattered around the perimeter of the fire that could be in danger.
Friend said two more helicopters from the National Guard are expected to join the five that are already fighting the fire. Three to five air tankers, which drop retardant instead of water, will also be on scene.
He said the Wicks Water Treatment Plant is no longer considered in immediate danger, although it is not completely safe yet.
"The fire is creeping down the creek, but it's staying low, so they don't feel like it's a major threat," Friend said. "I think there is more concern about the homes in the area. The treatment plant seems to be a more defensible place."
Despite the evacuations, no evacuees slept at the Red Cross shelter set up at Dry Hollow Elementary last night.
"Some families stopped in that were affected by the Level III evacuation to see what resources we had available, but most people stayed with family and friends," site manager Kirsten Barnes said.
She said the Red Cross now has a feature on its website called "Safe and Well," where people affected by disasters can let friends and family know that they are safe and how to contact them. The web address is https://safeandwell.communityos.org/cms.
Monday afternoon public information officers took members of the media up Threemile Road to see the Blackburn fire but were stopped short of where the fire was actively burning. Kelly Niles, Division Supervisor for the Bravo Division, told reporters at approximately 2 p.m. Monday that the fire had jumped the road farther ahead and it was no longer safe to send civilians past the intersection of Threemile and Skyline Rd.
Niles said he was most worried about the late afternoon winds, which got up to 40 miles-per-hour gusts Sunday.
"The dry fuel up here, when you throw this type of wind in here it's very hard to contain," he said.
Niles said the tall grass and scrub oak in the area was so dry and crunchy it was "just ready to explode." He said fire crews were playing leap frog with the Blackburn fire, trying to stay ahead of the blazes.
"We're losing ground but still making some progress," he said.
The Wahtonka High School campus is serving as the incident command post for the fire complex, with hundreds of firefighters camped out in tents on the grounds or sleeping inside the school. Mobile showers have been set up, meals are being catered for personnel and local youth have been recruited to run errands, empty garbage cans and do whatever else is needed to keep the camp running smoothly.
More than 700 firefighters are currently on scene. The state fire marshal is overseeing structure defense and the Oregon Department of Forestry is in charge of the wildfire. Parked in the Wahtonka parking lot are trucks from fire departments around the state, as well as state agencies and private firefighting groups.
While some residents have already been evacuated, others have been standing by since Sunday under a Level II evacuation notice telling them to be ready to leave at a moment's notice.
When firefighters stopped by his Mill Creek Road house Sunday, Aug. 18, and asked, "Are you ready to leave?" Timothy Hetrick went into his house and came out again, his Bible in one hand, his pistol in the other. He was ready.
Hetrick's spouse and three children had already left the house with the family's four dogs. The cat could not be caught and the chickens continued to mill around the yard. Hetfick's house sits on a little rise about 30 feet from Mill Creek. On the opposite bank, winds had stirred up the flames licking at the base of trees.
Other residents nearby were working with firefighters to clear brush from around their buildings.
A public meeting about the fire is scheduled for Tuesday, Aug. 20 at 6:30 p.m. at Mid-Columbia Fire and Rescue, 1400 West 8th St. in The Dalles. Community members are invited to come and hear the latest updates on the fire from incident command personnel.