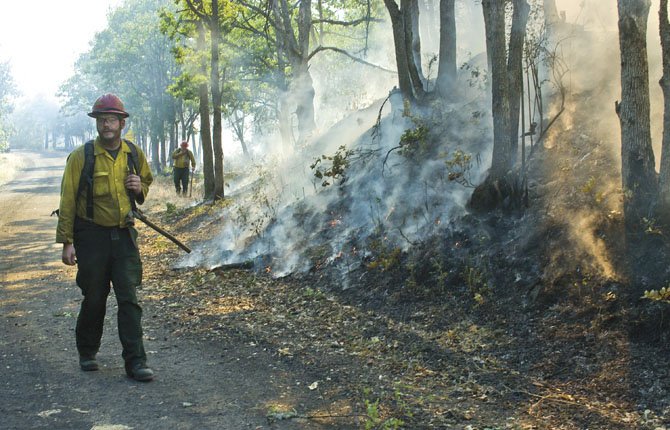 The Dalles — The Blackburn Fire remains at 10 percent contained this afternoon, burning south of The Dalles in timber, grass and hardwoods in rugged, difficult terrain, according current Inciweb.org information.
The blaze, part of the Government Flats Fire Complex, has been very active with upslope runs, shifting winds and mid-range spotting. It jumped lines in Division B and C.

"There is some burning down into the junction of Reservoir Road and upper Mill Creek Road," said Mindy Sherrub, fire complex spokeswoman. Right now the fire is creeping downhill in that area, but there are concerns that if the winds pick up the fire could start running uphill, she said.
"Fire likes to burn uphill," she said. "Right now it's creeping into the drainages in that corner area and that's good, because if we can get it to creep and burn out efficiently, that means that part of the fire is more likely not to give us any trouble."
Residents on Reservoir Road and upper Mill Creek Road are still under Level III evacuation order, meaning they have been evacuated from their homes.
Level I evacuation is in effect on about 10 homes at the end of Cherry Heights in the Wells area. Level I is precautionary, urging people to get ready to leave. Evacuation Level II asks residents to "get set" so they can leave immediately if a Level III evacuation is imposed.
Fire officials worry that if the currently creeping fire in the Reservoir-upper Mill Creek junction were to take off again under shifting winds, that handful of Cherry Heights homes could be threatened.
Fire commanders have removed any estimated date of containment for the Blackburn fire, noting the fire's growth potential is high and it continues to burn actively in all directions. Further reconnaissance confirmed an increase in the number of structures that burned yesterday.
The most active part of the fire today was along Obrist Road, another information officer noted.
Erratic winds have plagued the fire suppression effort, but Sherrub noted that winds were not as erratic or strong today as in days past.
"That's a real positive for us," she said.
The fire has also received a Federal Emergency Management Agency declaration, as of Aug. 17.
"The FEMA declaration means the fire gets Federal Emergency Management assistance in paying for the cost of the fire," Sherrub said. "Structural fire teams cost a heck of a lot money." Some, but not all of the structural fire crews are paid on a 24-hour basis.
Estimated cost of the fire at the end of Aug. 19 was more than $1.4 million.