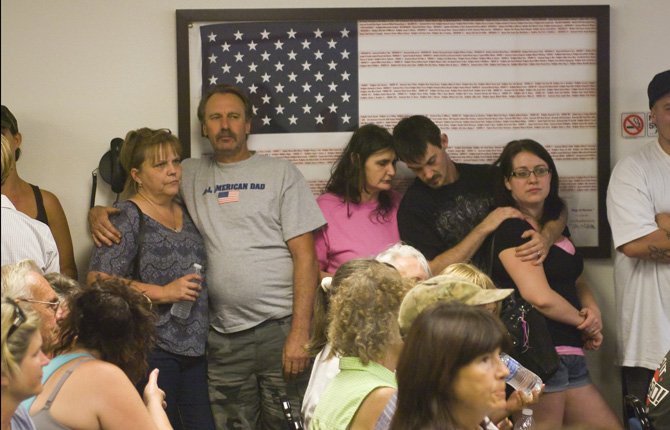 Photo Gallery
Community Fire Meeting Aug. 20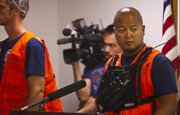 Images from the community meeting regarding the Government Flat Complex Fire.
Residents, community leaders, media and fire attack leaders crowded into the meeting room at Mid-Columbia Fire and Rescue and the hallways beyond Tuesday evening, Aug. 20, to hear an update on the Government Flats Fire Complex and have an opportunity to ask questions of the leaders and to praise them for the coordinated fire attack.
The most pernicious of the fires, the Blackthorn Fire, ballooned to 8,446 acres Tuesday.
Marvin Vetter of fire operations offered a ground level look at the fire.
"The wind got the best of us, but we're battling back," Vetter said. "I think after tonight we might succeed in holding on a day or two."
Containment is estimated at just 13 to 15 percent, said Chris Kline, wildfire incident commander for the Oregon Department of Forestry Team 3. Kline gave credit to local firefighters' initial fire efforts and their quick decision to seek Conflagration Act designation.
"Historically, fires like this can happen on any summer — would happen on any summer, except for the good job your people did here," Kline said.
Prior to Kline's talk, Fire Chief Bob Palmer of Mid-Columbia Fire and Rescue had offered some examples of prior fires that swept through the rugged rural areas around The Dalles: the 1967 School Marm Fire and the 2002 Sheldon Ridge Fire among them.
Corraling this blaze has been an ongoing challenge in the rugged, narrow confines of the various creek drainages south of The Dalles. As a result, the air attack has been of particular importance (see related story, page A16).
Of highest priority on the fire has been protecting the residences in the fire area, particularly those on upper Mill Creek and Reservoir roads, which remain under the highest evacuation level.
Some Obrist Road residents on the Threemile Creek side of the blaze have seen their evacuation level downgraded, so they can return to their homes.
John Ingrao of the Hoodland Fire Department is the incident commander for the Oregon Fire Marshal's Green Team, which is coordinating structural protection on the fire. He is familiar with the jagged landscape around The Dalles, describing himself as a "graduate of Wahtonka High School Class of 2002" after serving as incident commander on the Sheldon Ridge Fire.
Ingrao told the audience his team includes 17 agencies comprising six task forces of fire engines and water tenders.
"Upper Mill Creek is our primary concern because the fire is coming down that way," he said. "We have an engine and crew at every single house."
They've not only been providing protection, but preparation, too, clearing away brush and other flammables and trying to make sure the homes are defensible.
"Preparation is key," Ingrao said. "You can't save a house that can't be saved."
He urged home owners to make sure they have a clear defensible space around their homes and room in their driveways for fire rigs to back in.
Fire evacuations were the first emergency use of the reverse 9-1-1 Everbridge notification system and Kristy Beachamp of Wasco County Emergency Management explained how the system works. Every land line is tied into the system, but cell phone users must register their phones. Email addresses can also be listed for notification.
Evacuated residents were concerned that, away from their landline phones, they had no way to receive notifications of when they would be able to return to their homes, particularly when the fire information line is often busy.
"Just keep trying," said fire information officer Tommy Schroeder. Residents can also call the Wasco County Sheriff's office with that information.
Beachamp also offered to help people set up their cell phones and other devices for Everbridge notification, by calling her at 541-506-2760.
Teri Thalhofer, director of North Central Oregon Public Health, talked about air quality and urged residents with pre-existing respiratory conditions to take precautions under smoky air conditions, and to seek additional guidance, if needed. Her staff also handed out masks to meeting attendees who wanted them.
Dave Anderson, The Dalles public works director, praised the firefighters for their protection of the Wicks water treatment plant, which provides about 90 percent of the city's water supply.
"There's a bend in the fire line due to their effort," Anderson said.
The treatment plant has remained online and operational throughout the fire. While the risk at present is low, he said the plant isn't entirely out of the woods yet.
If it were to go offline due to a plant evacuation, the city would call more heavily on its well system to serve the city's needs. It could also draw on the four-million-gallon reservoir at Wicks, but that can only be expected to last three days in the event of a shut-down. If a shutdown lasted longer, water system customers on Mill Creek might be without water.
In that event, water distribution points could be established at the city's other reservoirs.
Anderson said water system staff members are already contemplating the effect of the fire within the watershed on the water treatment plant. In the 1967 School Marm Fire, heavy rainfall after the fact inundated the plant with ash and silt, forcing a shutdown.
"A lot will depend on the weather and other conditions," Anderson said.
He noted that fire retardants have been reformulated to avoid formation of toxic compounds, but water plant staff are regularly monitoring conditions to make sure the water is safe.
American Red Cross official Carrie Sammons noted that an evacuation shelter has been established at Dry Hollow and can provide more than shelter, including "cold water and conversation, even if you don't need a place to stay."
The Red Cross also offers a Safe and Well program where evacuees can register to let friends and family know their situation. Forms are available online at www.redcross.org, under the "get assistance" link.
Fire officials noted that evacuations could extend even after containment as firefighters work to make sure the areas are safe from destabilized trees, rocks and earth caused by the fire.