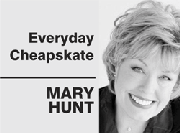 DEAR MARY: I read your advice to use Mr. Clean Magic Erasers to clean up dirty leather handbags. Apparently, those rather pricey erasers are made of something called melamine foam, a product that is readily available, which makes "erasers" pretty cheap if you order what they're made of instead of buying them at the store. I hope this can help someone looking for an easy clean. — Megan S., email
DEAR MEGAN: I know I speak for thousands of readers when I say, "Thank you very much." We love knowing the inside scoop on how to find cheaper alternatives for expensive products we enjoy using. I am grateful for the information. I've looked around and find that melamine foam is used for insulating and soundproofing and readily available — available at stores like Home Depot in great big sheets. Interested readers can simply Google "melamine foam." What fun.
Dear Mary: We are very appreciative of the mention of Jamestown Settlement (Virginia) in your recent "Six ways to ensure a fabulous family vacation" column! This is to note that our Web address — www.historyisfun.org
— is similar but not the same as for the Washington County (Wisconsin) Historical Society, www.historyisfun.com. — Debby Padget, Media Relations Manager, Jamestown-Yorktown Foundation.
Dear Debby: My apologies for getting your excellent organization mixed up with another in Wisconsin. I hope that my readers who find themselves in the Virginia area this summer will make it a point to visit Jamestown and, in the meantime, tour your excellent website.
DEAR MARY: I am in the process of converting my old slides to a CD and wonder if you have any suggestions as to what I should do with the old "carousels" the slides were stored in. I think I can recycle them, but I wonder if they could possibly be useful for something, as is. Thanks. — Cathy U., email
Dear Cathy: Your question piqued my interest, as somewhere in my vast collection of things inherited from the in-laws, I have a pile of those carousels, too. I did a little research, and sure enough, at least one very clever artisan has found a beautiful use for slide carousels.
I found a clock made from an "upcycled" Kodak Slide Carousel
at Allan Young's
Etsy store, PixelThis (www.etsy.com/listing/107986637/recycled-
kodak-slide-carousel?ref=shop_home_active). I love this store, featuring "stuff from stuff."
This leads me to believe that there is a market for your carousels. There is a link on Allan's storefront to contact him directly via email. Or you could list your carousels for sale on eBay or Craigslist.
Mary invites questions at mary@everydaycheapskate.com, or c/o Everyday Cheapskate, P.O. Box 2099, Cypress, CA 90630.