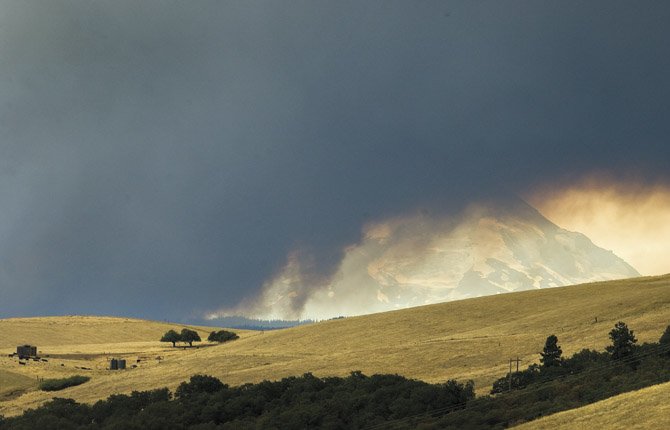 A change in wind direction and the threat of evening thunderstorms had firefighters worried as the day shift headed out to the Government Flats Fire Complex Thursday morning.
"It's going to be a tough day," spokesperson David Morman said.
He said winds from the east resulted in a "big push out west" for the Blackburn fire on Wednesday, increasing the size of the fire complex to 11,335 acres and pushing it into the Mt. Hood National Forest. Spot fires were reported up to one quarter of a mile ahead of the fire front. The three fires are still at only 15 percent containment.
Morman said crews couldn't hold the fire in the canyon Wednesday and if the winds reverse direction today as expected the fire could make a U-turn.
"We're really wanting to avoid the fire turning back on itself because there are a lot of resources that way that we don't want to lose," he said.
A fourth home burned Wednesday along with two more outbuildings. Nine outbuildings have been lost since the fires began, and there were reports on Facebook Wednesday night of an emergency evacuation of a barn full of horses by members of the community who brought up horse trailers at a moment's notice. Home at Last Humane Society is helping facilitate housing for animals large and small displaced by the fire.
Obrist Road, Wells Road, Reservoir Road and Upper Mill Creek Road have all been lowered to a Level II evacuation, the warning in the middle of the three-level "ready, set, go" system of warnings. Residents were able to return to their homes but were warned to be ready to leave again at a moment's notice.
"It's very important for the public not to get complacent, because this is still an evacuation order. They still need to keep their bags packed," Morman said.
For evacuation information contact the Wasco County Sheriff's Office at 541-506-2580 during business hours. The Red Cross shelter at Dry Hollow Elementary has closed after remaining empty through several Level III evacuations.
According to Thursday's 8 a.m. news release from incident command, "Fire behavior analysts indicate that conditions today will be at critical levels, with potential for extreme fire behavior and rapid rates of spread … Strong winds out of the west are forecasted beginning in the late afternoon with gusts of 20 mph or more. These winds, combined with steep canyon slopes will challenge firefighters attempting to contain the Blackburn Fire."
As heavy, dark smoke obscured the sun over The Dalles Wednesday afternoon there were reports that smoke had drifted into Hood River County and ash was falling as far away as Parkdale. Fire officials said the smoke and ash miles drifting downwind was "normal and temporary."
The cost of fighting the fire is reported at $4.6 million so far. About 850 personnel from public and private firefighting crews around the region are working to control the fire.
If residents want to find out if they can help some way they are encouraged to contact the Red Cross instead of showing up at the fire camp at Wahtonka. At Tuesday's community meeting residents were told that while the heartfelt sentiment was appreciated, firefighters could not accept baked goods brought to the camp.
Due to the fire, the following Forest Service Roads are closed: Forest Road 1722 on the east end, 4430 at the 1720 junction, 160 at the junction with 4440, 1720 at the east end, Forest Road 17-660 and Forest Road 1711-630. Knebal Springs campground is currently inaccessible.