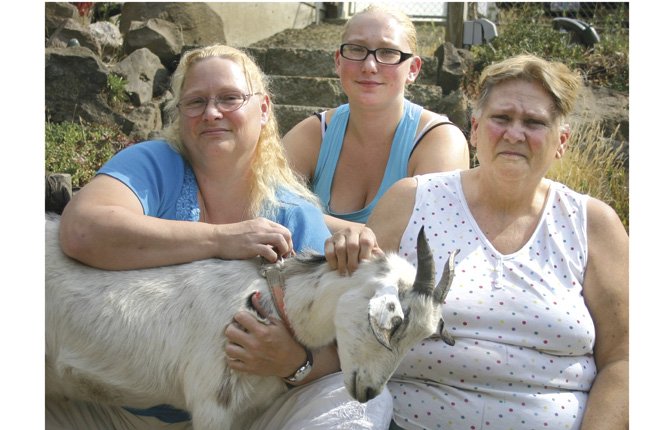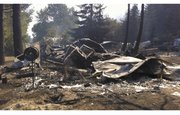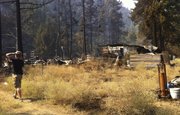 Fire fund set up
A fire recovery account has been set up at Bank of the West for the Segui, Burchfield, Roberts household.
As daunting as losing their home to wildfire may be, Carolyn Segui, her daughter Sara Burchfield and granddaughter Cadee Roberts are taking an optimistic and determined view of their situation.
"We need to get back to our mountain," Segui said in an Aug. 21 interview.
It's a big job for the three women. While Segui's mobile home was still standing at last report, the one Burchfield and her daughter had been living in was completely destroyed, as were many of their vehicles. The fields that would have provided feed for their livestock have been destroyed, leaving nothing for the coming winter.
They've had a lot of help from friends and community since the fire drove them off what the family calls Segui Hill.
They, along with their goat and geese, have found shelter with friends Nancy and Harley Fork.
"They just opened their doors," Segui said.
Their horses and other livestock are being fostered with Tom Brace. Most of their 10 dogs have been sheltered (including the trio of Australian shepherds featured in an Aug. 20 story) with Home at Last Humane Society in The Dalles.
The women marveled Thursday about the kindness and generosity they have found within their community. They publicly thanked the firefighters for their efforts to keep them safe during a town meeting Aug. 20.
"I've never seen so many firemen — and from places I've never even heard of," Segui said.
Their ordeal started Saturday, when a neighbor came flying up their drive on a quad vehicle.
"He said, 'I just want you guys to know the fire just came over the ridge,'" Burchfield said.
When they went out to the road they saw the fire coming down the steep hills on two sides. They pooled their hoses and started wetting down the hillside near their homes.
"We were getting boxed in," Burchfield said.
They escaped the fire Sunday with what few possessions they could gather piled into their vehicle, a goldfish tank nestled between the front seats and the goat sitting in Roberts' lap in the front seat. Family photos and Segui's genealogy research were also loaded up.
"I grabbed my second husband's ashes," Burchfield said. "I knew I couldn't replace those."
Segui didn't take her husband's ashes. He grew up on this mountain, which she visited every summer as a child, before calling it home. She figures his ashes are part and parcel of the place.
Instead, she grabbed the sewing machine and her mother's pressure cooker, figuring those would be important for self-sufficiency as they worked to rebuild their lives on upper Mill Creek.
"I thought, even if I'm left homeless, I can start over," Segui said.
They originally took the two horses to their nearby neighbors, Mark and Chloris Mullins, but when the Mullins also faced evacuation, they had to rescue the horses again.
Friends brought their horse trailer to haul the horses out, but initially weren't allowed past the roadblock. When they finally convinced the block guard to let them through with a police escort, they met Mark Mullins halfway there, riding the horses toward town.
Once they are allowed to return to the mountain, they plan to stay together in Segui's mobile home, but they're worried smoke damage will make that an impossibility.
"My daughter and I are severely asthmatic," Burchfield said.
They are hoping all it will take is a good cleaning to make the home habitable again.
It will take much more to bring their large household back together on upper Mill Creek, and they will be doing it with limited means.
Both mobile homes were too old to insure. Segui gets by on Social Security and a part-time job as a caretaker. Burchfield can't work at the moment due to an on-the-job injury. And neither of the aged mobile homes, the one that was destroyed and the one still standing, was insurable. They've also lost the studded tires that make it possible to get to and from their mountain home during the winter.
Roberts, who will be a senior at The Dalles Wahtonka High School, needs clothes and supplies to start school.
They also need to replace the damaged bridge that prevented firefighters from getting to the property in the first place. Even if they want to replace the trailer where Burchfield lived, they won't be able to until the bridge is repaired, and that carries a $10,000 price-tag, Segui said.
While they are proud of the independence they say is a trait of all the people who live on upper Mill Creek, they know they can't do it alone. They've established an account at Bank of the West in their names — Segui, Burchfield and Roberts — in the hope community members might be inclined to lend a hand.
Meanwhile, they wait for the opportunity to return to their home.
"By the grace of God, we still have a home to go back to," Segui said, amazed at parts of their spread that she feels were protected by "the hand of God."
"Honestly, I'm willing to pitch a tent and live in the tent to get started," Burchfield added. "The fire will not keep me off that mountain."
That's the attitude with many of the people on upper Mill Creek — people they consider friends and family.
"We've got friends there fighting the fire right now," Burchfield said. "They refused to leave."
Segui expressed sympathy for the other families who have lost their homes in the blaze. Her advice to them is to stay optimistic and to move on from this tragedy in their lives.