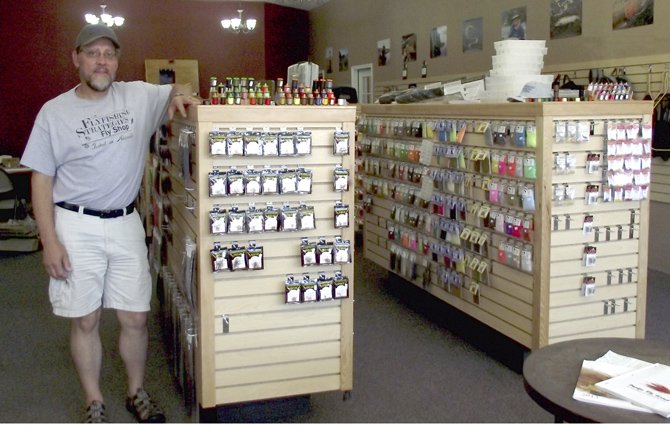 The Dalles — Flyfishing fans of all styles and skill levels, or no skill level at all — yet — are welcome at the new Flyfishing Strategies Fly Shop, says Paul Anderson.
The new shop at 109 E. Second St. will celebrate its grand opening this Friday and Saturday, Aug. 23 and 24.
"My main goal is that everybody who comes into the store gets greeted and gets the same customer service, whether they are spending $3 or $3,000," Anderson said.
Anderson has been flyfishing for more than 35 years.
"I always wanted to work in the industry in some form," Anderson said. "I'm just happy it has become a reality."
This isn't Anderson's first job in the business. He worked at a fly shop in Ellensburg, Wash. for a number of years and says he learned what to do, and what not to do. One of those things was to create a lounge in the back of the store as a spot for swapping fish stories, watching instructional videos and just talk about fishing.
"I want this to be a place where fishermen can come and hang out," he said.
As part of that effort, Anderson plans to have an open house one evening each week with activities such as fly-tying demonstrations, guest fly-tyers, instructional DVDs and refreshments. It will also be an opportunity for people who can't get to the shop during the day to take care of their purchases.
Anderson promises the largest assortment of fly-tying materials in the gorge. His display racks are already well stocked and more materials are coming in daily.
"Compared to when I started fly-tying over 35 years ago, the amount of fly-tying material available now that wasn't even heard of then has increased 10-fold," he said.
Anderson also offers rods, reels, wading boots and is expecting his wader stock to arrive any day now. Apparel and various accessories will also be available.
Flyfishing Strategies' standard hours are from 9 a.m. to 5 p.m., Tuesday through Saturday.
"During the busy season, I'll probably be here some Monday's, too, and I'm also planning on making sure everybody has my cell phone number," Anderson said. It will be on his business card so fishermen heading out for a day of fishing can meet him at the shop by appointment.
During his open house, Anderson plans to give away a $220 fly rod, a Lamson reel and lots of hats. He'll also offer discounts on guided fishing trips on the Klickitat River in September.
Anderson hopes to do some guide work himself, but for the time being he is working with a guide he considers "probably one of the most knowledgeable people on the Klickitat River." He also plans to offer flyfishing lessons.
For more information on Flyfishing Strategies Fly Shop, call 541-296-6997.