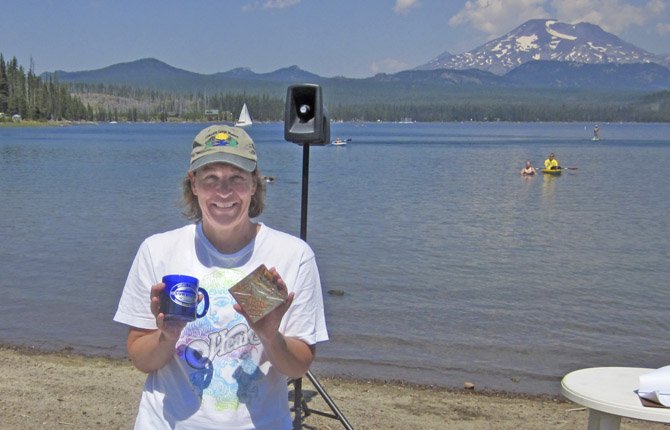 The Dalles — The Dalles resident Ann Goodman lives in the water.
As a former collegiate swimmer, she has been swimming since 11 years old, calling herself an aquatic person at heart.
Last weekend, Goodman put herself to the test in the Cascade Lakes Open Water Series at Elk Lake from Aug. 2-4 and finished in first place for the age group of 50-54 in the longer series of events – the 3k, 1,500 meters and 5k.
"Open water is not something I excel at, I am a pool swimmer primarily, and not a distance freestyle swimmer," Goodman said. "The open water is a challenge for me, also its a little scary to look out at the course on the lake and wrap my head around how much I have to swim. For me its not a technical swim, I just get in and find my zone and try to keep up tempo and pace."
This event had five different races over three days – the 3k on Friday, a 500-meter time trial and then a 1500-meter race on Saturday.
Sunday, all of the participants swim a 5k in the morning and a 1k obstacle course to finish the weekend for a combined 11k.
Through the course of it all, Goodman did not look at the total number as a daunting task, but rather took on each race at a time.
Her times were comparable with previous years, where she averages about 20 minutes per 1,000 meters.
In the 3k event, Goodman notched a marker of 58 minutes and 28 minutes for the 1,500.
She amassed an hour and 32 minutes for the 5k.
For her efforts, Goodman, a 911 Dispatcher, received a tile award for winning and she also was awarded a 'Survivor' mug for swimming all five races on the event slate.
"I have done this swim several times, not always the Survivor series," Goodman said. "This is my third time swimming all the races. I love it. I definitely acknowledge and appreciate the fact that at age 54 I am out in the middle of this beautiful lake, still navigating it on my own power."
While remaining active and competitive in all bodies of water, pool or otherwise, Goodman credits the strongholds in her life for showing their undying support – her family.
"My attitude is that I don't want my life to just be about working," she said. "I know I have to work to provide the things I want my family to have, but in order for me to carve out my own space, I have to really crunch the schedule."
Next year, the Cascade Lakes Swim Series hosts the 5k national championships – this attracts top swimmers from all over the country.
Goodman expressed interest in signing up to participate in a new age group, the 55-59 classification.
"I also know I need the competitive goals to keep me motivated so I am always looking for those," Goodman added. "I think a person needs to always look for those personal challenges or tests to keep things interesting."