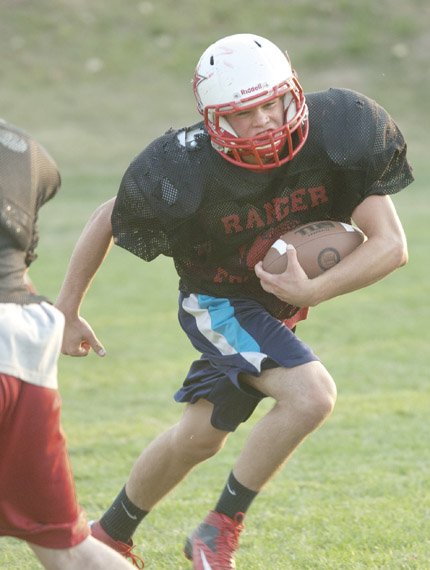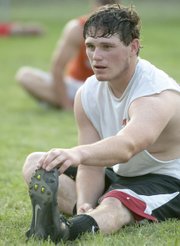 After consecutive quarterfinal berths, one major goal across the board for this season's Dufur Ranger football squad is to surge forward to the next level – semifinals and beyond.
With a pair of returning all-state athletes and two other all-league players, the Rangers have the depth, speed and talent to contend with some of the best teams across the 1A landscape.
It has been five years since Dufur earned a spot past the second round and into the semifinals.
Head football coach and 2012 Big Sky Conference Coach of the Year, Jack Henderson, said he and the coaching staff have emphasized to this group to stay hungry for more.
"That is one of the things we are concentrating on this year. We do need to take the next step," said Henderson, who is 198-84 entering his 27th year as a coach. "It is nice to get in the playoffs and all, but the Dufur Rangers don't just want to be in the playoffs, we want to win the playoffs. We haven't done that in a little while and so we are just looking forward to rolling this group out and seeing where we go. Our goal is to finish better than we did a year ago."
After losing their first three games of the 2012 campaign to Hosanna Christian, Imbler and St. Paul, the Rangers went on an eight-game winning streak, and garnered top-5 status in the 1A rankings.
Offensively, Big Sky Player of the Year, all-state athlete and starting quarterback, Cole Parke, headlined this team along with speedy weapons Nick Little, Trever Tibbets, Jake Little and freshmen newcomers, Ethan Weatherby and Bailey Keever.
As a whole, Dufur totaled more than 4,000 yards of offense and finished ranked 14th in the 43-team 1A division with 427 points scored.
On four occasions, the Rangers scored 50 points or more, including a season-high 64 in a 64-26 drubbing of Ione.


Although without Lane Turner, Caleb Morris and Kolby Bravos, who are not with the team this year, Keever believes the skills are there to repeat last season's offensive numbers.
"I think we will have one of the best offenses this year," the freshman running back and defensive back said. "In the last few years, we have been good. If we show up to play, we can be one of the top teams this year. You just have to play your game. If we can step up and play hard, we should do pretty good."
At Wednesday's practice at Dufur City Park, the Ranger offense went through 20 minutes of passing drills with Parke at the controls.
Only once did the ball hit the ground for an incomplete pass.
Henderson intimated that with a senior quarterback and a group of players who are better versed in the offense, more passes could be thrown to break down opposing defenses.
"We will throw the ball a little more, but Cole is always a threat to run and score from a long ways away all the time," Henderson said. "We have a couple of all-state kids back and we have four or five other kids who can be all-state this year. They have worked hard all summer long. We are quicker, faster and stronger at all positions and that is a good thing. I think that will make us tough to defend."
Down in the trenches, all-state guard Austin Olson anchors the offensive line and Jon Buntin acts as a bookend as another guard between center, Alec Smith.
This group while stout will have to move the pocket without the services of all-league lineman Keith Blake, who did not turn out this year.
Olson is noticeably bigger and Buntin has added close to 15 pounds of muscle to his 5-foot-11 inch frame.
Smith checks in at 220 pounds and Brent Sumner (6-1, 185) could see some action on the line.
"As a line, Austin Olson is great. He can get off the ball and I have been doing very well myself," said Buntin, a junior. "Alex is doing good at center as far as we have seen. I think making holes should be no problem for us. I feel we can be very dangerous on offense if we put in the effort. We've just got to do what our coach wants to do and do what we want to do."
Defensively, the Rangers allowed 312 points in 12 games, but in five league contests, they gave up 94 points, posting an undefeated 6-0 record in BSC action.
There were times during the season where the Ranger offense had the ball in prime scoring range, due to the hard-hitting, opportunistic defense led by longtime coordinator, C.S. Little.
With the departure of Blake, Buntin is scheduled to see plenty of snaps at defensive end to work in tandem with Olson to pressure the quarterback.
Jon Keyser, Steven Bailey, Zach Christianson and Weatherby will shuffle in and out to line work to keep some bodies fresh through 60 minutes of action.
Henderson's philosophy is to have his players flying around the field, making hits and creating turnovers.
"The defense is very important because the offense can only do some much when it has the ball," Buntin said. "To use our defense to get our offense the ball is very important. For the defense to be opportunistic and make plays, create turnovers and stop the ball is very important for us. I think we can do it."
Once again, Henderson made some phone calls and wrote up a meat grinder of a schedule for his team.
Dufur hosts Cove, Imbler and Crane, and hits the road against perennial powerhouse, Perrydale.
All of those games are sandwiched between some games in league against Sherman, Condon-Wheeler and Echo to name a few.
"Early in the season, we don't worry about winning, we just want to get better every day," Henderson said. "We talk about winning the day, but here we talk about winning the play, so that is pretty much where it is at. I think we will be ready, but we have a lot of work to do between now and league."
In his first three seasons, Buntin and the Rangers have steadily progressed, going from 6-5 in 2010 to 8-4 last season with a Big Sky Conference crown.
Early in camp, Buntin sees a squad that is focused on keeping that progression.
That means playing until after Thanksgiving.
"I think we can do some very good things," Buntin said. "It has been fun going to the second round of the playoffs for the past two years. To be honest, I do not want to stop there. I want to keep going all the way. To see that championship game, that would be exciting for us all."
Dufur's first game is on Saturday, Aug. 31 against Cove in Dufur.