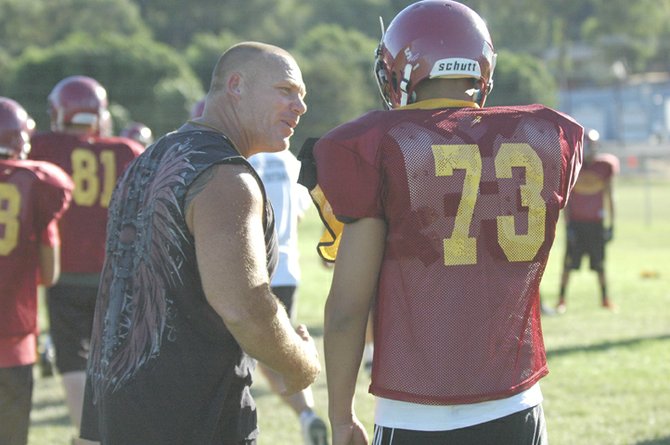 The Dalles — One thing for sure, new The Dalles Wahtonka defensive coordinator Rich Belanger will not be shy about blitzing.
He estimates that from different formations, TDW will blitz 70 percent of the time.
While taking those risks, the team could become an opportunistic bunch that keeps the opposition on its heels or get hurt with single coverage for long gains.
Belanger said his goal is to make the other team commit mistakes, this way the Tribe offense can be in prime position to score some points.
"We need to attack, attack, attack. That is our motto," Belanger said. "We will hit you and take you out of your comfort zone. If our defense can play as one, the potential is there to do some really good things on the defensive side of the ball."
Belanger is not necessarily going into his first season blind – Longtime TDW coach Andrew Savaiinaea is back in the fold to lend his knowledge of the Columbia River Conference and some of the players and their appropriate skill sets.
Last season, TDW allowed 259 points in eight games, a drop of 181 from the 2012 season.
In all, the Tribe racked up 10 interceptions, 10 fumble recoveries and six sacks. Of the 405 tackles made by defenders, 61 went for a loss of yards.
TDW's opponents made good on 28 of 77 on third down conversions and a 10-for-27 rate on fourth down.
In three games, the Tribe held its opposition to 20 points or less. However, in its final three games, TDW was outscored 157-27 in losses to Hermiston, Pendleton and Hood River Valley and they gave up more than 2,600 yards of offense.
With this new defensive scheme, there has been an adjustment phase by both the players and coaches.
What gave Belanger some reasons for optimism came this summer in a scrimmage against Columbia River High School at the Linfield Camp in June.
This program draws players from a student population of 2,200, so they have a vast talent pool to choose from.
"When we're done, the coaching staff from Columbia River complimented our team for the way they played," Belanger said. "That showed me the players we have here are serious about winning football games. I am real optimistic that we have the players needed to be a good defensive unit. Our top 14 kids, we can play with anybody."
At linebacker, Riley Bardes, Kauone Sefo, Storm Douthit, Eric Morales, Austin Wilson and Payton Eaton will see some time in this Base 40 scheme.
On the line, Billy Brace, Douthit, Connor Shortt, Bryce Larson and Joey Duong get the starting nods. There is a strong possibility that all-league nose tackle Lio Tunai will be back on the roster to further bolster the linemen.
Back in the secondary, Zach Cantrell, Chaise Shroll, Zach Nerdin and Blake Diede make up a senior-laden back end that can hit, cover, read and react.
"I have been very impressed with the senior leadership showed by our secondary players," Belanger said. "They have game experience and they know what to expect by playing so many years of football. You can sit here and practice all you want, but the game experience really translates into making plays."
Belanger did express concern with depth or lack thereof, adding that a couple of injuries could have the coaching staff scrambling for reinforcements.
He emphasizes fundamentals, peak conditioning and proper tackling.
"First thing we wanted to iron out was making sure we have our players in the right position to make a play," the coach said. "Some of the film I have seen, there were a lot of kids playing out of position. It is our job as coaches to make sure they are in the right position to make a play."
Early in the season, the plan by Belanger is to ease into schemes that are more complex.
"Our defense is fitting in. We still have some new things to learn from that, but time will tell how we do," said Nerdin. "We feel good right now and we are confident."
It has been two years, six games, since TDW has won a league game.
Hermiston, Hood River and Pendleton are showing no signs of slowing up, but as the last three years have taught, any of the four teams can jump up in the rankings to grab CRC supremacy.
There has been three different teams take the crown in the past three seasons.
The Dalles Wahtonka coach Steve Sugg feels Hermiston is the team to beat, but he is not sleeping on Pendleton and Hood River.
"It is going to be a tough league," Sugg said. "I think it could be wide open. I think if we can stay healthy and our core guys can stay together, we can definitely make a run at it."
All Nerdin wants is a chance to be in contention in his final year as a high school athlete.
With a four-game schedule consisting of Madison, Benson, Crook County and Summit to start the season, it is a possibility TDW could have a winning record by Sept. 27 when Hermiston visits.
"We are excited for it. Hermiston, Pendleton and Hood River have been tough," Nerdin said. "We haven't won a league game in two years, so we are ready to go out and show them what we can do. They are great, but we are hoping to get up there to compete and beat them."