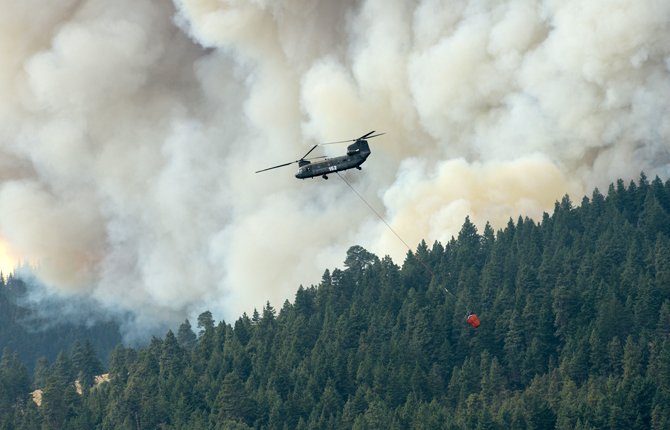 SALEM, Ore. -- The Oregon National Guard is providing assets to support the fire-fighting efforts at the Government Flats Complex Fire, located approximately six miles southwest of The Dalles, Ore. The fire has expanded to approximately 8,000 acres, and is only about 15 percent contained.
The Oregon Army National Guard has deployed one HH-60M Blackhawk helicopter, one CH-47 Chinook helicopter, and one UH-72 Lakota helicopter and approximately 20 aviation support personnel to assist incident commanders with fire suppression efforts near The Dalles, Ore.
Earlier this month, the Oregon National Guard provided support to incident commanders at the Douglas Complex Fire near Glendale, Ore., with five aircraft and approximately 140 Soldiers assisting with traffic control in the evacuated area. The Oregon Army National Guard dropped nearly 500,000 gallons of water assisting with fire suppression at the Douglas Complex Fire. Approximately 35 Soldiers and one aircraft remain on state active duty in support of this effort.
Personnel at the Oregon Military Department's Joint Operations Center, and Oregon's Office of Emergency Management in Salem, Ore., are closely monitoring the fire situation and remain in contact with incident commanders in the affected areas.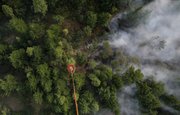 The Oregon National Guard provides support to county and state first-responders and incident commanders for the protection of critical infrastructure, property, and citizens at wild land fires burning throughout the state when requested.
Several wildfires also continue to burn throughout the western states of Washington, California, Idaho, and Montana.
To see more photos from the Government Flats Complex, visit the Flickr album at:
http://www.flickr.com/photos/oregonmildep/sets/72157635189567302/
To see more photos from the Douglas Complex, visit the Flickr album at:
http://www.flickr.com/photos/oregonmildep/sets/72157634950945816/