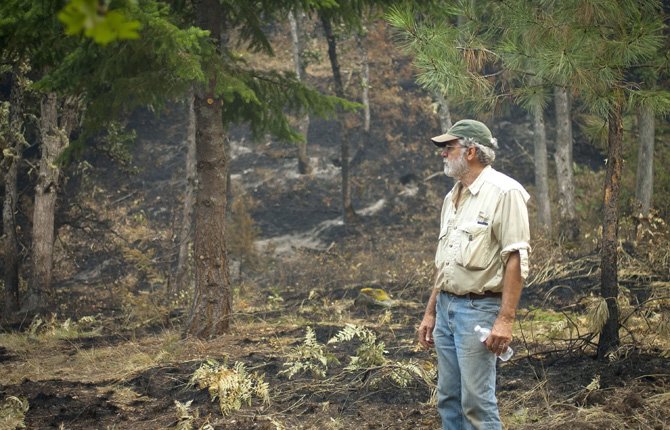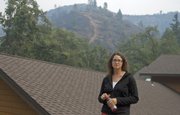 Rain and lighter winds than expected helped keep the Government Flats Fire Complex in check Thursday.
After growing at a rate of two to three thousand acres a day this week the Blackburn fire had only increased from 11,040 acres Thursday morning to 11,247 acres Friday morning, bringing the total complex up to 11,542 acres.
"It was cooler, we had a little bit of rain, it was more humid up there," fire spokesperson Chris Friend said. "Yesterday was looking pretty dicey but then we didn't get the winds that were predicted."
No additional structures were burned yesterday, keeping the total at four homes and nine outbuildings lost since the lightning-caused fire started on August 16.
Friend said there were good and bad side effects of the rain.
"The rain was a double-edged sword, because we couldn't get some burnout operations we wanted to do going very well," he said.
The fire complex is considered 20 percent contained. As of Friday morning 1,008 personnel were working the fire.
Thursday afternoon residents along Ketchum Road, Vensel Road, Godberson Road and Mosier Creek Road were evacuated from their homes. A Level II evacuation order, telling residents to get ready to leave at a moment's notice, was issued for Upper Mill Creek Road, Wells Road, Browns Creek Road, Cherry Heights, Chenoweth Road and Obrist Road.
"The notices remain in effect from last night," Friend said. "It's a good lesson for people on trying to clear areas of vegetation from around their home and make sure firefighters can get access to them."
On Thursday night incident command issued a thank you to the community for "your many expressions of support and offers of assistance for our hard-working crew."
"Your actions have not gone unnoticed," the statement said. "We know we are guests in your county and city and have been amazed at the generosity and patience of our hosts."
The incident commanders suggested that if people want to show their support for the firefighters working in The Dalles and elsewhere in Oregon they can consider donating to the following places in their name:
The Wildland Firefighter Foundation (www.wffoundation.org) is focused on helping injured firefighters and the families of firefighters who were killed in the line of duty.
The National Fallen Firefighters Foundation (www.firehero.org) is focused on helping honor firefighters killed in the line of duty and helping the survivors rebuild their lives.
The American Red Cross (www.redcross.org) provides relief to human suffering around the world and is providing assistance to families around The Dalles who lost their homes or were evacuated from them.
"We know we speak for everyone working to control the Government Flats Complex fires that we will be honored to be associated with any donations you give to these worthy organizations on our behalf to recognize disaster relief volunteers and the hard work and sacrifices of firefighters everywhere," read the statement, signed by Christopher Cline and Chief John Ingrao.
Thus far, firefighters have avoided serious injury on the fire, noted spokesman David Morman, but yellowjacket stings and poison oak have been an ongoing problem.