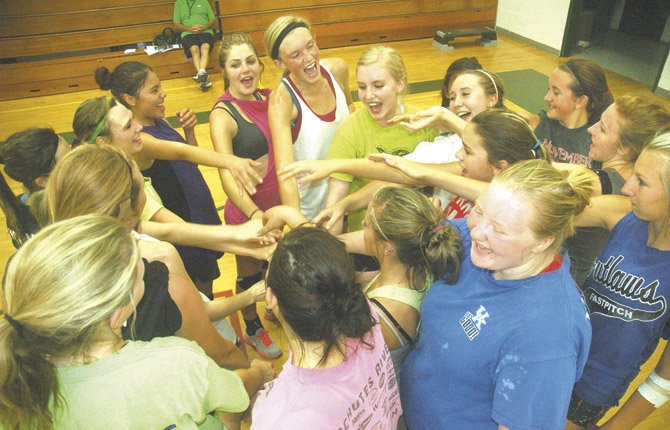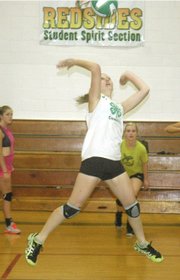 Maupin — For five South Wasco County seniors, this is the last stand.
One final chance to put forth a resurgent run into the upper echelon of the 1A volleyball landscape and show they belong in the state conversation.
It is an exciting time in Maupin.
Joy Kelly felt it once she stepped on the court for her first practice in her final season.
It is all nowor never.
"I feel like we really need to push it," Kelly said. "I know that all of the seniors really want to work hard this year because we love what we do. We want to keep working hard and that means communication, getting on the floor, getting to all of the balls that we can and then I think it will be a great season. That is what we are all hoping."
Schedule
SWC VOLLEYBALL
Ron Townsend ......... Head Coach
Terry Stark .......... Assistant Coach
---
at Dufur Classic VB Jamboree ...............................9 a.m., Aug. 31
host Trinity Lutheran School (Endowment), 5 p.m., Sep. 5
Host Lyle ............5 p.m., Sept. 10
at Sherman Husky Tournament in Moro ................9:30 a.m., Sept. 14
Host Central Chris./Irrigon in dual ...............3:30 p.m., Sept. 17
at Horizon ..............5 p.m., Sept. 19
Host Redside Tournament in Maupin ..........9:30 a.m., Sept. 21
at Trinity Luth..........5 p.m., Sept. 24
Host Sherman ...5 p.m., Sept. 26
at Ione ..................5 p.m., Sept. 27
at Dufur ....................5 p.m., Oct. 1
Host Arlington. .....5 p.m., Oct. 4
at Irrigon ...................5 p.m., Oct. 8
Host Horizon .......5 p.m., Oct. 10
Host Echo ............5 p.m., Oct. 11
at Sherman ............5 p.m., Oct. 15
Host Dufur ...........5 p.m., Oct. 17
Host Condon ......5 p.m., Oct. 18
at Dufur Classic Volleyball Tournament ...........9 a.m., Oct. 19
---
at Big Sky District Tournament in Hermiston ............10 a.m., Oct. 26
State Play-In .....Time TBA, Oct. 29
State 1st Round .Time TBA, Nov. 2
State Quarters through Finals at Ridgeview High School in Redmond .......Time TBA, Nov. 8-9
In 2011, the Redsides finished with a 6-20 record and tallied a 1-7 standing for last place.
All told, SWC won 20 match games and lost 54.
From that point, through practices, workouts, intense training and summer camps, the necessary improvements were made for the start of the 2012 season.
The Redsides doubled their win total to end up 12-10 overall and the group posted a 5-3 record in the Big Sky West Division to end up tied for second place.
SWC won 36 match games and dropped 32, so all around, the play and outcomes changed dramatically.
With the winning trend set midway through, SWC had a state ranking as high as No. 6, before ending up ranked 20th in the 66-team 1A classification.
For their season, the Redsides had Katherine Popchock and Zoe Morelli chalk up first-team all-league status, with a handful of others in the mix.
When Molly Foreaker looks at the talent around her, the first thing that comes to mind is winning.
"Last year taught us in order to play power volleyball, you've got to want to compete, you've got to want to win, you want to have that drive," she said. "Last year, we did not quite have or know what it was exactly to win and we made it to districts. We lost both of our matches and coming off that, we want to do even better. It gave us confidence to want to do more."
Now that she has had a year of setting experience under her belt, senior Kelsie Olson is ready for the challenge of being the maestro of the SWC killing machine.
All of her hitters like Kelly, Morelli, Sonya Schmitz, and Popchock are back in those same spots, so she has developed a rapport with them to make the offense more prolific.
"I am definitely ready for the challenge," Olson said. "Last year, we worked a lot on each individual hitter and giving each other the perfect set. We didn't lose any girls last year and we are gaining more girls now so, I am really confident in being the setter because I know how each hitter performs and how they like each set."
As one of the juniors, Foreaker said she and her teammates have a desire to make this a memorable swan song for Kelly, Morelli, Popchock, Olson and Schmitz.
So that means other standouts such as Peggy Espeland, Paris McCartney, Roxanne O'Neal, Tatum Hahn, Bailey Hogencamp, Lindsey Hull and Ally Mahleman will have prominent..
"We have improved each year. I hope that we will see more improvement this year," said third-year head coach Ron Townsend. "What is neat to see is the number of kids we got (20) and the effort they are putting in trying to play power volleyball. It takes a little while to acquire the skills, but they are working at it. I see improvement from the first day of practice and we see improvement from last year already. We are excited about that part of it."
Townsend added that the early part of the season would be used as a feel-out phase to find the right players to put in the right spots for success.
He has more numbers to choose from, so he and longtime assistant coach Terry Stark can tinker with a few dimensions to get the team off on the right track before the start of league play on Sept. 17.
"I feel like the freshmen we have are more advanced than the freshmen we have had here in the past," Kelly said. "The sophomores and juniors are doing a lot better too. So, I think we will do even better this year because we have so many talented girls."
As far as league is concerned, given returners and sound coaching, Townsend highlights Dufur, Condon-Wheeler and Ione as three teams who will be right at the top of the heap.
With added consistency, the Redsides could figure in the final standings.
"I think this is one of the better leagues in the state as it has proved many times over. It is going to be the same way this year," Townsend said. "It has been a very good league, so we have to show up to play every night and try to improve and we hope that something good happens for us towards the end of the season."
While difficult to put in perspective that this will be her last time donning green and gold, Kelly is not at the point of dealing with the emotions of that notion.
She would rather focus on leadership and being a major component of raising the level of play of the team around her.
"I don't think it has sunk in yet, but the part that has sunk in is leadership for the seniors," Kelly said. "That part has really gotten to me. I remember the past seniors how they always talked leadership and I really never understood what that meant until now. So, that is the part I do understand now, not that it is my last season to play volleyball."