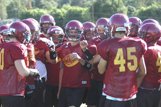 Since winning a Columbia River Conference league crown in 2010, The Dalles Wahtonka football has gone through back-to-back lean years where they have amassed a record of 2-15.
Over that same span, the Eagle Indians have lost six straight league contests and overall, been outscored by a 699-191 margin.
Incoming senior lineman Mike Pifer said losing is a terrible feeling.
Another senior, Zach Nerdin, sees the talent up and down the roster and knows the best is yet to come.
With a new head coach in Steve Sugg back from several years from the game bringing in a new philosophy and instilling hope across the board, the days of losing are over with and belief factor has set in for a Tribe squad.
"That is not anywhere near where we are going to be this year," said Nerdin of the two losing seasons. "We are going to go out and compete in every game. For many of us seniors, we know it is our last year, so we are going to try to make the most of it. We are ready for this season and we are ready for the challenge. It is an opportunity for us to do great."
If TDW is going to make headway in the standings, much of the onus will be on the 15 seniors to lead an inexperienced team.
With their leadership and the institution of a no-huddle spread offense, scoring points becomes one the team's biggest priorities.
Last year, the Tribe offense put up 1,004 yards rushing and 661 yards passing.
In three league contests, TDW averaged 208 yards of offense and a time of possession number of 25 minutes and 36 seconds.
In evaluating his weapons, Sugg plans to get the ball out in the open field for Austin Dehart, Austin Wilson, Devin Wilson, Blake Diede, Nolan McCall, Nerdin, Zach Cantrell, Bryce Belanger, Billy Brace, Storm Douthit and Payton Eaton to do some work.
"We have a lot of skill guys. Our biggest thing is figuring out how to get these guys the ball in space," Sugg said. "We should be able to put some pressure on opposing defenses because they are not going to be able to key on one guy. I think we have that luxury there. When you have so many solid players, it really gives you more ways to attack a defense."
On the first day of daily doubles, TDW had four quarterbacks taking snaps, so there looks to be a heated battle on the depth chart.
All fingers point to senior Chaise Shroll as the lead signal caller ahead of Cantrell, Eli Holeman and Dominique Seufalemua.
It is still early, however, so much can change until the start of the regular season.
"If we run the right routes and our quarterbacks can make a good read, we can do pretty good," said Devin Wilson. "We have shown it in 7-on-7 and our run game has come along really well with it. Our offense has the ability to be a lot more dynamic and explosive than it has been in the last couple of years."
In order to make the pitch and catch for long gains to keep the sticks moving, the offensive line plays a huge role in how much success this offense will have every Friday.
Pifer said this group has logged countless hours in the weight room getting bigger, faster, stronger, quicker and smarter.
Making up the line will be Pifer, Connor Shortt, CV Regalado, Riley Bardes and Kauone Sefo.
Eric Morales, Justice Tyler and a few others will see some time in the trenches as well.
Shortt and Bardes are coming off all-league campaigns, and Pifer operates the controls at center, making line calls and audibles in conjunction with the offensive philosophy.
"As the center, I am the quarterback of the line. I like having more responsibility. I have really taken advantage of this opportunity and I have embraced it," Pifer said. "Our offensive line is big, strong and fast. We will go out there and hit some people in the mouth and be physical. I feel we can be successful on offense if we play at a high level there."
Sugg is still hopeful that this team can develop added depth, so there are several players who can fill different roles.
Because so many of the athletes played on both sides of the ball last season, the lack of depth led to mental and physical errors that curtailed drives.
One way to fix that is through discipline and repetition on the practice field.
"If the coaches see a mistake in practice, we are going to correct it immediately and just try to harp on fundamental, discipline football," Sugg said. "If you let them get away it at practice, it will carry over on Friday nights, so the staff is going to try and be on top of things."
Sugg is not one to shy away from challenges and the 2013 season could be the one of his greatest in his decades of coaching.
Nonetheless, the show must go on, and he is ready to roll up his sleeves to get his squad to the Promised Land.
"I am really looking forward to this challenge," Sugg said. "Coaching is in my blood and not coaching in the last couple of years, it was tough. It was tough to come out here and watch a game and not be involved. Now that I am here, we are trying to get the kids to buy into the new offense and defensive philosophy. I think so far, they are buying into it. I hope that we can have some success this year."
Earlier this summer, TDW played in a 7-on-7 tournament and hung with two-time defending 6A champion, Lake Oswego.
The Tribe added a comeback bid against Oregon City, but ran out of time.
They beat up on North Salem and versus Silverton, who is already showing some glimpses of stout ability thus far, the Eagle Indians held their own on the field.
Late last month on July 22, at Fort Vancouver High School, the Eagle Indians suited up against Fort Vancouver, Woodland and Reynolds for some 7-on-7 action and scratched across three more notches in the win column.
The schedule is tough this season for TDW, which hosts five games and hits the road for four.
Two of the most challenging road games are versus Summit and Pendleton, while home games against Hermiston, Hood River, Ridgeview and Crook County highlight the home slate.
Securing a winning record and a postseason berth will not be an easy task, but Pifer said this team knows it will go into each week with an underdog approach.
"We thrive on teams overlooking us. We have been losing for the last couple of years and I think other teams will take us lightly. We want them to," Pifer said. "We are going to get out there and work our butts off. We are getting better and we are going to dominate and have a winning season."