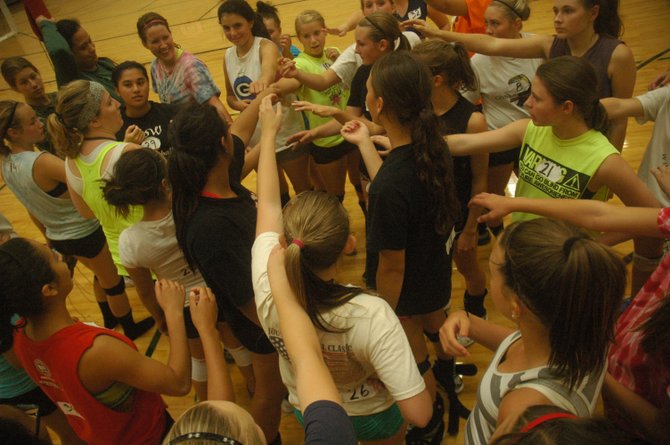 The Dalles — At the start of daily doubles, The Dalles Wahtonka has seen a boost in numbers.
Up from the mid-20s, there were 35 athletes, 14 of them freshmen, on hand for the start of daily doubles this week at The Dalles Middle School.
Assistant coaches Kelly DeLeon offered words of instructions and Neticia Enesi, as two courts had players diving, setting, chipping and slamming down kills in a few inter-squad scrimmages.
"I think it has been a really strong start," DeLeon said. "The girls are used to us as coaches, so there are no new faces. They know our expectations and they have come prepared and ready to play. It has been really fun and exciting to see the level of play a lot higher than we started with last year."
Of the 35 players in attendance, all-league middle blocker Olivia Starks appeared to be in mid-season form.
Returning varsity players Lori Cimmiyotti, Maddy Bradford, Morgan Triperinas, Timarra Roth and Beth Peters had their skill working for them, and returning setter Morgan Goslin is primed to come back to orchestrate a high-powered offense.
Junior Varsity players Hannah Schechtel, Courtney Anderson, Billie Wilson, Deysi Velador and Natalie Moleli were getting some repetitions on the court with hopes of earning a spot on the varsity side.
"The girls coming in are great players, but we know the experience we lost," said Velador, a sophomore and last year's JV captain. "It's all about adjusting and getting used to playing at a higher level. We're going to need them to be ready. One big thing you have to have is confidence. You can't be scared of any situation."
One of the biggest differences in the play so far, DeLeon said, is the participation of Mid-Columbia Medical Center.
In addition to a training element passed down from the coaches to the players during the offseason, MCMC sent trainers down to assist in workouts a few times a week.
"It has made a world of difference," DeLeon said. "The girls are out here pushing themselves 100 percent and you don't see the injuries or the issues that we had at the beginning of last season, which is nice."
DeLeon believes she has seen enough progress that the team made last year in a handful of close losses and a positive start to the fall season to warrant a breakout year for one of the Columbia River Conference's up-and-coming programs.

"We've carried over a lot of momentum and will be a better team," she said. "I really feel like we are a better team at this point in the season than we were last year. The girls have come in focused on accomplishing some great things."
With the departure of all-league libero Katherine Kramer and middle front, Amanda Cimmiyotti, many of these names at practices are competing for two spots.
Being a player who has a little more height for front line play, Aspen Bigoni, is one athlete ironing out some early rust to pencil her name on the big team.
Although primarily a hitter from both the right and left side, she has worked on different elements of her game to become a better-rounded player.
Back row passing is one area she has seen the most improvement.
"I have more muscle on me so that has helped a lot with my serving and hitting," Bigoni said. "I played junior varsity last year, but I got a lot of playing time. I improved at rotation and in other parts of my game. My goal is to be on the varsity team and to get some playing time. I don't expect to be a starter, but I do expect to play and be a good aspect to the team."
Bigoni said it is important for the team to keep battling and in order to get to the next level. With a young group and a couple of open spots available, she said everyone needs to be willing to not only play their main position, but also be willing to move around and help the team win.
"We have to be willing to sacrifice and put the team first," she said.
Last season, TDW went through some peaks and valleys through the year by losing more than a handful of five-game setbacks, while adding a few big wins at home and on the road.
The hope is to take that next step into the top-24 to earn a state playoff spot.
Bigoni, Velador and the rest of the team has a look in their eyes that expresses a desire to win and to work hard and compete.

"It is a matter of us just trying to have a completely different mindset," Velador said. "We know we can do a lot better this year, so we are trying to have a more positive mental approach to the game. We are just trying to work harder in practice and do the best we can so we can do well in our games."
With the influx of numbers, DeLeon credits the progression due to a local traveling team in the Cherry City Crush that has moved up 14 freshmen to the program.
As the years go on, DeLeon hopes the numbers continue to rise, but in order to do that, herself, Enesi and head coach Amy Schwartz have planned to dedicate more time in reaching out to the middle school as a way to further prepare the younger group for 5A power volleyball.
"I think the coaching staff at the high school wants to make this a volleyball town and really show that we are out here to play and to compete," DeLeon said. "It has been one of our big goals this year to get people excited about this sport. We want to get people in the stands and we want the girls to have that desire to get out there and make these teams in their earlier years."
For a team that has won three non-tournament matches in last season, it all comes down to attitude, togetherness and a will to fight.
Schwartz has one year under her belt and the program as a whole is definitely turning the corner for a greater good. All that is left is putting it all together on game night.
"Our level of focus and intensity is there. We want to compete. That is our main objective and the girls know that," DeLeon added. "They are pushing it on the floor and that is their goal as well. It is not just the coaching staffs. They know that they have the skills and that has been a part of it. We see that they are ready to do this."
TDW's first match is at Kurtz Gymnasium in The Dalles versus Redmond at 6:30 p.m. on Tuesday, Sept. 3.