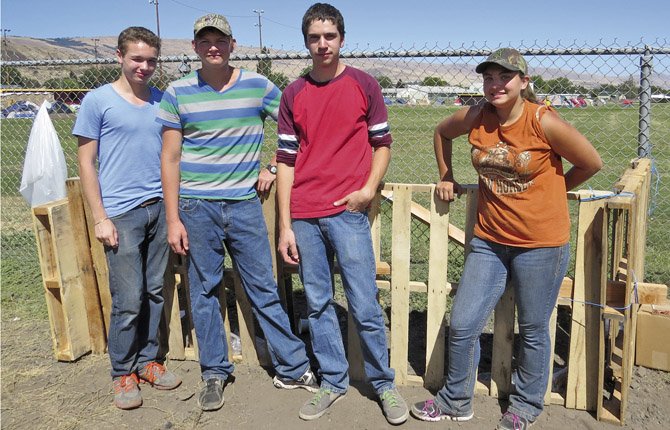 Teens keep things running at base camp
Most teens are finishing out their summer with a vacation or time at the pool, but a few local students are finding out what it takes to run an emergency camp for firefighters.
"It's a lot of work but it's actually a lot of fun, especially if you're working with people who make you laugh," said 16-year-old Mary Jorgensen of Dallesport. "It's always busy. You can never sit down. It's not that it's really hard work, there's just a lot of it."
Jorgensen and a handful of other teenagers were recruited to work 12- hour days at the makeshift camp set up at the former Wahtonka High School for the more than 850 firefighters working to contain the Government Flats Fire Complex.
The teenagers are getting paid, but they all said working at the camp felt good for more reasons than just a paycheck.
"It's a lot of hard work, but all the firefighters have been really nice. It's been good to help them out," said 16-year-old JR Walker of The Dalles.
He said the group has been doing "little stuff that goes a long way," like making sure the mountain of garbage and recycling generated around camp gets hauled away in a timely manner.
Cole McDowell said one of the first things the group did when they got there Monday was to rake out a truckload of gravel that had been brought in to level the area where the catering trucks were parked and the food tent was set up. Since then they've been doing everything from unloading trucks to stringing together tarps to create a shade canopy for firefighters to rest under.
"We've been doing all we can around camp so the firefighters don't have to think about anything but fighting the fire," he said.
The camp includes an array of tents set up around the Wahtonka campus, semi-trucks with showers inside, sleeping areas inside the school for crews working the night shift, a fleet of catering trailers and a parking lot full of pickup trucks and emergency vehicles from around the state.
"We haven't met many fire people, because when they come in they're either sleeping or eating," McDowell said.
He said the caterers produce hundreds of "fireman-sized" sack lunches for people to grab during the day and give the firefighters "full-on, good meals" before they head out in the mornings and when they return to camp in the evening.
When the teenagers were asked to work at the camp on Monday the fire was predicted to be mostly contained after a couple of days. As the fire spread, the teens realized they are in it for the long haul, just like the fire crews. Luckily all of the workers either didn't have a summer job or were working a harvest-related one that has already wrapped up, and school doesn't start for a couple of weeks.
When they do go back to school, they will have a good answer when their teachers ask what they did over summer vacation.