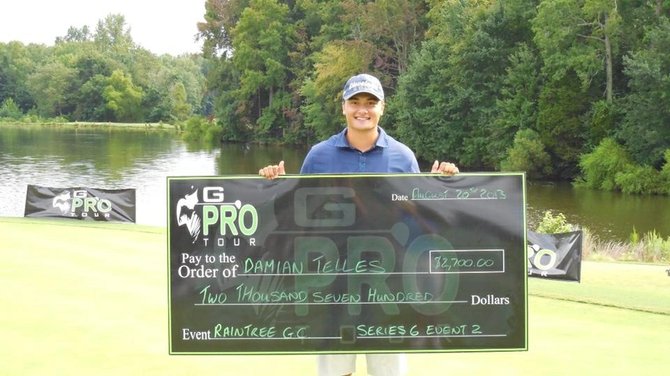 Damian Telles had been dreaming of this moment for a long time.
Tuesday afternoon, The Dalles Wahtonka graduate sank five birdies on the front nine and battled back from a first-day deficit to secure a three-stroke triumph for his first professional victory on the G Pro Tour in a Series 6 Golf event at Raintree Country Club in Charlotte, NC.
"Just like any other tournament I've won in the past, it feels great," said Telles, who received a $2,700 check for his efforts. "It's something that no one can take away from you. But, this win as a professional feels a little better."
Telles made his professional debut in the Winn Dixie Jacksonville Open (Web.com Tour) in Ponte Vedra, FL from October 18-21, 2012.
In a 10-month span, he had previously competed in 17 other tournaments until Tuesday's triumph.
A lot of pressure was released after this ground-breaking win.
"Of course as a competitive athlete you want success right away," Telles said. "Although it took basically 10 months to get my first win, I am still very excited and proud of it. Now that I got the monkey off my back, hopefully it just opened the floodgates for more wins."
After one day, Telles notched a 68 and was two shots behind David Sanchez, whose 66 put him in first place Monday night.
On the second day, however, Sanchez faltered with a 72, but Telles got off to a strong start with five birdies on the front nine, including three in a row on holes 5-7.
Still, Jake Scott and Travis Ross were within reach, as things got interesting on the back nine.
Telles picked up two more birdies and parred his final five holes, while Scott parred five of his six final holes, adding one birdie, but finished three shots back with his 136.
All told, Telles punched in 14 birdies (seven apiece in each round) and 20 pars. He bogeyed just one hole – 16 on day 1 – and had a double bogey on the next hole at 17, also on opening day.
"There wasn't really much of a difference the second day," Telles said. "I just capitalized on my birdie opportunities on the greens more on the second day than the first. Knowing that I won by three (strokes) feels great. But, it feels even better knowing that it should have been by more."
Ross ended up in third place at 137, Sanchez had a 138 for fourth place, and Bruce McDonald stroked a 139 to chalk up fifth place.
Kevin McLister (141), Andrew Bradford (142), Reed Darsie (142), Bryan Bigley (143), Charlie Hoyle (143) and Andy Bare (143) rounded out the top-10.
Up next for Telles is a trip to California for a web.com tour Q School pre qualifier.
Essentially, he used this winning tournament run in North Carolina as a tune-up for the bigger challenge that lies ahead.
"I just wanted to play well and keep all parts of my game controlled," Telles said. "Since I won it, my confidence is very high going into Q School and that was obviously the ideal situation. My confidence is rolling high and I am ready for next week in California."
Of course, the Professional Golfers Association Tour is the ultimate plan in the near future.
Until then, Telles said his next goal is to finish out the season on the main tour he has been playing on (E-Tour), but mainly focus on the upcoming Q School phase one stage at a time.
"Hopefully I can get through all three stages and be playing on the Web.com tour next season," Telles added.
Note: Web.com Tour is right under the PGA Tour. All golfers go through that level to get into the PGA