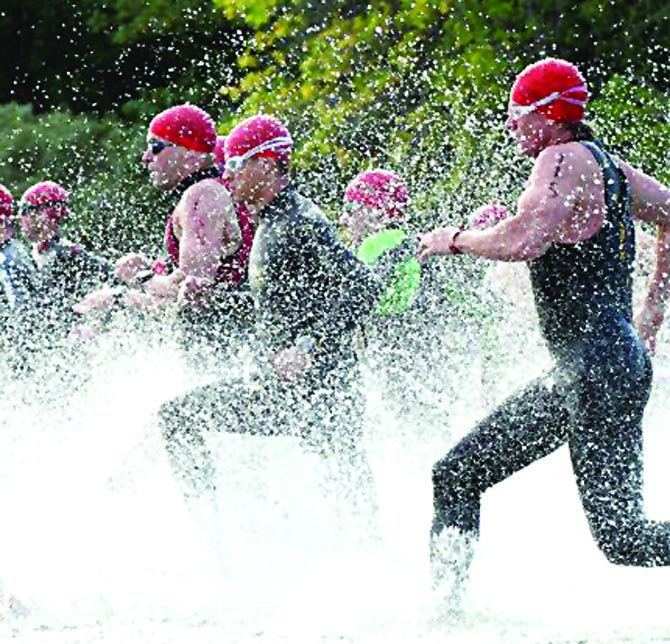 The Dalles — Much of the preparation work has been done.
Now the countdown begins for the 25th annual Aluminum Man Triathlon on Sept. 7 at Riverfront Park in The Dalles.
With a race crowd of more than 250 expected, signups have opened for participation in this grueling event.
There were two levels of competition for athletes to sign in for, including the Olympic and the Sprint Events.

In the sprint, athletes need to complete 500 yards of swimming, 12.43 miles of biking and 3.11 miles of running.
The number of local competitors is usually high with triathlon enthusiasts spanning Goldendale, Hood River, Dufur, White Salmon and The Dalles, but there are a few from Vancouver, Portland and everywhere else from all over the Northwest Territories.
One former participant, Cory Erickson, who will forego this year's event due to injuries, got his first taste of triathlon competition in 2008.
He last competed in 2011, and during that session, he wound up in sixth place overall with a final time of one hour, 13.04 minutes to lead the rest of the gorge-area residents. It is no walk in the park to say the least.
"The Aluminum Man, like all triathlon races, is very grueling," Erickson said in an earlier interview. "I didn't place very high (in first try), but just finishing my first one was a huge accomplishment." Although Erickson did not compete in the Aluminum Man last year and will not this year, there were a handful of local residents from the Greater Columbia Gorge area who threw their hats in the proverbial ring for top times in the sprint classification.
Dufur's Leanne Neal had a time of one hour and 15.21 minutes for first place in the women's division, and Hood River's Dale Walker had a marker of 1:15.17 to grab 14th place on the men's sprint side.
Eric Wahler (1:39.11) and Sarah Ziegehagen (1:40.38) also had respectable tallies as well.
Heidi Gustafson wound up seventh with a time of 1:29.58, as she competed in the upper levels of the Master's bracket.
Also competing in Master's competition were Greg Gustafson, who had a crossed the tape in 1:17.11, and Hood River's Dave Soelberg chalked up second place for his Master's run of 1:10.09.
Erickson said in order to be successful and competitive in any triathlon, an athlete needs to be well versed in all three criteria.
"All three sports (swim, bike, run) use completely different muscles so the training involved is very challenging," he added. "To be successful, it takes a lot of discipline in all three sports. Having one weak area can make a huge difference in the outcome of a race, which is why it is important to balance your workouts for all three."

If battling the elements and the heat index did not provide enough of a challenge, Erickson said the transition from the bike race to the running event is probably the most difficult.
"Doing workouts with a bike workout, then following up immediately with a run workout, which they call a brick workout, is important to overcome that rubber leg feeling," said Erickson, who noted that the Aluminum Man is, for many people, the final triathlon until 2014.

Maybe it is the thrill of it all or maybe an athlete chooses to sign up to cross off a bucket list accomplishment, no matter how difficult or punishing to the body a triathlon is, the popularity of the event has skyrocketed in recent years.
On the website getgoingnc.com, sprint events held across the United State grew from 818 in 2004 to 1,393 in 2009.

According to the Sporting Goods Manufacturing Association, the total number of Americans who participated in a triathlon — USAT sanctioned and otherwise — in 2009 was 1.2 million.
Just as Erickson experienced in his first go-around, triathlon fans gravitate towards the challenge.
"Many people who do their first one are usually hooked for life," he said. "It's a very addicting sport because of the challenge and the kind of fitness you achieve." The Olympic event starts at 9 a.m. and the sprint athletes hit the pavement at 9:30 a.m.
Both the start and finish are at Riverfront Park in The Dalles.
Costs are set at $65 for individuals before Aug. 23, $70 after and $85 from Aug. 31 until the day of the race.
T-shirts are provided for participants who sign up before Friday, Aug. 30.
Awards will be offered for finishing races, based on the 16 age divisions, where runners from ages 12 to 80 compete.
For more information on upcoming events, call 541-296-9533 or e-mail the event administrators at info@nwprd.org. Interested parties can also sign up through the web at http://www.racecenter.com/aluminumman/#course.