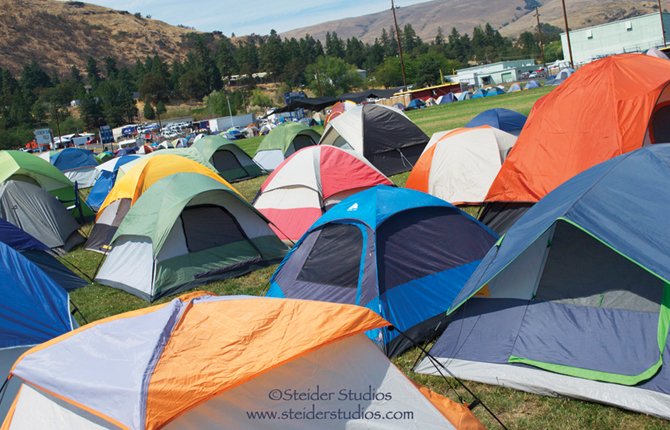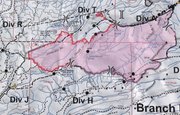 The Dalles — Firefighters have made enough progress in easing the risk to homes from the Blackburn Fire that the Oregon Fire Marshal planned to return protection responsibility to Mid-Columbia Fire and Rescue Saturday.
Between 150 and 170 firefighters on the fire marshal's Green Team were to pull out Saturday after press deadlines, said Justin de Ruyter, a spokesman for the fire marshal's office.
The entire Government Flats Fire Complex, which includes the Blackburn as well as the Government Flats and Wells fires, grew to 12,070 acres Friday, but most of that was likely from burn-out efforts by firefighters, de Ruyter said. More than 1,000 firefighters remain assigned to the blaze.
Calmer than predicted winds helped firefighters make significant gains toward containment, from 20 percent Friday morning to 25 percent Saturday.
Despite gusty afternoon winds, lower temperatures and higher humidities allowed firefighters to directly attack the fire edges. With support from aircraft, hot spots continue to be cooled and a combination of hand and dozer lines is now being built around the stubborn western end of the fire. Mop-up and patrol continues on all other portions.

The potential remains for the western end of the fire to exhibit extreme fire behavior and grow toward the north and northeast. Therefore, no changes have been made in the most recent evacuation levels. Level III evacuation orders remain in effect for Ketchum Road and for Upper Mill Creek Road west of address 9595.
Firefighter and public safety is the number one concern and continues to be emphasized. As fire activity is decreasing, risks still remain from fire damaged trees, rolling rocks and logs on steep slopes, rattlesnakes, poison oak, and heavy fire traffic. Incident supervisors are monitoring fire crew fatigue and are encouraging all to remain rested, alert, and assertive in promoting safe working conditions.
"It's been a long week for a lot of these guys," de Ruyter said, noting that conditions were much different as recently as Wednesday and Thursday, when shifting winds pushed the fire much further west.
"Crews are working heavily along Ketchum Road," de Ruyter said, and a large part of the reason the highest level of evacuation remains in effect is because of the level of firefighting activity in that area.
He said evacuation levels could be re-evaluated later Saturday with the Wasco County Sheriff.
Recreationists are reminded that the Mt. Hood National Forest has implemented an area closure in proximity to the Blackburn Fire. Listings of the road, trail, campground, and general area closures may be found at the Forest web site: Mt Hood National Forest (http://www.fs.usda.
gov/mthood) and at http://inciweb.org/incident/maps/3662/
Nationally, an almost 200-square-mile fire is burning into Yosemite National Park in California and firefighters have barely begun to contain it. Radio reports this morning indicated that Gov. Jerry Brown had declared an emergency because the fire is now threatening San Francisco's water and power supplies.
The 170-square-mile Beaver Creek Fire near Ketchum and Sun Valley in Idaho remains one of the biggest national priorities. That fire is now 75 percent contained and all evacuations have been lifted.
De Ruyter said it was unlikely California's big blaze would affect resources available to fight the Government Flats complex.
"There's no talk of demobilizing," he said. "However, once we start demobilizing, there's a possibility of Northwest resources going to California."
Nationally, the wildfire preparation level is listed at five, de Ruyter said, which indicates critical resource requirements.
"It's been five or six years since it's been at level five."
De Ruyter said Green Team members could come back if the situation here worsens again.