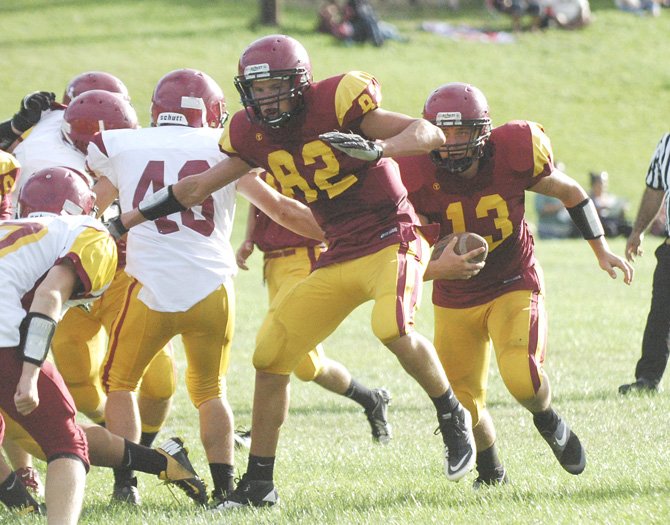 The Dalles — After a grueling week of daily double practices where members of The Dalles Wahtonka football team were on the field for more than five hours a day, the group had a chance to put all of those hours to use in an inter-squad scrimmage Saturday afternoon at The Dalles Middle School.
The players were broken up into two teams – one group wearing crimson and the other donning white jerseys for 24-30 offensive and defensive plays apiece with officials calling penalties and coaches on the field offering words of instructions.

"I think we did a good job offensively and defensively," said quarterback Dominique Seufalemua. "We have worked hard in the past few weeks and it was nice to put it together today."
Although no word was given as to who made the varsity team, some players were on the field looking to climb up the depth chart while others were in the mode of solidifying their spot.
Seufalemua, who switched snaps with Eli Holeman at quarterback for the white team, observed some details that need to be addressed.
"We got to work hard on playing up-tempo and we have to be sure to keep up with our conditioning," Seufalemua added. "We need to be more disciplined. Coaches have us working harder in practice to make sure we limit our mistakes. I think we also need help on the blocking part of it to give more time in the pocket for the quarterbacks, and help the running backs find those holes."

Chaise Shroll called the shots for the crimson team and his running back was Devin Wilson.

At receiver, Austin Dehart and Zach Cantrell saw time running routes for Shroll, with Zach Nerdin manning the tight end slot. Mike Pifer, Kauone Sefo, Connor Shortt, Joey Duong, CV Regalado, Riley Bardes played on both sides of the line and displayed an impressive push.
Shroll managed to connect on some swing passes to Wilson out of the backfield, and the senior quarterback hit pay dirt on a draw play from the three-yard line to cap one drive.
The white team endured its struggles on offense against the No. 1 defensive unit in crimson, but converted on a wide receiver pass for 28 yards as their biggest play from scrimmage.
"We have been working really hard and (head coach Steve) Sugg has been pushing us all week long in doubles," said Holeman, who will see added time as a defensive back this year. "It is good to come out here and see the team execute a few plays. I think we have a good chance this year with this offense. We are going to have a strong offense that can do a lot."
As one of a handful of returning sophomore and juniors, Holeman expressed a desire to continue with the work so that a smooth transition could be made from the preseason to regular season, which starts at 7 p.m. this Friday on the road against Madison High School.
The goal is to send the seniors off on a good note.

"It would mean a lot to us to win more than one game the whole season, especially for all of those seniors that are out here today," said Holeman. "They have been working hard for all four years of their high school careers and they need more wins to show for it."

Time will tell if this Eagle Indian squad can put all the pieces together for a successful season.
With one win in each of the past two seasons, there is nowhere to go but up.
TDW starts the year with consecutive road games at Madison and Benson, before coming home for a game on Sept. 13 versus Crook County. After a road game on Sept. 20 in Bend opposite Summit, the Tribe stays home for three straight weeks for matchups against Hermiston, Ridgeview and Jefferson.
In the final weeks of the season, TDW goes to Pendleton and then hosts Hood River Valley on Oct. 25 for senior night. Holeman is not looking that far ahead in the schedule just yet, as the primary goal is to prepare for a tough Madison team that is coming off its first winning season since 2008. Although thoroughly worked over this past week, Holeman said sleep would not be hard to come by. Just four days remain until what could be a prosperous journey.
"We have been putting in work this week with our coaches and all of us will sleep real well this weekend," Holeman said. "I am sure come Thursday night, we might get a little edgy, but until then, we will prepare all we can for our next game."
TDW FOOTBALL
Steve Sugg .............. Head Coach
Andrew Savaiinaea ....................... ..Head Assistant Coach/LB/TE/RB
Rich Belanger .... Def. Coordinator
Rick Wilson ........... WR/DB Coach
Jim Taylor ...... Stats/OL/DL Coach
Lynn Helyer ............ OL/DL Coach
Ron Diede .................... RB Coach
Tony Shroll ......... Assistant Coach
Cory Hollingsworth .OL/DL Coach
---
at Madison ............7 p.m., Aug. 30
at Benson ................7 p.m., Sept. 6
Host Crook Co. .7 p.m., Sept. 13
at Summit .............7 p.m., Sept. 20
Host Hermiston .7 p.m., Sept. 27
Host Ridgeview .....7 p.m., Oct. 4
Host Jefferson ....7 p.m., Oct. 10
at Pendleton ..........7 p.m., Oct. 18
Host HRV ............7 p.m., Oct. 25
---
State Play-In ........................Nov. 1
State 1st Round ...............Nov. 8-9
State Quarterfinals .......Nov. 15-16
State Semifinals ...........Nov. 22-23
Title Game in Hillsboro .....Nov. 30