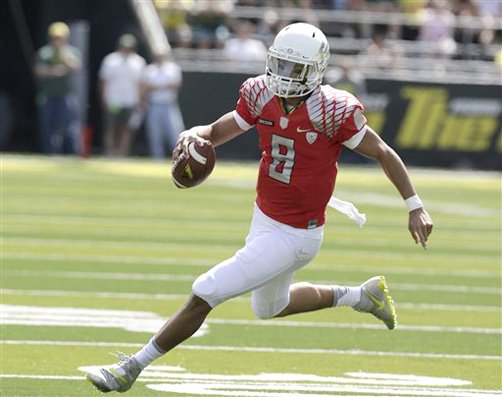 EUGENE (AP) — Replacing someone as innovative and successful as Chip Kelly would be a daunting challenge for almost any coach. In four seasons as Oregon's head coach, Kelly compiled a 46-7 record and guided the hypersonic Ducks to four consecutive bowl appearances and three Pac-12 championships.

Keeping this offensive juggernaut on the fast track will be a two-man job.
Mark Helfrich replaced Kelly as head coach.
The new UO football CEO has assigned the play-calling duties to first-year offensive coordinator Scott Frost. Helfrich helped put together gameplans the past four seasons when he was the offensive coordinator and quarterbacks coach, but Kelly called the plays from the sideline.

Frost, a former star quarterback at Nebraska and NFL defensive back, had been groomed by an impressive list of coaches over the years, and his decision-making skills during spring drills impressed Helfrich.
"In my current role, it's Mark Helfrich and Chip Kelly," Frost said when asked about his coaching influences. "As far as learning football and from kind of a life standpoint, it's coach (Tom) Osborne. And I learned a lot from Mike Tomlin and Raheem Morris in Tampa, too. I learned so many lessons from so many smart guys, the best you can do is learn from them and use them when it applies."
Last season the Ducks averaged 49.5 points and 537.4 yards a game during a 12-1 campaign. With the return of an experienced offensive line and stars at every skill position — quarterback Marcus Mariota, running back De'Anthony Thomas, wide receiver Josh Huff and tight end Colt Lyerla — No. 3 Oregon is expected to continue to be the fastest show on turf (or grass) every Saturday this fall.
Frost said orchestrating Kelly's frenetic pace of play, which will require him to make split-second decisions from the press box after each play, would be important in this transition.
"I think that's the biggest challenge, is the short amount of time between plays," Frost said. "You have to decipher what just happened on the last play, think about the down and distance, think about what the defense is doing, how they're reacting, and spit out a play call. The speed of it is what makes it challenging."
Frost said there would be subtle changes to the offense, that happened every year under Kelly. Saturday's opener against Nicholls will be the first time Helfrich will be on the sideline since he was a graduate assistant for the Ducks in 1997.
Helfrich said he handed the play-calling duties over to Frost so he can focus on looking into players eyes and coaching all position groups during games.
"We're 100 percent on the same page," Helfrich said of his working relationship with Frost. "And the rest of our offensive staff has seamlessly fit in."
Frost's well-rounded background coaching both sides of the ball is expected to be an asset in his elevated position coordinating Oregon's potent offense and coaching the quarterbacks.
"He's a legend, that's for sure," former Ducks quarterback and current graduate assistant Nate Costa said. "He did some great stuff for those receivers and he has really carried that over to the quarterback room. He has brought that confidence with him, and the quarterbacks are showing that."
Under Kelly, the Ducks were running plays every 15 seconds. Frost isn't making any promises, but the offense will still be trying to get into the end zone posthaste. "I'd imagine we're going to be even faster," Costa said. "Every year this offense has progressed. Post-Chip, we're going to see what's going to happen, but in practice the offense is faster than it has ever been."