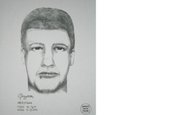 Tips sought in homicide
Police continue to ask for any new tips related to the Aug. 26, 2012, killing of Scott Erlenbush. The family is offering a $1,000 reward for information leading to a conviction. To be eligible for the reward, call the Crimestoppers of Oregon tip line at 503-823-HELP or report online at www.crimestoppers... <p>oforegon.com. Or call The Dalles police 541-296-2613.
The Dalles — More than a year has passed since the body of Scott Erlenbush, 46, was found Aug. 26, 2012, in the AmeriTitle parking lot downtown across West Second Street from the U.S. Post Office, and The Dalles police officers continue to actively work every week on the case.
"The case continues," said Det. Sgt. Dan Nelson. "We never put it away. We continue to follow leads. I can't think of a week that's gone by that we haven't done something on it."
The family has been very supportive of the investigation effort, Nelson said.
"We don't like having this open this long," he said. "The family wants closure, as do I."
Police investigators say the last report of Erlenbush being seen alive was at the Shell gas station in the 800 block of East Third Street. He was reportedly a passenger in a vehicle driven by an unknown white male.
Police detectives are seeking the man for questioning. He is believed to be in his 20s with dark blonde or light brown hair, a scruffy face with a goatee and a lower lip piercing. His car is described as a dark gold full-size sedan, similar to an older Taurus or Mercury Sable, with the gas tank on the passenger side.
New information continues to reach investigators on the case.
"In my mind, I feel like we're gaining ground because we have eliminated suspects, we have new developments and new information we are developing," Nelson said.
Chief Jay Waterbury said. "I think we're gaining ground because of the amount of information that's still forthcoming."
Police are still actively inviting new information on the case in the hope that one detail, no matter how small, provides the key to solving the case.
"I know somebody knows something," Nelson said.
Police have been able to resolve a half-dozen other homicide cases over the last few years.
"We do well on these types of cases, but that's of no comfort to the Erlenbush family," Nelson said.
"It's below the standard we want and below the standard the family wants," Waterbury added.
People who submit tips on the case through Oregon Crimestoppers may be eligible for a reward of up to $1,000 in the event of a conviction. Information may be submitted either online at www.crimstoppersoforegon.com or by phone at 503-823-HELP. Or submit tips directly to The Dalles Police Department at 541-296-2613.