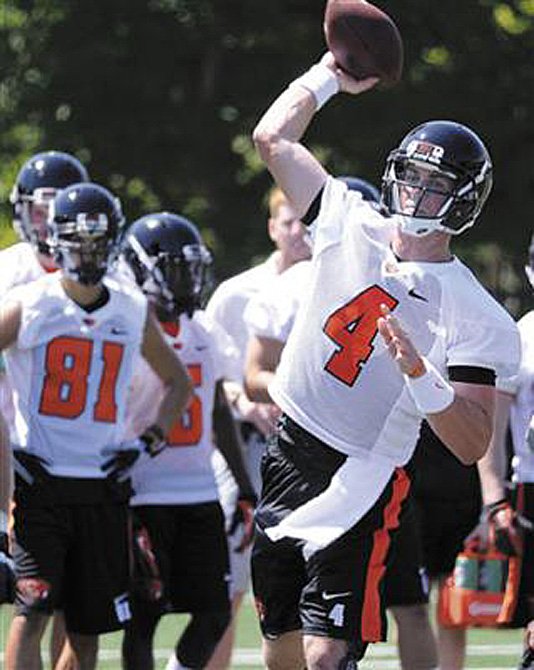 CORVALLIS (AP) — The question hung over the Oregon State football program for more than seven months.
After quarterbacks Sean Mannion and Cody Vaz shuffled in and out of the first unit throughout the Beavers' bounce-back season in 2012, pundits and fans were eager to learn who would start under center in the Aug. 31 season opener against Eastern Washington.
Coach Mike Riley finally ended the suspense when he named his guy after practice Monday. Mannion earned the nod after displaying improved accuracy and decision making throughout spring and fall practices.
"We went through a lot of different things about it for along period of time," Riley said. "We made a decision going forward, and we're excited about it." That puts Mannion exactly where he was a year ago: above Vaz on the depth chart.

He proved his worth early last season, throwing for 1,358 yards over the Beavers' 4-0 start.

But after injuring his left knee Oct. 6 against Washington State, Mannion was forced to watch as Vaz led OSU to routs of Brigham Young and Utah. Mannion, who has tossed 31 picks in 783 career attempts, notched four interceptions when he returned for a loss at Washington.

Riley debated between his two top signal callers during the ensuing weeks, starting Vaz in an Alamo Bowl loss to Texas.
On the year, Mannion finished with more passing yards, touchdowns and attempts than Vaz.

But Vaz, widely considered the more accurate signal caller of the duo, finished with nine fewer picks.
"I think that just goes with continuing to be comfortable in our offense," offensive coordinator and quarterbacks coach Danny Langsdorf said. "We want him to continue throwing a ball that's safe, without being careless." But what if Mannion struggles?

With a capable backup waiting on the sideline, will Riley be quick to pull him?
That's hardly the plan.

"I don't anticipate anything like that," Riley said of playing both quarterbacks in the season opener. "We're going to start Sean."
Riley believes Mannion is more capable of helping his team win right now, a realization that required extensive hours studying film and analyzing practices.

The delayed announcement had nothing to do with trying to prevent one of his options from transferring.
"I think these guys have invested a lot here," Langsdorf said. "If somebody was really feeling that they wanted to leave, I think that would've been pretty clear in the conversations we had back to last winter."