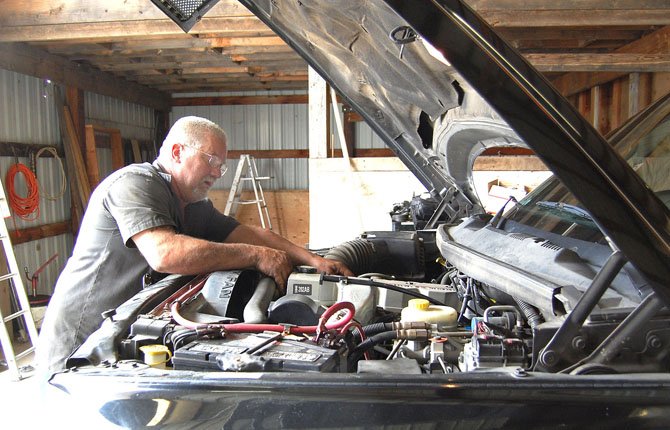 The Wamic-Pine Hollow area has welcomed a new family and business, ABC Diesel, to the community.
Late last fall, Gary, Michelle and Jeffrey Ramsey had an opportunity to make the move and with the help, guidance and assistance from Pine Hollow Lakeside Resort owner Frank Marquez.
Michelle mentions "We have always been coming out to Pine Hollow vacationing," said Michelle. "Our goal was always to move out here full time. Thanks to Frank, our dream came true. He offered us a permanent residence on Eagle Point Road and our son Jeffrey is really enjoying going to Maupin School."
Gary has worked on many of Marquez' equipment for quite a while now.
The Ramseys have taken over the old Wheel-On station as headquarters for ABC Diesel. The new full-service repair facility opened in June. Gary Ramsey, has well over 35 years of experience, training and knowledge to help with auto or truck repairs.
ABC Diesel also 24-hour road-side emergency service.
Gary has been working at his repair shop in The Dalles for several years, but as his wife mentioned above, they have been eyeing the Wamic-Pine Hollow area for years. With the opportunity to get into the shop on Wamic Market Road, they jumped at the chance.
Gary is a certified ASE trained technician on most everything in the automotive field, however seems to have a penchant toward the diesel engines. He has worked on most all designs and applications. He also attended Chevrolet Mechanics College.
Gary prides himself on making sure his customers have a diagnoses and estimated cost before repairs are started. He stresses that he will not sell a customer something they do not need.
The Ramsey's are settling into the Pine Hollow-Wamic way of life and have even caught the Grass Car Lawn Mower Racing bug. Jeffery, 14, has been to the track several times (blew an engine the last time out, but Gary replaced it with the engine he was planning to use in his near-done mower). Both Gary and Jeffrey will be found at the track during the season.

ABC is also prepared to help others with their mowers if needed. They also tip the hat to Randy Marshall and Nick Marquez for initial guidance and advice.
As a member of the Lions Club in Dufur, Gary frequently is involved with their community events and sometimes will opt to work with the Lions in lieu of the shop.
Gary and Michelle have set the goal of building this business into something they can be proud of and can pass on to their son. Jeffrey is interested in attending a diesel mechanic school after he graduates from Maupin High School; however, he is getting a lot of hands-on training right next to dad.
ABC Diesel can be reached at either 541-544-3004 or 541-980-9595.
The original article by Merle Hvalka ran in the WamPinRock News July edition.