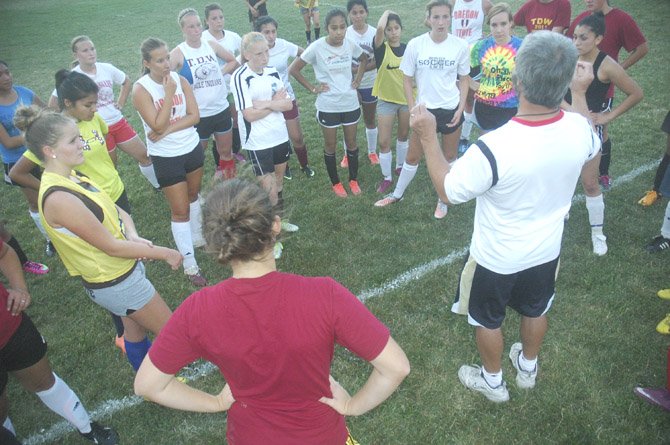 The Dalles — Even with a young team of 11 underclassmen on paper, The Dalles Wahtonka's fourth-year varsity soccer coach, Colby Tonn, still has high aspirations for his girl's group.
There is speed and skill at every level, these athletes play with more of a chip on their shoulders and most importantly, they want to win.
"I would say we should be fighting for the top," Tonn said. "Like I said, age-wise we may be young, but they can compete with anybody out there. They have been putting in the effort, not just the young ones, but also our juniors and seniors have come in with focus realizing that they want to get the most they can out of this season."
From 2011 to 2012, TDW improved in several categories, except the win column, where the victories dropped from three to two, but they amassed an extra tie in league to finish with a 0-4-2 mark, 2-7-4 overall.
The Eagle Indian offense made huge gains though, jumping from an average of 1.26 goals scored in 2011 (19 goals) all the way up to 2.23 last season (29 goals in 13 matches).
As good as the totals sound, TDW will hit the field without Taylor Luebke and Katie Mazeski, who combined for seven goals and three assists last season.
Add in the departure of former all-league midfielder, Emily Bailey, the Eagle Indians could be faced with a challenge scoring goals.
Not to worry, all-league midfielder and leading-scorer (six goals and two assists), Hannah Walasavage, is back along with forwards Monique Mendiola, Jennifer Bonham, Emma Ell, Melissa Cruz and Brooke McCall to make up for those numbers.
"I like to play an attacking style, by putting pressure on an opponent's defense and try to get them out of their comfort zone," Tonn said. "Our emphasis is on working hard and trying to make the team make mistakes."
A couple of aspects McCall is looking for involve thinking quickly on the fly and being better prepared for the speed of the game with more precise decision-making plays.
She added that position placement is a huge priority and working as a cohesive offensive unit is imperative.
"We need to play more energized and get to where we need to be on the field to create more chances," said the freshman McCall, younger sister of former all-state forward Nikki. "We need to work together more and take advantage of our chances. We need to play faster so we can be one step ahead of the defense."
While faced with a daunting task of being one of three freshmen along with Shaynie and Sierra Watson, McCall is going to rely on veteran leadership and previous experience working with many of the names at the club and travel levels.
It would help make the varsity transition as seamless as possible.
"I have played with a lot of them before, so it is not a huge adjustment, but I am expecting the competition level to be much higher," she said. "I have to be ready for that. I have to be ready for everything really."
In addition to Walasavage, at midfield, the Tribe has suitable athletes who can add a dynamic dimension to the position with Hannah Harris and Sierra Watson showing quickness, anticipation and smarts to get the job done on defense and creating counter-attack opportunities.
A major reason TDW dropped its goals against average from 3.3 to 2.6 a game was the play of the defense, where the most experience lies.
Seniors Alicia Andersen and Bailey Cordell bring a calming influence to the back lines and juniors Marta Gamez, Bri Stavaas-Jamack compliment each other well.
Marian Diaz, Grace Helyer and Shaynie Watson also figure to log important minutes on the field to help with depth.
With limited experience playing a flat back four defense as opposed to a man-on-man style, Helyer said she would have to make some changes to her game to help the team win games.
Helyer said there is not going to be a sweeper or a stopper on the back end, so the defensive corps will rely on working together through constant communication and playing sideline-to-sideline instead of trying to stay on one person.
In a flat back four, the role of cover is determined by where the ball is, and what the other defenders are doing.

Players assume coverage of certain zones and become responsible for attackers and the ball when in the corresponding zone.

The players who are not involved in pressuring the ball become covering players, ensuring that there is a defender ready to intercept a forward play or to be there in case the pressuring defender is beaten.
"I think it will definitely take a while to adjust," Helyer said. "We have never done this before, so I am not used to it. It will take a little practice and stuff, but I think it will be better for us in the long run."
Another major departure is at goalkeeper where former all-leaguer Shanelle Smith stood tall over the past few years.
Two of the Tribe's 2012 losses were by two goals or less, both in league action.

Of their 13 matches, the T-Dub defense held the opposition to one goal or less five times, going 2-1-2 in that span.
Incoming sophomore Ruthie Ford got her feet wet at the varsity level last season, so the position is not foreign to her.
She has worked diligently in the offseason with Coach Cheri McCall and had enjoyed success at the club level previously.
Helyer has not doubt that Ford will be ready to take the reins with fervor – her busy offseason spells that out.
"I think she is going to do fantastic this year. She has been working a lot," Helyer said of Ford. "I believe that she is going to do a great job back there. She has been getting help from Cheri, so I have no doubt in my mind that she would be ready this year."
After starting the 2012 campaign with a 2-4-2 record, TDW went 0-3-2 in its final five matches.
Tonn and Helyer recognized that the team as a whole performed much better as the season wore on.
The hope is to continue that momentum from the opening game on.
Helyer feels this group could be even better, Tonn believes they have to in order to compete with the likes of Hood River, Pendleton and Hermiston.
"Every year, you want to be fighting towards the top, but the league is always pretty balanced," Tonn said. "If you get caught up or do not focus for the whole 80 (minutes), you could be scraping for the bottom."
TDW plays at the Century Jamboree at 10 a.m. Thursday, and then hosts Mac-Hi at 4 p.m. on Tuesday, Sept. 3.
TDW SOCCER SCHEDULE
at Century High Soccer Jamboree .............................10 a.m., Aug. 29
Host Mac-Hi, 4 p.m. ..........Sept. 3
at Centennial .........7 p.m., Sept. 5
Host St. Helens .4 p.m., Sept. 12
at Madison ......4:15 p.m., Sept. 17
Host Century .....4 p.m., Sept. 19
at Hillsboro ............5 p.m., Sept. 24
at Benson .......4:15 p.m., Sept. 26
Host Hermiston.......4 p.m., Oct. 1
at Pendleton ............4 p.m., Oct. 8
at HRV ...................4 p.m., Oct. 15
at Hermiston ..........4 p.m., Oct. 17
Host Pendleton ...4 p.m., Oct. 24
Host HRV .............4 p.m., Oct. 29
---
State Play-In ........................Nov. 2
State 1st Round ..................Nov. 5
State Quarterfinals ...........Nov. 8-9
State Semifinals ................Nov. 12
Title Game in Hillsboro .....Nov. 16
TDW GIRLS SOCCER
2013 Team Roster
Colby Tonn .................. Head Coach
Darcey Hodges ..... Assistant Coach
Greg Burkart .......... Assistant Coach
---
First, Last Name (Year) ...........Pos.
Alicia Andersen (12) ..................... D
Bailey Cordell (12) .........................D
Melissa Cruz (11) ............................F
Marta Gamez (11) ..........................D
Bri Stavaas-Jamack (11) ................D
Monique Mendiola (10) ..................F
Hannah Walasavage (10) .............M
Jennifer Bonham (10) .................... F
Marina Diaz (10) .............................D
Emma Ell (10) .................................F
Ruthie Ford (10) ...........................GK
Hannah Harris (10) .......................M
Grace Helyer (10) ...........................D
Brooke McCall (9) ..........................F
Shaynie Watson (9) ........................D
Sierra Watson (9) ...........................M