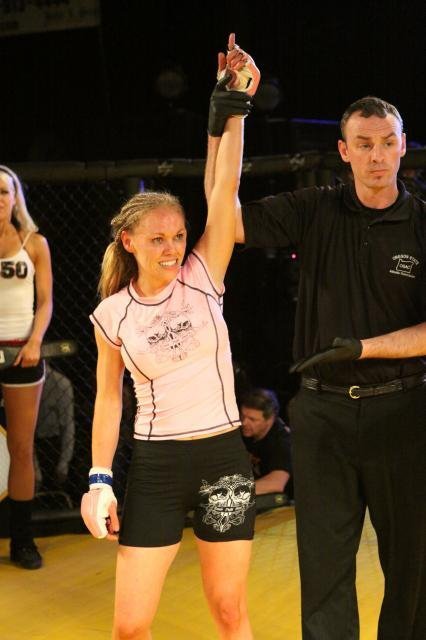 The Dalles — The Portland Film Festival is doing a work in progress screening for a few filmmakers, including The Dalles native Allan Luebke's documentary 'Fight Dreams' at 6 p.m. this Saturday at the World Trade Center downtown.
'Fight Dreams' chronicles the rise of local Mixed Martial Arts fighter Glena 'Heartless' Avila and her rise from amateur status to the professional ranks.
Luebke first started filming in November 2010 and the footage covers close to one year of Avila's life, starting after her fourth amateur match, following a progression until her first pro match in Fletcher, North Carolina.
At the showcase, Luebke said he would be showing the first 10-15 minutes of this new film and then he would conduct a question and answer session for all parties in attendance wanting to know how the movie idea came about.
"I happen to know that the two films (mine and the other one) are both nearly finished, so the material should be near finished quality," Luebke said.
Once editing, fine-tuning and composing elements are complete, Luebke plans to submit his latest work for other film festivals and hopefully movie theaters or on HBO early next year.
There is also a plan to get the movie shown locally in The Dalles or Hood River so the community could catch a slimpse of a groundbreaking endeavor.
"When the movie is done, we'll definitely show it in the Gorge," Luebke said. "This Saturday is only a sneak preview of the first 10-15 minutes, and it's still not 100 percent finished."
Moviegoers can buy tickets here from the website http://www.eventbrite.com/event/7990035411/eorg.
Ticket costs are set at $10.
The official website along with a short documentary trailer are on the main page at www.fightdreamsmovie .com.