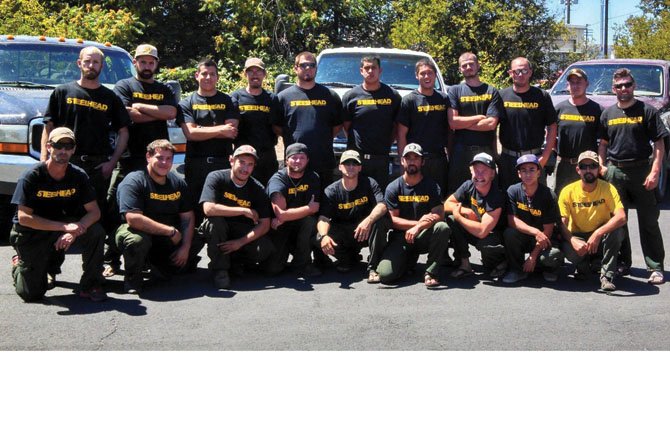 The Dalles — Firefighters from all over the state and even Canada converged on The Dalles last week to help fight the Government Flats Fire Complex, but one fire crew had a bit of a head start.
Steelhead Enterprises is based right in The Dalles and was able to respond to the call for fire crews within an hour of getting the call on Friday, Aug. 16. The crew and its experienced leaders were battling the flames that very night.
Business owner Alejandro Rodriguez has been fighting fires for 14 seasons, he started Steelhead Enterprises three years ago in The Dalles and this is the first year his Type 2 crew of 20 men has been fighting fires.
Crew members saw the smoke before they got the call. They heard on the radio the fire was getting away.
"Fifteen seconds later we got the call that they wanted us out there ASAP," Rodriguez said. "We assembled the guys as fast as we could."
The "we" included he and his wife, Kelsey, who serves as dispatcher for the operation.
"Three years ago we had the opportunity to start doing some jobs locally," Rodriguez said. "We did that with the intent that someday we would be building our company up to be a firefighting company."
The company started as a family-and-friends operation. Rodriguez and his friends have been fighting fires with companies that had branches in The Dalles, but were mostly based in Salem or farther away.
"We started fighting fires years ago with all our friends out of high school and our younger brothers," said Rodriguez, who was born and raised in The Dalles.
After a while, the young men splintered off and went to work for different fire companies, gaining years of experience with different operations. That core group has been gathered back together and now makes up the "overhead," or leadership, of the Steelhead fire crew.
The Dalles is an advantageous place to base a fire crew, Rodriguez noted, because it is centrally located near fire-prone parts of the state, but most other fire crews aren't based here. They may dispatch here, but their main offices are farther away. As a local native, Rodriguez wanted The Dalles to be the Steelhead crew's home base.
Because fire crews contract with government authorities for multiple years, 2013 was the first year Steelhead Enterprises could join the state's fire suppression contract. Before that, Rodriguez worked with some of the younger guys on the crew doing fuels reduction on private forest lands — in other words, taking down some of the brush and plant growth that can fuel a wildfire.
When they did start fighting fires this year, Rodriguez expected they would have to travel out of state, but that hasn't been the case. Instead, they have been kept busy on a variety of local fires: the Mile Marker 28 fire north of Goldendale, the Walston fire in Dufur, and the Box Springs fire near Prineville, before joining the Government Flats effort.
"It's a really fun job for young people," Rodriguez said. "They get to tell their friends that they fight fires."
Crew members undergo a thorough screening to make sure they are fit enough for the work and don't have any conditions that may inhibit their ability to work in the forest.
Rodriguez remembered his first fire and one of the firefighters was an older, out of shape individual, who had a heart attack and had to be packed out of the fire scene by the crew.
"I try to pick and choose to make sure I have a strong crew," Rodriguez said.
The job can also pay well.
"Typically, we do 100-hour weeks," Rodriguez said.
The long hours haven't kept people from wanting to work for Steelhead.
"People knock on our door constantly trying to get in on the crew," said Rodriguez' brother, Vicente, who is also part of the crew.
Becoming a state firefighting contractor is a complex task, Vicente noted.
"It's very regulated," he said. "We had to do a lot to get where we are now to actually become a contractor — state licenses, the guys have to have trainings, even the drivers of the vehicles have to be licensed with other than just a standard driver's license."
While they've been able to work locally so far, Rodriguez expects the crew will end up leaving the state to work this year, too. Idaho, Montana and California all have big fires burning right now. And the most active part of the fire season may still be ahead.
"It's not uncommon for us to go out in October," Rodriguez said.
Getting their business up and running was a challenge, Rodriguez noted, and he credits Mid-Columbia Economic Development District (MCEDD) with helping them get the capital to get on their feet.
"Eric [Nerdin, the loan fund manager] was really great," Rodriguez said, noting that financing a business with seasonal ups and downs can be a challenge.
"I hope we become one of their success stories," Vicente added. "There's still a lot of summer left, a lot of work to do out there."
Rodriguez also hopes to diversify the company and find other work channels to keep his crew busy through the year.
A timely arrival
While the firefighters of Steelhead Enterprises were getting ready to make their first appearance on the Government Flats Fire Complex, someone else was getting ready to make their first appearance, too.
Phoenix Thunder Rodriguez started making rumblings while lightning was still flashing over Government Flats. As his fire crew was rushing to the fire, he and his wife, Kelsey, were rushing to Providence Hood River Memorial Hospital, where Kelsey gave birth to young Phoenix barely an hour later.
"All the excitement of dispatching sent my wife into labor," Alejandro Rodriguez said.
It's no surprise that Phoenix takes his name from the fire-fueled relationship between Kelsey and Alejandro.
"I met her fighting fires in northern Idaho," Alejandro said. "She was on my crew. She is familiar with the industry and helps me a lot."
Phoenix's first name comes from the ancient mythical creature that flies into the sun then is reborn from the ashes. His middle name comes from the thunder that was crashing around them as Kelsey went into labor.
Contrary to what one might imagine from his name, Phoenix has settled easily into a routine that allows his parents to get a little rest in between regular two-hour feedings.
Phoenix is the second son in the Rodriguez household, joining big brother Julien.