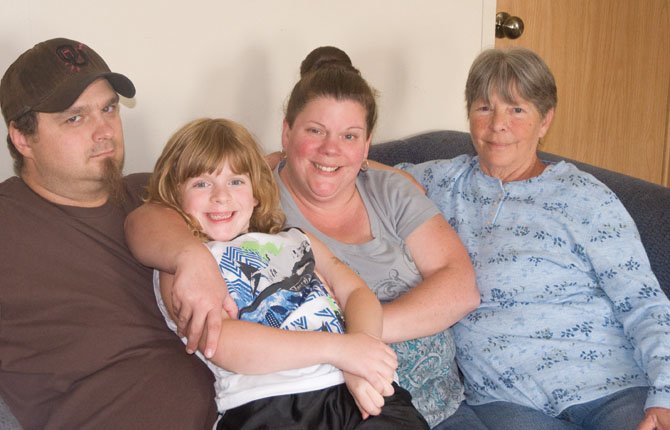 The Dalles — A couple out celebrating the wife's birthday came home Saturday evening to a house filled with smoke. The smoke and water damage is such that the house is unliveable and the contents are destroyed.
Some of the losses include irreplaceable mementoes of Mary Ann Fredsti's twins, Faith and Kevin, who died at ages 9 days and three years, respectively.
Mary Ann was celebrating her birthday with her husband, Jacob Kellogg, and her mom, Rose Betts. They returned home to the house on Bridge Street briefly for her to do some laundry, then they went out again for yogurt and shopping.
"We weren't gone for more than 45 minutes," Mary Ann said. When they got home, two neighbors were standing in their yard, and smoke was visible. The neighbors had just called 911.
Kellogg felt the front door, then touched the doorknob. Since it was cool to the touch, he opened the door.
"All I could see was smoke," he said.
He quickly stepped away and waited for fire personnel.
The fire was contained to the daylight basement, which is where the parents' bedroom is located. Luckily, Mary Ann said, her daughter, Katie Fredsti, 7, was visiting her dad in Tacoma. Mary Ann's mom lives with her to help her because she's disabled and cannot work. Her mom's bedroom is on the second story of the house.
Fredsti and Kellogg are in need of all household items as well as clothing and toys for young Katie, who she said is a tomboy.
The couple have set up a donation bank account at Bank of the West, and donations can be made to the Fredsti and Kellogg Benefit Fund.
The couple have been spending money set aside for bills to pay for food, she said.
Her father-in-law paid for their motel room for the first two nights, and the couple is now expecting to pay for the motel themselves, with anticipation that their insurance company will reimburse them.
Fredsti has numerous chronic medical conditions, including degenerative disc disease, diabetes, fibromyalgia, allergies, asthma, Raynaud's disease, a seizure disorder, diabetic neuropathy and sleep apnea. Her nebulizer, inhalers, and CPAP breathing machine are unuseable now, and the canes she uses sometimes to walk also need to be replaced.
She is working to replace the medical equipment through her health insurance, and the couple has already placed calls to their homeowner's insurance.
Her allergies and asthma are serious enough that at the fire scene she needed to be treated by medics because of the smoke.
The American Red Cross has helped them with immediate needs, including food, clothing and bedding. Mary Ann has borrowed her sister-in-law's clothes, and Katie had her clothes from her trip to see her dad in Tacoma.
"We rotate her toys, so a lot of her toys [that were stored in the basement] are damaged," Mary Ann said. "She's having a hard time with that."
"Emotionally, it comes in waves as she remembers things [she's lost]," her mom said.
Mary Ann herself has ongoing realizations, even several days after the fire, of things that are now lost. She was talking to a reporter Monday when she blurted, "Oh my gosh! My dressers!"
Despite the loss of family treasures, Mary Ann is starting to recover a few more momentoes through her friends on Facebook. She put a message out on Facebook about the fire, and "The nurses that used to take care of my son, they're sending me messages, saying, 'I have this.'"
Mary Ann, with all her medical issues, has another problem that is particularly poignant right now. She had a surgery a year ago that didn't go very well, she said, and it caused some memory loss. "That's why this stuff is so important, because it was helping me with my memory."
Jacob has a photo on his phone of a melted computer monitor. Mary Ann's computer was damaged, but she hopes someone can recover her hard drive.
"I really, really hope that somebody can get my hard drive out because that holds all my memories of the twins and Katie as a baby."
Katie has Attention Deficit Hyperactivity Disorder, anxiety, and sensory processing disorder, meaning she can acutely hear sounds and feel things like clothing seams, for example.
Her mom and Jacob wanted to tell Katie in person about the fire, so they waited until she got home. That also meant they couldn't put anything on Facebook until she got home.
The family purchased the house two and a half years ago. They don't know what started the fire, but fire responders told them that the fire melted a plastic sprinkler pipe running along the basement ceiling, and when the melted pipe burst, water gushed out of it and put out the fire. The fire was already out before fire crews got to the house.
Joseph, who graduated from Wahtonka High School in 1997, now works at Northern Wasco County PUD as a GIS mapping technician.
The PUD has agreed to allow donations to the family to be dropped off at the PUD offices, at 2345 River Rd.
The family needs a new bed, washer and dryer, freezer, furniture and clothing.
Katie, who only wears boys clothes, is a size 10 in pants and wears medium tops. She's a shoe size 2 in children's.
Mary Ann is a size 14 petite pants, wears XL tops, and is a girls size 5 or women's size 6 1/2 or 7 shoe. She noted she is allergic to leather and cant' wear leather shoes.
Rose is a size 12 petite pants, a size large in tops and since she is just a petite four feet 9 inches, she wears little boys shoes, size 4 to four 1/2.
Jacob wears a size 3X shirt and size 40 x32 pants and size 11 wide shoes.
The family has been spread out since the fire. Rose is staying with her sister in town, and Mary Ann, Jacob and Katie are staying at a local hotel.