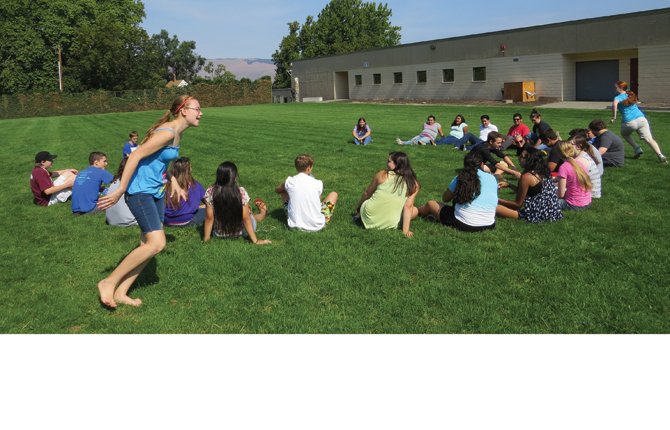 The Dalles — Band students showed up in force for band camp recently, forecasting a good year for The Dalles Wahtonka High School's marching band.
"We've got 80 kids in band this year. That's huge," director Paul Viemiester said.
He said an unusually high percentage of those students turned out for band camp this year, too, showing that "the pendulum is swinging the other way in terms of commitment."
At band camp, the students worked on a new arrangement of the school fight song, a new arrangement of the Star Spangled Banner and a show that they are preparing for their first public performance of the year, a football game Sept. 13.
Viemeister said the band was sounding good at camp and credited The Dalles Middle School band teacher Greg Angeloni for the large, talented group of freshmen coming in.
"We've got a great freshman class. I'm really impressed with how they play … We've got a steady influx from the middle school. Seeing the numbers go up is really indicative of Mr. Angeloni. He's a really good band teacher, and he knows what to do to keep the program going in town," he said.
Viemeister said he was also happy to see the strong camaraderie already running through the band.
Students might be more excited about band this year in part because of a planned trip to Disneyland in the spring. A nonprofit with legal 501(c)(3) status has been revived by parents of this year's band students with a goal of supporting the band through a number of ways, including fundraisers for a Disneyland trip.
The trip won't just be a fun time at the amusement park. During a July 9 school board meeting parent Carol Westhafer said students would have the opportunity to go through a professional audition process, talk with a director about career opportunities in music, play on a real sound stage and perform for an audience.
"They can get an idea of what it's like if they want to go into the business," Westhafer said.
Viemeister told board members at the meeting that he will be expecting a lot of his students this year, both on and off the field. His goal is for band students to have no incompletes (the TDW equivalent of an F or D grade) this year, and band parents have volunteered to spend time tutoring groups of band students to help make that goal happen.
Viemeister said he hopes the Disneyland trip will be rewarding for the students.
"I did this six or seven years ago and it was extremely productive, especially for kids who would like to go into a career in music," he said. "When we were there they were impressed and gave us a blanket invitation to come back."
At band camp, Viemeister said his goal, and the goal of the nonprofit band parents group, was to have the Disneyland trip completely paid for through fundraising so students don't have to feel like they can't go if they can't afford to chip in money for travel.
"I told them they're going to have to work hard but it's going to be well worth it," Viemeister said.
The band has been doing car washes all summer long and did a yard sale in front of the high school at the beginning of August.
They plan to start selling Papa Murphy's and Dominoes Pizza coupons soon, along with window clings, advertising space in concert programs, concessions at games and more. They have also set up an account for donations at Washington Federal under the name The Dalles Wahtonka High School Band Parent Account.