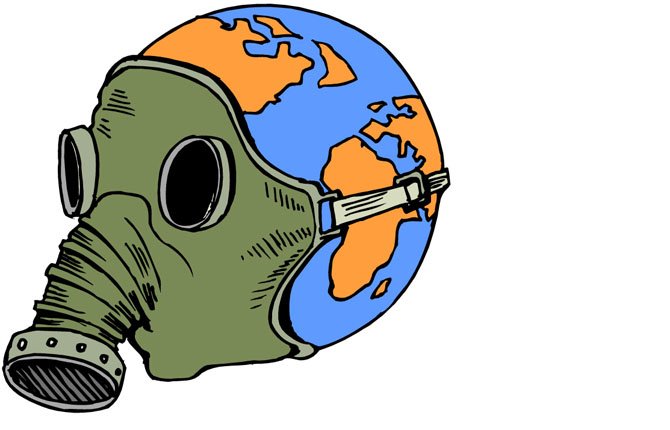 Chemical weapons can have a variety of effects on the human body, from tears and vomiting to severe skin blistering, choking, and disruption of the nervous system severe enough to cause paralysis and death.
For this reason, the United Nations Charter provides for a response of international armed force in the event that chemical weapons are used on a civilian population.
Chemical weapons have been used rarely in the past, but with severe effect:
• In 1995, the sarin gas attack on the Tokyo subway led to 13 deaths and more than 6,000 injured by the nerve agent.
• A 1988 Iraqi chemical attack on the Kurdish border town of Halabja killed as many as 5,000 people and injured twice as many.
• In World War I, mustard gas marked the introduction of modern chemical agent use in warfare. The gas killed few, but left many with horrific permanent injuries including lung disease, blindness and severe scarring.
After the war, the use of chemical weapons was banned by the 1925 Geneva Conventions.
A 1997 international treaty took the ban further, prohibiting production, stockpiling and use of chemical weapons.
Unfortunately, Syria was not a signer of the treaty and its government is now believed to have one of the largest stockpiles of chemical weapons on the globe.
If preliminary reports are accurate, they are responsible for killing hundreds with the weapons in an attack against civilians.
The final analysis from both United Nations and United States investigations is yet to come, but U.S. ships are poised in missile striking distance, anticipating confirmation that Assad's regime is to blame.
Members of Assad's administration have confused the issue, claiming the chemical attack struck Syrian soldiers and came from the rebels. Disinformation, possibly on both sides of the conflict, has been a routinely used tool.
Criticism has been rampant over the past year about the failure of the world community to come to the aid of Syrian rebels, but international military action against a sovereign nation is — and should be — a last and well-considered resort, not the work of a single nation acting rapidly alone.
Diplomatic efforts thus far have failed. Assad has shown no indication of a willingness to come to terms over this protracted civil war.
And if U.S. suspicions prove true that his regime was behind the chemical attacks, international response is more than warranted.
Ideally, the response to proven chemical weapon use should be unified, international and sanctioned by the United Nation's Security Council.
Unfortunately, that ideal is almost never realized, because the Soviet Union and China resolutely refuse to sanction military action, particularly against allies such as Syria, and unanimous approval is required among the five council members.
The system is permanently broken. That leaves nations compelled to respond to war crimes with no alternative other than to work outside that system.
But that doesn't mean the U.S. should act alone or precipitously.
British Prime Minister David Cameron is pursuing approval from Parliament to go to war, but not until U.N. inspectors have had a chance to report their findings. While U.K. war planes are massing in Cypress, Cameron's promise means British involvement won't happen until next week at the earliest.
The U.S. is also lacking support from some of its usual allies in the Middle East, like Jordan, which has said no attacks will take place from their soil.
Before the U.S. acts, it must make sure it has solid evidence of Assad regime complicity in the use of chemicals. We've seen the consequences of insuffient evidence in the fallout after the Iraq war.
It also needs to work with its allies. The U.S. alone should not serve as the police force for the world.
War attrocities are one issue on which all nations should be able to align.
Unfortunately, it doesn't always happen that way. Russia stands by now because of its alliance with Assad. The United States stood by in the Iran-Iraq War because Iraq's actions at the time served U.S. political interests.
If Assad is responsible here, he has asked for a harsh response from the global community, whether we want to provide it or not. But the U.S. should not be so willing to play cowboy. It must await the evidence and gather its allies.