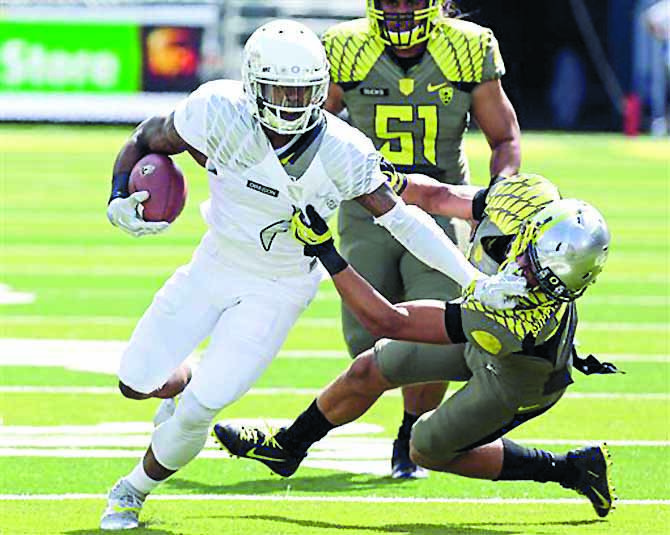 EUGENE (AP) — Another year, another set of stratospheric expectations for the Ducks.
But while Oregon football kicks off its 2013 campaign on Saturday against lowly FCS foe Nicholls State with a new coach, a new ballyhooed football facility and a gaggle of primed athletic talent, they also have a bevy of new questions heading into the upcoming season.
While this weekend's opener isn't expected to be even remotely competitive (the Ducks are 59-point favorites), there are other concerns this season that stand between the Quack Attack and their fifth straight appearance in a BCS Bowl.
Here are the biggest questions the Duck's have to address this season.
Can Helfrich get Chip off his shoulder?
As much as he may be the pride of our community in Coos Bay, the biggest question mark comes from our own local Marshfield grad; Can Helfrich be a head coach for a big time program?
Never in his professional career has Helfrich been the top dog for a single game at any of his stops. Coordinator? Yes. Quarterbacks coach? Absolutely. Head Coach: Pending
Not only does he have to worry about winning on his own merit, but he also has huge shoes — or visor — to fill as head coach.
Chip Kelly was a revolutionary, an innovator, a deity for Ducks fans in and around Eugene. Kelly also went 1-3 in games decided by less then seven points and 2-2 in BCS bowl games — things that commonly get forgotten while Eugenians genuflect at the feet of the new Philadelphia Eagles coach.
For Helfrich, he admits he'll be a new kind of nervous, but it's nothing he shouldn't be able to handle.
"From a nervousness stand point you don't really think about (being head coach)," Helfrich explained. "Will there be different anxiety on Saturday? Sure. But I think if you don't have some level of anxiety before a competitive situation you need to not be in that competitive situation."
Will the running back lineage continue?
Stewart, Blount, James, Barner.
The Ducks have sent running backs to the NFL like Sports Illustrated sends out its Swimsuit Issue — consistently every year.
This year shouldn't be any different.
While De'Anthony Thomas stands as the No. 1 runner by the depth chart — and a lock to be selected somewhere in the 2014 NFL draft — it's hard to imagine with DAT's versatility that he'll be the "traditional" back that takes on a majority of the load.
That load falls to Byron Marshall, a bruising back who picked up a majority of the garbage time the Ducks had in 2012 and showed enough with nearly 450 yards on 87 carries to take on a lot of the load this year as a sophomore.
"Not many people have seen a back like this in the offense," the power-based back Marshall said. The lineage is mostly due to the running backs coach and longest tenured assistant on staff, Gary Campbell, who has been teaching Ducks how to find gaps for the last 31 years.
With the Black Mamba and true freshmen Thomas Tyner — the high profile in-state recruit from Aloha — waiting in the wings as the prototypical speedster who follows more along the lines of James and Barner, it's clear Marshall will not fit the quick and speedy tailback archetype of years past.
Marshall's personal goals are just to pile up wins on a macro level, but he knows what he has to do to be put in the same esteem with the other great Oregon Duck backs.
"Come through and make plays so I can be that next big back," Marshall said. "There's a big legacy of backs that have come through here, just to be able to contribute and add my name to that board, it feels good."
Can DAT be all that?
There has been no shortage of superlatives to describe Thomas since he came on the scene as a high profile freshmen two years ago.
He's the most electrifying, quickest, human-blurriest, create-a-player-in-Maddeniest player in the country.
The only reason the Black Mamba doesn't have the word "best" bandied around his name is because of how much he can actually be utilized.
If you've watched Thomas, you've experienced the normal behavior that goes along with watching him play. You hold your breath, feel your stomach in your throat and somehow find your hands on the top of your head in disbelief as he zings around toward the end zone.
And that has happened a lot.
Every 8.6 times he touched the ball on offense last year, to be exact. But that type of behavior came few and far between at the tail end of last year as teams tried to take DAT out of the picture as much as humanly possible, keying in on him and not giving him the requisite space to show off his athletic gifts.
Mamba takes it as a compliment, knowing his loss is his offense's gain.
"I love it because I work hard for it. I feel like it's a natural thing, but I also work hard for it and I just try to get better and better every week," Thomas said. "It's a lot of respect and just feels like me just being that threat also opens it up for our offense and other players."
When asked if he ever gets complacent, knowing he's one of the more gifted players in the nation as well as a dark horse Heisman candidate, he gave assurance that just being engrossingly talented isn't enough for him.
"I would never rest on my laurels," Thomas said. "I always compete and I just want to be the best."
Will Oregon's secondary make up for primary defensive issue?
With returning playmakers Brian Jackson, Terrance Mitchell, Avery Patterson and Ifo Ekpre-Olomu rounding out the defensive backs, the Ducks secondary is their primary weapon on defense.
They've been touted as potentially one of the best units in all of college football and are the pillar of consistency coming into this season.
But with great ability comes great expectations, and the Ducks are all about walking what other people talk.
"People have been talking about it a lot but we have a game on Saturday and we just need to just be building from there," said standout cornerback Ekpre-Olomu. "Now we just have to prove it."
This biggest question the Ducks will have to deal with defensively comes in the trenches and with their linebackers.
The Ducks lost some valuable talent in the front seven with Dion Jordan, Michael Clay and Kiko Alonso all heading to the draft last April.
"Obviously you can't fill in for those guys, they're remarkable players and that's why they are where they are right now," defensive tackle Ricky Heimuli said. "The guys that are stepping up right now, we have trust in them that they'll do their best to fill in that hole and do their best they can when it comes to gametime."
With that chasm of talent needing to be filled, Ekpre-Olomu understands his secondary squad has an uphill climb to make up for those holes up front. But he knows his boys can grind and get right back to where they were last year.
"We have to build our chemistry we had last year and grow from that," Ekpre-Olomu said. " We have to work on that every single day."
Day One starts on Saturday against Nicholls State at 1 p.m. for the Ducks.