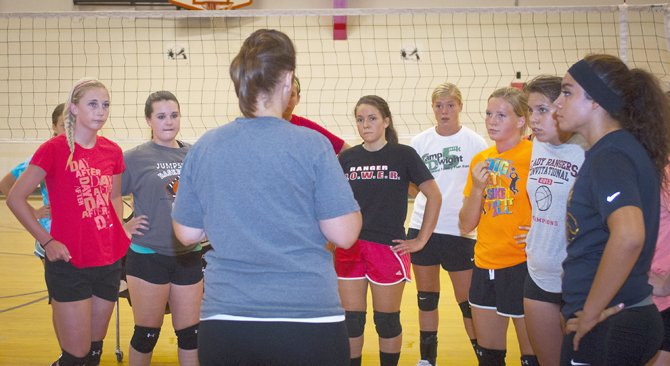 Dufur — Although they won 21 non-tournament matches and at one point claimed the state's No. 1 ranking, the Dufur Rangers fell short of their lofty expectations – one win from the 1A volleyball state playoff site after a three-game sweep loss to Yoncalla.
It was then where head coach Kelly Darden did some reflecting on what the next step to take with her varsity volleyball squad.
She wanted to make some tactical changes, with hopes of moving in a different direction.
During the spring, Darden made a switch to a 6-2 formation with two setters on the court to go with three hitters on the front lines.
Her goal is to implement a consistent offensive attack to give her team an advantage.
"We can't be the same team we were last year. I don't want to become predictable," Darden admitted. "It is easy to fall back into that rhythm of using what has always worked. I don't want to do that. I want to stretch them and I want to stretch myself so that we keep improving. I like to do that every year, change a little bit. Even if you have the same girls, they change and so you have to change to meet the needs of your team."
With a roster of six returners and three newcomers, things could be changing for the better as long as this squad stays on course with the ultimate goal.
Five of those six returners are all-league winners, including top hitters Taylor Darden and Teneille McDonald and they will be swinging for the floor on sets by all-league facilitator, Alexa Macias.
"I think when all of my hitters are on, we can be pretty unstoppable," Macias said. "It is nice to have three people in the front row at all times that I can set. I know I can rely on any of them to do their job."
Joining Macias at the setter slot is senior Kyla Johnson, so realistically, the duo has the potential to average 15-20 assists apiece on a nightly basis.
"I feel like we have some really good passers this year," Kathryn Johnson said. "Kyla and Alexa have done really good on setting. It is the hitter's job to make those passes count. I am excited about all three phases coming together."
Flanking that quartet will be all-league hitters Montana Ferres, Kathryn Johnson who will see time all around the floor in prime position to score points.
Abbey Stelzer is slated to be the team's libero and teammates Kelsey Johnson and Tianna Ellis will see some minutes on the back lines as well.
Kathryn Johnson likes the makeup of this team.
"I am really excited about this year because I feel like our team has so many great pieces that fit together like a big puzzle," she said. "I am excited for each one of us to play our roles to the best of our ability. I think we fit together really well."
Several highlights stood out for the Lady Rangers during their 21-win campaign. At one point in the season, they won 16 matches in a row, 14 by sweep.
Dufur won its district opener 3-1 over Ione to earn a spot in the district championship, where they lost to Condon-Wheeler in five games.
The Rangers went on to defeat Portland Waldorf 3-1 in a state play-in sub round game, but then lost 3-0 to Yoncalla on Nov. 3, 2012.
While that loss still irks McDonald, it is far back in the memory banks.
"We are trying to forget everything about last year. This is a completely different senior team," the all-state senior said. "We are starting over with different goals and a different mindset this year. We are definitely focusing on each game itself instead of looking too far ahead of ourselves that we just break down. We are focusing on staying calm and consistent and that will be our goal for the whole year."
Early in camp, coach Darden saw a more focused and motivated team in practices, camps and workouts.
At the end of the season, she set some goals for her team to accomplish.
One of them was improving on their mental toughness to the point where they are not playing and up and down. The goal is to play a consistent style of volleyball with tough serves and hits to put the opposition out of a comfort zone.
With the new philosophy, the coach is hoping to energize the offense to get more than one or two hitters involved. Any of the players on the floor will have an opportunity for kills.
It has kept her group in better spirits, especially knowing they will be called upon at a moments notice.
"I would say as whole that this group started off kind of where we ended last year," coach Darden said. "They have already progressed past that point. Just the whole confidence level and them knowing each other better, you can really tell on the court. They are a very tight-knit group of girls. They are really fun to coach."
As part of the coaching realm, Darden has Jody Hamm back as an assistant working with the younger group of players. Former volleyball standout, Bethany Stelzer, will also lend in the tutorial process.
There are four new freshmen joining the program this season with Leticia Macias, Sydney Reed, Emily DePriest and Kirsten Sorensen ready to maintain the Rangers' winning legacy.
"I am really excited to play for coach Darden," said Reed, a setter. "She is an amazing coach and is very supportive of me. I know we will learn so much this year. I am just pleased and happy that I get to play for her."
Next year, Dufur will lose four seniors and both setters, so Reed is looking forward to the opportunity.
"I feel that if I work hard enough maybe I could get a spot on varsity," she said. "I have gotten better so far because these girls build me up and make me want to get better."
In the past few years, Dufur has won at an 80 percent clip, so winning is in their blood. In 2011, most of the core members were on board during a state trip that garnered third place overall.
Of course, they want to make a return, but Macias is cautious in counting those chickens before they hatch.
"It is still very early. We just had a good couple of days of practice and we have our first match coming up," she said. "I am not sure if I want to say how good we will be or how far we will go. I think we need to take it game-by-game and keep stepping up every game and improving and we will take it from there."