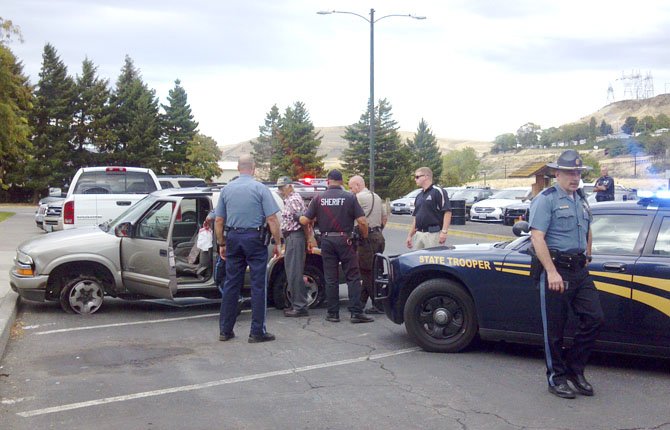 When an elderly Washington man headed into backed up oncoming freeway traffic, Sgt. Kaipo Raiser wasn't sure why he was doing it, but he was sure of the danger involved.
"We were terrified he was going to hurt somebody in stopped traffic," Raiser said. The man, 91-year-old Marseill William Gunnyon of Toppenish, Wash., was spotted traveling eastbound along a section of the freeway closed during the investigation of a shooting that wounded a state trooper and killed his apparent assailant. Troopers told the man to turn around and take the nearest exit, but he didn't exit, instead continuing westbound in the eastbound lanes — right into the backed up oncoming traffic.
The man didn't appear disoriented, had a valid driver's license and showed no evidence of intoxication, according to a state police press release. Raiser had no idea why the man behaved the way he did.
"If we could answer that, we'd all be better off," he said. "I don't know what his motives were. He was definitely the one who rammed our car. He didn't appear disoriented at all. He was angry, mostly about the road closure. He seemed disconnected from reality a little bit."
Raiser was in the patrol car that pursued Gunnyon, who made his way through the back-up area without causing injury as motorists pulled out of the way to avoid the oncoming Chevrolet Blazer. Gunnyon crossed the dirt median into the open westbound lanes and continued on his way, said Raiser, who was in the pursuit car.
"Once he crossed the median back into the westbound lanes, he was driving along normally — as normal as he could be." Raiser's patrol car was in pursuit, lights and sirens flashing. "It looked to us like he couldn't hear or see us."
When the car pulled alongside the Blazer and officers were finally able to get his attention, he struck their vehicle.
"He made a determined effort and rammed us as we were driving down the road," Raiser said. The damage to the patrol car's right front corner ultimately disabled the car and other troopers joined the pursuit.
State police used spike strips to puncture the vehicle's tires and Gunnyon drove to the state police office on Bret Clodfelter Way.
He was then arrested on charges including felony attempt to elude, reckless driving and misdemeanor hit and run.
The incident added an unreal aspect to an already tense day.
"We looked at ourselves and said, 'Is this really happening right now?' Raiser said. "It was quite a day."