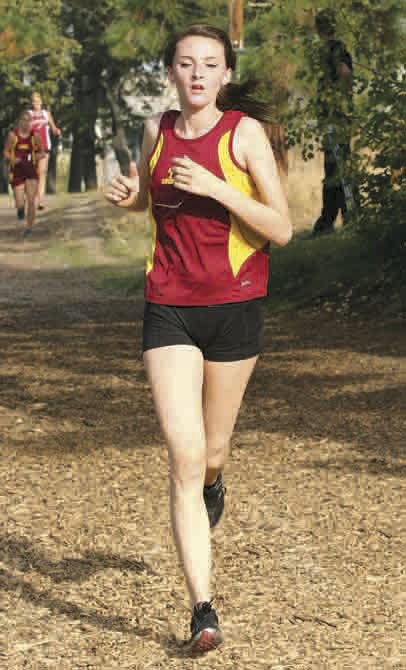 For its first time on the courses, The Dalles Wahtonka cross country team enjoyed a solid output from its 26 participants with three girls ending up in the top nine and four boys with marks under 20 minutes in Thursday's Columbia River Conference Cross country Preview at McKay Park in Pendleton.
"We had a good league preview meet at Pendleton today. The coaches thought that the kids ran well today, but we still have lots of room for improvement," said first-year head coach Bob Thouvenel. "Our goal will be to have 5-6 boys under 18 minutes, and at least five girls less than 22 minutes. These times are benchmarks for us during the season."
On the girls side, junior Maddie Wood led the way with a time of 22 minutes and 18 seconds to finish in fifth place overall in the standings.
Her tally was just 1:32 behind Pendleton's Delaney Clem, who scored a 20:46.
Also for TDW, Emily Morin notched eighth place with a solid mark of 22:43, and right behind her was freshman Molly Nelson, whose 24:08 moved her into ninth place.
Katie Burns (25:38), Caela Dunagan (26:12), Kellina Coy (27:50) and Rebecca Kohltfarber (33:20) rounded out the other Tribe runners.
For the boys, nine athletes ended up in the top-30, as senior Elijah Kohltfarber motored home in 11th place with a time of 19:13.
Mark Dunagan came out swinging in his first try with a 19:34 for 15th place; Jace Bailey added a 19:48 for 16th and up-and-coming freshman Chase Snodgrass hit in 19th place in 20:13.
Luke McLean (20:13), Jony Nelson (20:19), Clayton Ringer (20:40), Mitchell Waters (20:58) and Andy Felderman (21:29) wound up action in the top-27.
John Miller had a 21:52, Robert Westhafer measured out at 22:02 and Ethan Shubert pulled off a 23:19 to churn out some respectable tallies for TDW.
Chase Nagamatsu (23:54), Joe Linebarger (24:25), Killian Strassheim (26:55), Murphy Goldsberry (27:08), Daniel Hughes (29:09), Logan Kalsch (31:49) and Max McClennan (32:49) rounded out the field of Tribe participants.
Hermiston's Hayden Scott claimed top honors with a 17:49, and teammates Alex Cisneros and Jose Macias ended up tied for second place in 17:50.
TDW has some time off before another event, the Hood River Valley Invitational at 3 p.m. on Wednesday, Sept. 11.
Three days later, the Eagle Indians head out to Hermiston for the Runner's Soul XC Fest at Noon.