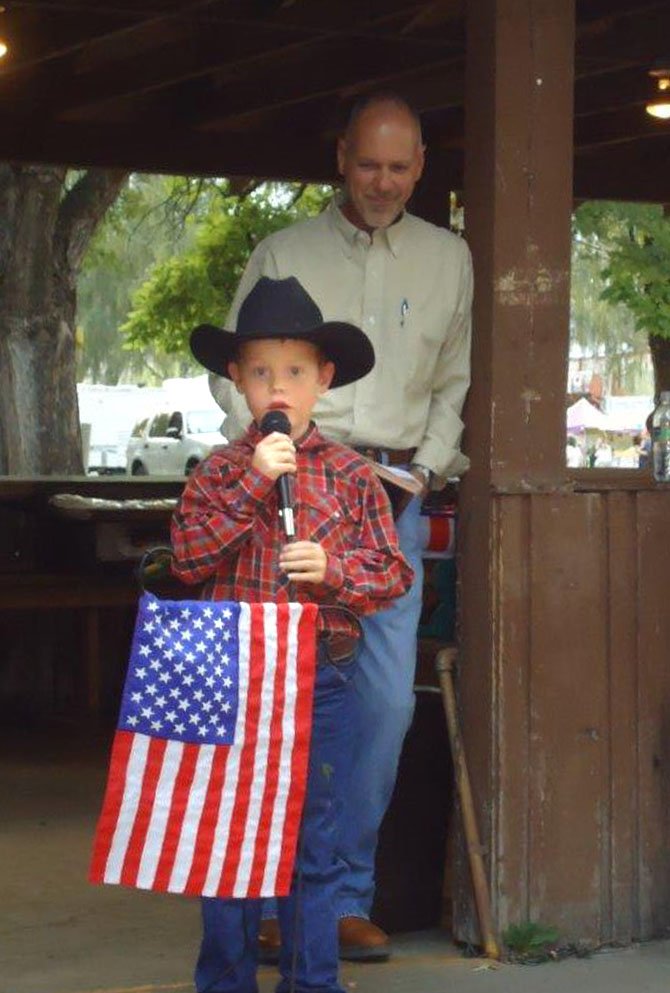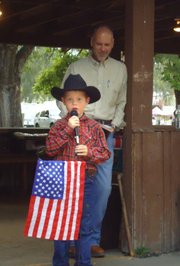 Ryder Bray Barrier, a first grade student at Dry Hollow Elementary School, was a top winner in the 2013 Real Steel Young Republicans Essay Competition.
He took the microphone at the Wasco County Fair to recite his "What American Means to Me" message that was heard by those at the award ceremony, including Rep. John Huffman, R-The Dalles and Sen. Ted Ferrioli, R-John Day.
"Land of the free America. Land of the loyal America. Land of the Brave America. I am 6 years old. I am an American! I AM Proud, I am safe. My country is beautiful. My country is AMERICA!," recited Barrier from memory.
Huffman and Ferrioli handed out prizes to Barrier and other essay writers from Wasco County. As the Patriot Award winner, Barrier received an Oregon State flag donated by Huffman and his wife, Korina. Candace Mae Outlaw, a fourth grader at Dufur, scored the Patriot Award in her age division and was given a U.S. flag flown over the White House and donated by U.S. Rep. Greg Walden, R-Ore. Bailey Hahn, a sixth grader in Maupin, received the Real Steel award and a flag that had been flown over a base in Afghanistan. The Lincoln Award went to Taylor Couch, a fifth grader at Dry Hollow, who was given a $20 cash prize.
Addison Little, a third grade student at Dry Hollow, netted first place in the K-3 Category, and received a $75 prize. Second place and $50 went to Emily Liberidhs, a first grader at Covenant Christian Academy. Third place was captured by Titus Grimsley, a second grader at Covenant Christian, who received $25.
Honorable mention went to: Damien Ray Brown, a third grade student in Maupin; Holly Miles and Octavio Baca, both third graders at the school. Rachel Smith, a third grade student at Dry Hollow was also on the list, as was Cynthia Elias Guerrero, who goes to third grade in the same school. Kindergartner Adriel Sierra Rampp of Dry Hollow was also recognized.
First place in the 4-6 grade catagory was given to Hayden Pashek, a fifth grader at Dry Hollow who received $75. Her classmate Kayla Harris scored second and $50. Third place ranking and $25 was awarded to Kaitlin Stebbins, a fifth grader in Maupin.

Honorable mentions went to: Jesse Larson, a fourth grade student at Dry Hollow; Tressa Wood, a fifth grader at Dry Hollow, Taylor Henderson, a sixth grader at Maupin, and his classmate Melia Shelter.
Also on the list was Jenna Miller, a fifth grader at Dry Hollow and Callie Marie Rosette, a sixth grade student at Covenant Christian.
Each of the honorable mentions in both categories received a Betta fish, fish bowl, certificate and the name of a soldier who is fighting over in Afghanistan to keep in their thoughts and prayers.
"We doubled the amount of essays turned in this year," said Chere Jones, a member of the Wasco County GOP who organized the event.
"And the words of these children should indeed inspire and give comfort for the future of this great country."
Judges for the K-3 part of the contest were: David Wehrly, Jody Pink, Paula Stark, Sue Hill and Craig Revel.
The persons judging the 4-6 participants were: Cindy Piehl, Mike Wilson, Beth Smith, Michael Scheepers and Larry Bennett.
Jones said the purpose of the contest is to inspire gratitude in the young for the freedoms they enjoy and the troops on the front lines who risk their lives defending America's freedoms.
"We wanted to give a big thank you to the soldiers who continue to fight and families who continue to sacrifice so that all of our freedoms may continue," she said.