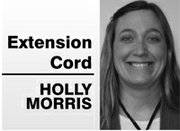 Can you believe it is time for our kids to start the new school year? And, that means it's time for the 4-H after-school and in-class enrichment programs to begin.
What does this mean for you? Well, if you or your youth are excited about Lego© robots, natural science (like worms or butterflies), cooking, the environment, or Remotely Operated Vehicles (ROVs) otherwise known as submersible robots, then you need to join the Wasco County 4-H program.
You can get your youth involved in a particular after-school program or you yourself can become involved by becoming a 4-H volunteer. It's easy!
Please keep your eyes open for these upcoming Wasco County 4-H programs.

• Dufur Technology and More: Participants in third through eighth grades will explore Lego NXT Mindstorms© and participate in First Lego League. Other technology topics will be explored, such as remotely operated vehicles and participation in the annual MATE Oregon regional competition in the spring. This club will be held every Monday of the month from 3:15 to 5:15 p.m. in the computer lab at Dufur School beginning Sept. 23. Sign up as soon as possible through the OSU Wasco County Extension Office as space is limited to 20 youth participants.
• ROV'ology: Remotely Operated Vehicles: Participants in fourth through 12th grades will gain knowledge and skills to build an ROV. Youth will attend the annual MATE Oregon regional competition in the spring. They will also explore other technology topics such as solar PVC vehicles and other renewable energy projects. This will be held every Tuesday from 3:30 p.m. to 5:30 p.m. at The Dalles Middle School in room 106. The first meeting will be Oct. 8. Please sign up as soon as possible through the Extension Office as space is limited to 25 youth participants.
The 4-H technology after-school clubs are offered with a requirement of 4-H enrollment at $20 per year (if enrolled by Jan. 2; $25 thereafter) with no additional cost to participate in the after-school programs.
Another Wasco County 4-H program is the Jr. Master Gardener program. It is a great way to get youth involved in sustainable gardening and healthy eating. This program is offered to Chenowith Elementary youth in second through fifth grades in the spring.
Throughout the school year we also offer babysitting clinics where youth participants train to be successful babysitters. Place and times vary, so please keep your eyes open (the first one this year will be Saturday, Oct. 5 at St. Mary's).
We offer many in-class enrichment programs such as National Youth Science Day where 4-H staff will visit classrooms throughout Wasco County to engage middle school youth in science. This year's NYSD experiment is focused on Geographic Information Systems (GIS) and Geographic Positioning Systems (GPS).
Recently, the Harvard Family Research Project released a report; "The Federal Role in Out-of-School Learning: After-School, Summer Learning, and Family Involvement as Critical Learning Supports" that makes a research-based case that out-of-school learning from birth through high school, particularly for low-income children, is necessary so that all students gain the skills that economists, educators, and employers agree are necessary for success in the 21st century.
The report also outlines research and evaluation evidence in order to help make specific recommendations for federal leaders, as well as provide tools for educators that enable continuous learning. This report can be found at http://www.hfrp.org/out-of-school-time/publications-resources.
For more information, contact Holly Morris, 4-H educational program assistant for OSU Extension Service, Wasco County at 541-296-5494.