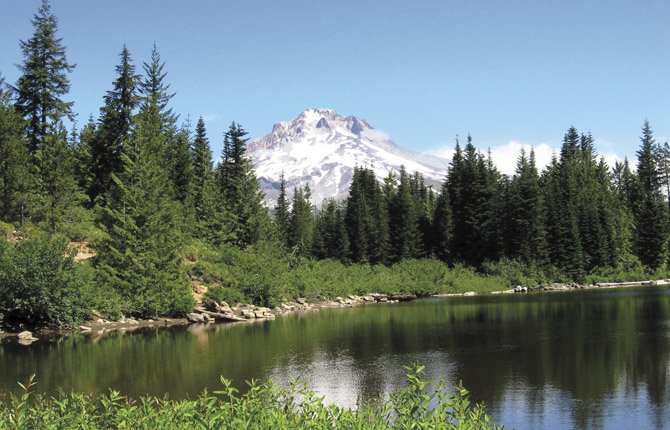 There are lots of good reasons to hike. This activity is a great cardiovascular workout for the body and a soothing rest for the soul.
Folks who like to flex their artistic side carry a camera and note book. The curious carry plant identification and geology books.
There is nothing like a long walk in the woods to let one forget the cares of the world. The Middle East exists in an alternate universe.
I walk in the woods for all of those reasons with the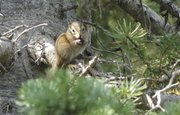 exception of mid-August to early September. Right now it's huckleberry season and I dream of huckleberry pie, ice cream topped with huckleberries and hot huckleberry pancakes dripping with real maple syrup. Most of the hikers I pass on the trail have blue stained fingers — a sure sign they are caught up in huckleberry madness as much as I am. Janet and I hike up the trail with lots of bottles filled with water and return with them filled with berries. Twelve different species of huckleberries grow in our area and most of them are delicious, with even the lowliest being very edible.
The berry fields of Mt. Adams have been used for thousands of years by Native Americans as an important food source. They tended these fields with as much diligence as any farmer does his crops. Invading trees were burned back so they didn't compete with the huckleberries. The Native Americans regarded the consumption of this resource as an important part of their culture.
One thing I find odd is that most people in the mid-Columbia think that Mt. Adams and the Indian Heaven area are the only place around here you can find huckleberries. This is a huge misconception. The reality is that it's pretty hard to find a hiking trail or forest service road that is over 3,500 feet in elevation that doesn't have some huckleberry plants.
Lots of people drive right past bushes that are full of ripe berries while they are on their way to Washington's more famous berry-picking country. They are blind to the obvious.
For the died-in-the-wool couch potato, there are lots of huckleberries right at road side on Highway 35 south of Hood River near Mt. Hood Meadows. Hikers can find berries everywhere, all it takes is a sharp eye and a little bit of knowledge of where they grow.
Huckleberries for the most part like poorly drained soil that might be just a little on the acidic side. There are large berry fields on the trail from Mirror Lake to Tom Dick Ridge. In Washington, the Sleeping Beauty trail has enough berry plants to satisfy several families —a nd almost no one ever goes there.
I'm just a little challenged when it comes to colors, but the best berries to pick are the ones that are a deep purple, bordering on black. I let my taste buds do the choosing, I taste until I find the one that is the very sweetest and then I use that one's color to guide me for the rest of the afternoon.
One thing to remember is that there are rules for picking, just like everything else in life. On Mt. Hood, the limit is 6 pounds of berries and you cannot use anything to help you harvest them other than a bucket. Bears have right of way and its best not to swat at the stray yellow jacket that might land on your shirt.
Huckleberry picking can be mesmerizing, so always know where you are and what is around you. Take your 10 essentials: food, water, extra clothing, map, compass, first aid kit flashlight, fire starter and matches. Speaking of matches, we are in the middle of a black out on campfires except in designated campgrounds.
Please practice your leave no trace skills, take only the berries you are going to eat and leave nothing behind but footprints.