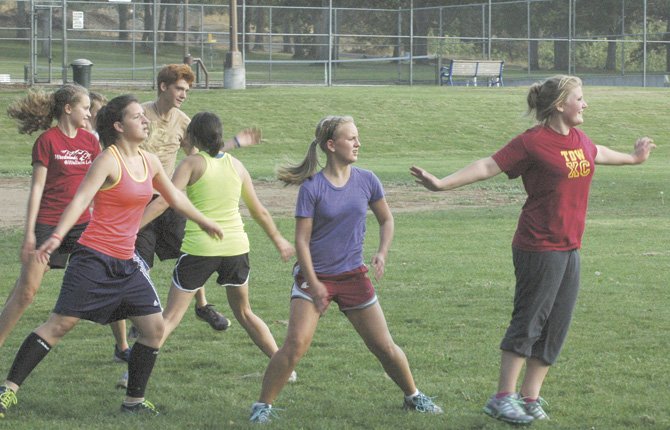 With a new coaching staff on board, coupled with some high-caliber harriers in the stables, there is reason to believe that The Dalles Wahtonka's 2013 Cross Country team could be a wild card in the Columbia River Conference hierarchy.
Bob Thouvenel is the head coach, taking over for longtime coach Steve Thompson, and he has selected Mandi Williams and Robert Clark as his assistants.
With those three calling the shots, the energy has been a lot better in practices.
"We have high expectations and I think that we're going to have a great season," said former state qualifier and junior Maddie Wood. "I feel very optimistic though, especially since it's my junior year. When the season is over, I just want to look back and feel satisfied knowing that I tried my hardest and gave it my all."

The girls have state qualifier Wood, Emily Morin, Avery Cardosi, Kellina coy, Katie Burns, Luisa Meyer and Caela Dunagan, as just a few names to highlight.
In addition to those standouts, Tai Rogers, Hannah Weeks, Molly Nelson and Rebecca Kohltfarber are just as solid on the courses as well.
"The girls will go up against some talented runners from other schools in our league, but I think they will do pretty well," Thouvenel said. "We also have lots of youth on the girl's side, but I think the best is yet to come for them."
The boy's side, although young in many respects, has the potential to be a burgeoning group, especially with Mark Dunagan, Mark Johnson, Elijah Kohltfarber, Chase Snodgrass, Clayton Ringer and Mitchell Waters entering every race.
Freshmen Ethan Shubert, John Miller, Dylon Jinkins, Jony Nelson, Luisa Meyer, Weeks, Molly Nelson, Chase Nagamatsu, Daniel Hughes and Luke McLean represent the future of the program, an area of emphasis for Thouvenel and his staff.
"The numbers are great and I am happy with that," Thouvenel said. "That's the thing, with all of these athletes not only do we have talent here, but we have 35-40 runners that love the sport. Having these numbers also raises the intensity in our practices. These kids are competitors."
One name that is eyeballing a reservation to Eugene in November is junior Andy Felderman.
"Our goal is to hopefully have our team advance to state," he said. "It's early in the season, so we'll have to wait awhile before we really know what the potential of the boy's team could be. We have the talent here, but it will be up to us to continue our work. We're in a tough league, but I think with having some good seniors and a lot of young guys, we'll have a pretty good shot at making it to state this year."


The junior is gaining ground every day to get under 20 minutes and the aim is to time out between 18-19 minutes by the end of the season.
"For me, it is all about pacing myself as I prepare for the tough courses," Felderman said. "You do not want to over-extend yourself early and get injured or something. As long as I can maintain a solid pace and slowly drop my times, I think my goals can be attained."
Now a three-year varsity runner and one of the leaders on the team, Wood, does not care about individual feats this season, she wants to make sure the girls fulfill their promise.
She has been training all summer for cross country, logging many miles around the gorge, maintaining an optimum conditioning regimen with her teammates during the summer in hopes to reach that plateau.
"We need to put in as much time as possible to get ready. It does not happen overnight, so a lot of it has to do with patience and working outside of practice," Wood said.
Through one event last week in Pendleton, the girls had three harriers finish in the top-9 and the boys had eight in the top-25.
Four of the boys clocked in at less than 20 minutes and Wood was in fifth place within distance of the top spot, so there is reason to believe this squad can make headway sooner rather than later.
"That is the goal, but we are far from there right now. We want them to work hard, drop their numbers and hit their stride at the right part of the season," Thouvenel said. "Each of these kids has individual goals and the coaches work with them in making sure they are taking the proper steps to accomplish them."
TDW next heads to Hermiston for a meet at 3 p.m. on Wednesday, Sept. 11.