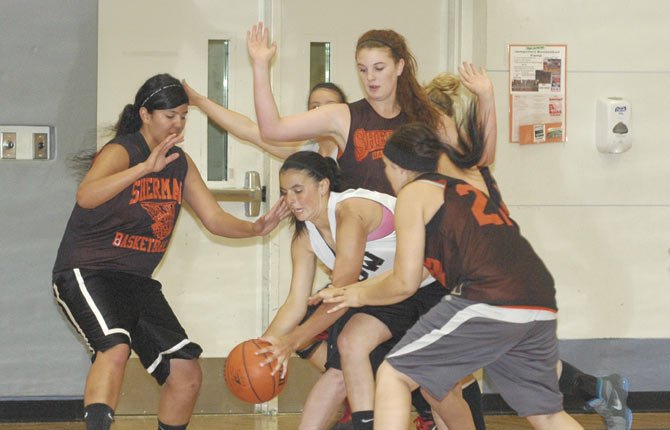 Entering his fifth season as head coach of the Sherman girl's basketball team, Steve Kaseberg has a group of 18 players spread throughout the program in an effort to establish continuity, competition and a winning trend in the next few years.
"We are very excited about this turnout. The kids are really working hard and it has shown early on with girls fighting for more playing time," Kaseberg said. "I feel we have continuity in the program now and these five freshmen coming in are easily two years ahead of any regular freshman player."
In all, there is a group of 18 returning players, led by Janet Guzman, Katie Poirier, Meagan McKinney, Katie Asher and senior point guard, Andi Harrison.
Guzman and Poirier bring size down in the blocks; McKinney is a slasher who can score inside and out, while Harrison brings a steady influence as the distributor on offensive sets.
"They have played together for many years, so not only are they interchangeable, they know the game well," Kaseberg said of his post trio. "The big girls feed off each other well, so we can run a high-low situation, so if we have a girl collapsed on the high post, they are instinctive enough to get some good looks down low to an open teammate."
In Harrison's first season as the team's full-time point guard, the Huskies saw their scoring average jump from 38.8 points a game up to 41, so given Harrison's added offensive repertoire and the skill set of the posts, those numbers could very well see another upswing.
In Harrison, Kaseberg said he has positive leader and a good facilitator – another coach on the floor.
"Having her out there is a nice luxury," Kaseberg said of Harrison. "She is experienced and can do a great job of controlling the tempo and can make smart decisions. She knows when to push the go button and she also knows how to read plays."
Much of the offensive success lies in confident shooting, execution and the further development of some of other players.
Brittney Orendorff, Kali Busler, Hollie Kaseberg, Emily Hill, Emily Poirier and Jeanna Hill will also see some extended minutes on the floor.
Emily Poirier brings some size and athleticism to the post position, while Emily Hill brings some speed to the guard slot as either on the wings or from the point.
"We don't have any superstars or 3-point shooters, but we have kids that can shoot it," coach Kaseberg said. "We don't have to rely on one main shooter or one main post or one main point guard. We have kids that can play multiple positions."
Defensively, the Huskies allowed 40.3 points a game, as they finished with a 13-13 record, 10-3 in league.
While the season would start with some man-to-man defenses, coach Kaseberg feels that with the added depth, they can add some pressure packages to the mix.
"We feel we have the athletes to put the pressure stuff in," the Sherman coach said. "We will have the depth to throw that sort of pressure on. We will need to keep working on the rest of the kids and get them all up to speed to get everything going on all cylinders."
With the loss of graduated seniors Audrey Kaseberg, Samantha Coons Brooklyn Sandquist, and the relocation of Makenzie Blaylock, the Husky coach admitted that there are some holes to fill.
"Any time you have to replace five kids, it is a challenge," he said. "At every level, these kids have played they have been successful. We are all expecting to be successful this year. We also realize that the league is the same as it has been for the past couple of years with certain teams at the top. We need to take the extra step. I think with this group, we can do that."
Sherman hosts its annual two-day tournament at 3 p.m. Friday.